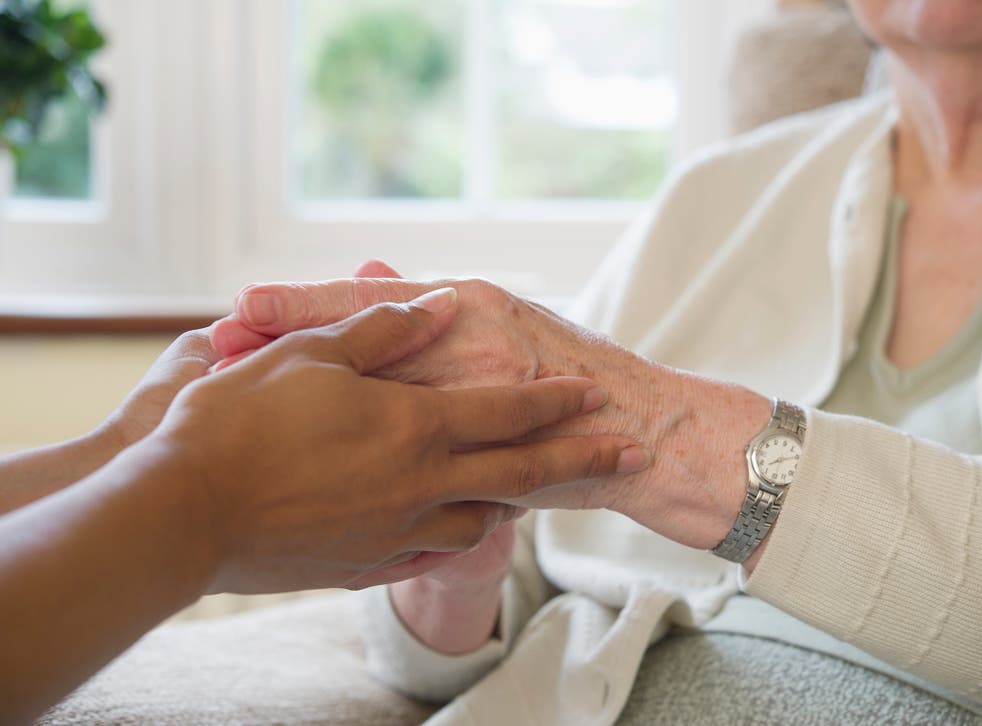 Care for elderly in state of 'calamitous decline' amid £1bn of austerity cuts
Age UK reported the number of older people receiving home care has fallen by a third since 2010
Care of the elderly in England is in a state of "calamitous, quite rapid decline" a leading charity boss has warned, with hundreds of thousands fewer people receiving care than five years ago.
More than £1 billion has been slashed from council's social care budgets since 2010, despite an increase in the elderly population, meaning thousands who would have previously received help with basic daily tasks like getting out of bed or taking medication no longer get support, Age UK said.
Caroline Abrahams, the charity's chief executive, said the cuts were now also harming the NHS, with hospitals struggling to discharge patients quickly into home or community care – a major factor behind the extreme pressures faced by hospitals this winter.
The problem of so-called "exit block" leads to delays in admitting patients from emergency departments, because beds are taken up by frail elderly people waiting for a community care package. It is believed to be a major factor contributing to this winter's 10-year highs in A&E waiting times.
Age UK reported the number of older people receiving home care has fallen by a third since 2010, while places in day care centres have declined by two thirds. More than 40 per cent fewer people now receive equipment and adaptations such as rails and stairlifts to help them cope at home.
Overall just under 9 per cent of over 65s - 850,000 people - receive any kind of support from their council - down from well over a million five years ago, the charity said.
Cuts to social care services have been made over the past five years by councils faced with a 40 per cent reduction in their Government funding. The Local Government Association said that councillors had protected the most vulnerable "as far as possible" but that the care system was "chronically underfunded".
Ms Abrahams said that hundreds of thousands of older people were being left "high and dry".
"The lucky ones have sufficient funds to buy in some support, or can rely on the good will of family, neighbours and friends. But there are many who are left to struggle on entirely alone," she said.
"Until recently the impact of the decline in social care has been relatively hidden, but social care is a crucial pressure valve for the NHS and the evidence of what happens when it is too weak to fulfil that function is clear for us all to see," she said.
In a sign the impact of social care cuts on the NHS is now acknowledged by ministers, the Government yesterday announced £25m in emergency funding for 65 councils in areas where delays in discharging elderly patients from hospitals are most severe.
The money, which is estimated to help 9,500 people, must be spent by councils by the end of March to buy in extra support services to help patients coming out of hospital.
However, David Pearson, president of the Association of Directors of Adult Social Services said that the money would not plug the "huge gaps" in social care budgets nor solve "all the problems within our accident and emergency services".
"The penny really does seem to be dropping that social care and the health services are intimately and uniquely linked. Growing numbers of people are talking about cuts in social care," he added.
A Department of Health spokesperson said that, in total, an extra £1.1 billion had been given to councils to help protect social care services this year, adding that councils were responsible for determining their own budgets.
In Scotland, the Government yesterday announced an additional £100m of investment over three years for the NHS and councils to help solve the problem of delayed discharge by setting up more care packages in the home.
Elderly care in numbers
500,000 of the 1 million over-65s who struggle to wash do not receive any help
1 in 5 of the 240,000 who need help taking medication do not receive any help
19.4% fall in spending on home care since 2010/11 – from £2.25bn to £1.81bn
Source: Age UK
Join our new commenting forum
Join thought-provoking conversations, follow other Independent readers and see their replies