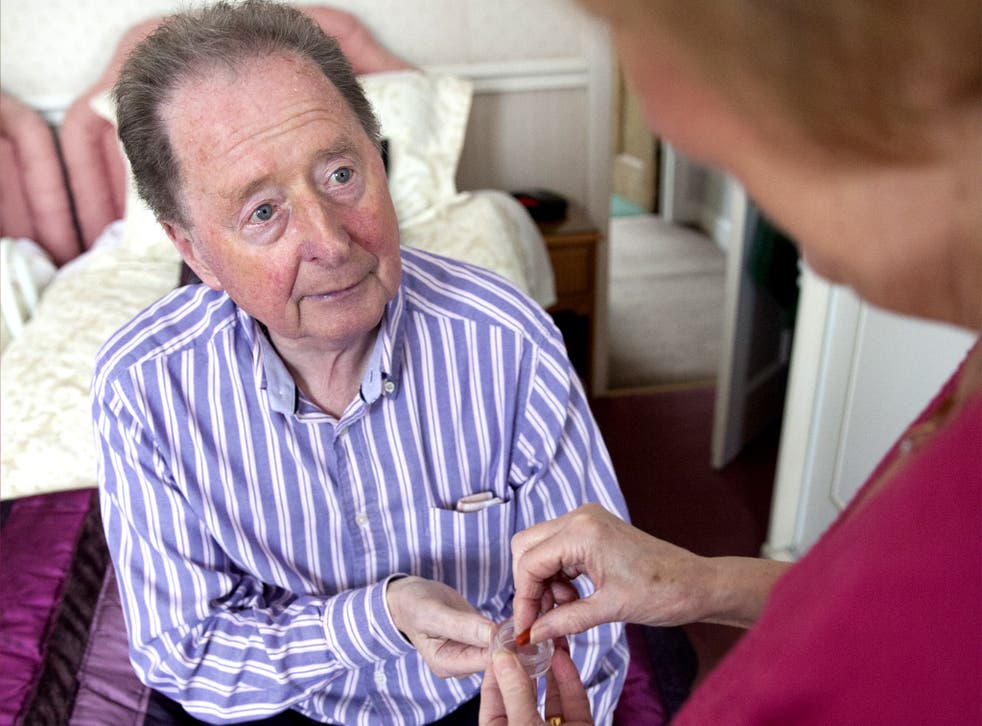 Elderly care on 'the brink of disaster' as funding cuts take toll
Families under 'intolerable strain' as burden of care becomes theirs alone
The care of Britain's elderly is nearing "the brink of disaster", as funding cuts take their toll on some of the country's most vulnerable people, a leading charity has warned.
Revealing what it called the "catastrophic" impact of cuts, combined with an ever-growing elderly population, Age UK said that hundreds of thousands of older people are not getting the help they need to live their daily lives, while families who care for loved ones are being put under "intolerable strain".
Despite rising demand, the amount spent on social care services for older people has dropped by £1.2bn (15.4 per cent) since 2010, the charity said, as care budgets fall victim to local authority funding cuts ordered by the Coalition government as part of its deficit reduction strategy.
Although more than £400m was redirected from the NHS budget to prop up social care, the sector is still suffering from a shortfall of £769m, leading to a huge drop in the number of people getting the care they needed, the charity says in its new report Care in Crisis.
From 2005/6 to 2012/13, the number of people aged 65 and over in receipt of social care services dropped by a 27.2 per cent, from 1,231,000 to 896,000, despite the age group growing by one million.
At the same time the number of people aged 85 and over – the group most likely to need care – has risen by 30 per cent
The vast majority of local authorities are now only able to provide help if the person's needs have been assessed as being 'substantial' or above, the report said. Older people who struggle with everyday tasks such as getting up in the morning, bathing, preparing meals or shopping are assessed as only having 'low' or 'moderate' needs and so regularly do not get any help.
The result is an unprecedented rise in the number of people forced to fend for themselves or rely on family and friends for support.
One carer told the charity that he was forced to sleep on the sofa at his mother's house to ensure she was safe after a dementia diagnosis, while paying for a carer to work 16 hours a week. "But that didn't even touch the sides. Mum got worse and worse, she disappeared regularly, set fire to the toaster and microwave, had two falls and took an accidental overdose requiring an emergency admission to hospital. It was one of the worst times of my life," the son said.
Age UK's director, Caroline Abrahams, said that elderly people were being placed "at significant risk" by cuts to local services and ever-growing gaps in care provision.
"If older people do not receive the care they need and as a consequence end up in A&E units and hospital wards, we have simply shifted people around the system at great financial cost and created distress and disruption for older people in the process," she said. "This makes absolutely no moral or economic sense.
"At the moment too many older people who have contributed to society throughout their lives are being left to fend for themselves when they need care and support. We cannot continue to sacrifice their safety, health and dignity."
The Government said that reform of the social care system was "a priority". Its Care Bill, which reaches its final stages in Parliament next week, is set to introduce major reforms, including a £72,000 cap on the amount that individuals will have to spend on their own care, while £3.8bn has been set aside to join up health services with social care.
While welcoming the reforms, Age UK said that there was a "huge risk" they would be "fundamentally undermined by wholly inadequate funding" – a warning echoed by other groups.
Richard Hawkes, chair of the Care and Support Alliance, which represents 75 charities and organisations, said that "chronic underfunding" had left the care system "on its knees".
"Older and disabled people who need help to get up or get out of the house simply aren't getting support," he said.
"The Care Bill has the potential to be a landmark piece of legislation, transforming the social care system. However, the success of the Care Bill will be jeopardised unless it is matched with a sustainable funding solution."
Heléna Herklots, chief executive of Carers UK, said: "Families are paying the price as need for care services continues to rise rapidly at the same time as social care budgets are being cut.
"Those currently caring for older or disabled loved ones are often struggling with little or no support, and others, worrying about their parents or their own care in the future, face an even bleaker situation unless the Government acts to set funding for social care on a sustainable footing."
Care and Support Minister Norman Lamb said that both the health and social care services need to "work differently to respond to the needs of our ageing population".
"We need to focus on keeping people well and living independently for as long as possible," he said.
Case study
Susan George, 64, from west London, is a full-time carer for her husband Bruce, 69, who suffers from Parkinson's and dementia
"Bruce woke up with a shaking arm in 2001. We didn't think anything of it at the time but it got worse and was eventually diagnosed as a stroke, and he was later found to have Parkinson's disease. We didn't get any help then. Four years ago he was also diagnosed with dementia.
We struggled along, I didn't know anything about the support I should get. What do you do? The dementia people at the council looked after the dementia side, the Parkinson's people in the NHS looked after the Parkinson's side – you get this on-going conflict between the two because they don't work together.
I searched the internet, got in touch with social services. They did some exercises with him and put a stair rail in for us. That was a few years ago. When I tried to get in touch again recently it took me three weeks to get through to the right person. Nobody wanted to know.
I've managed to get him into a dementia centre for one day a week to give me a short break, run by a charity that doesn't charge – they have been the lifesaver, not social services. But there was a one year waiting list.
I have been a full time carer for nearly two years. I can pop out for 15 minutes, 20 minutes most, because I never know what he's going to do. I looked into taking a holiday – it would cost £850 for someone to come in and look after him for a week. That's not something I could afford.
What I would have liked is a little package with everything written out, telling me what I was entitled to as a carer and what was available. That's what people need."
Join our new commenting forum
Join thought-provoking conversations, follow other Independent readers and see their replies