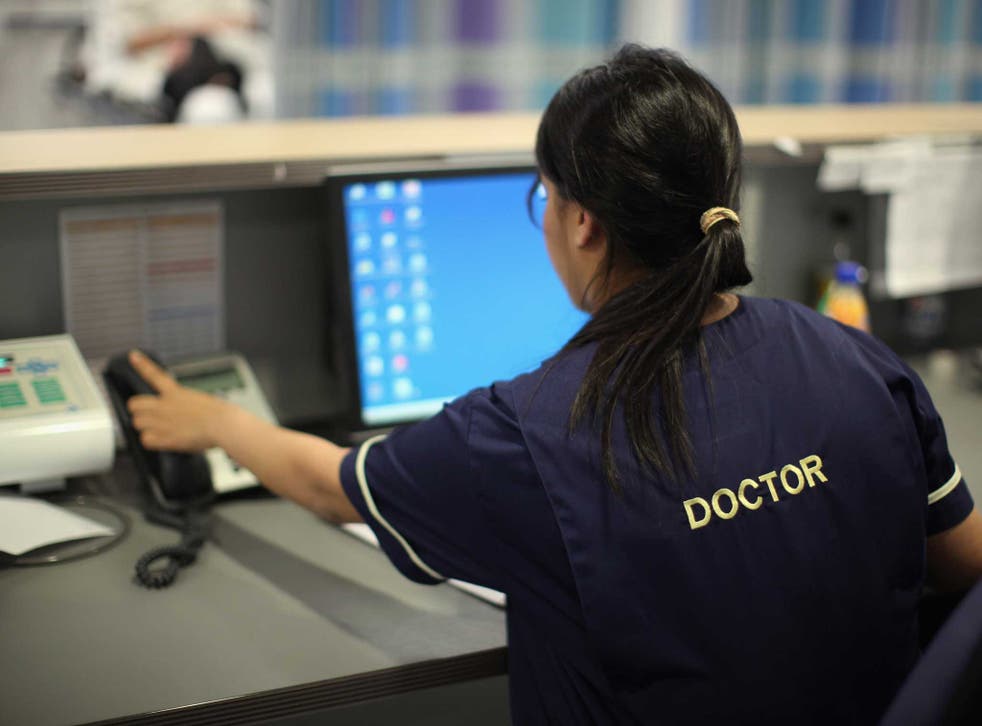 Third of GPs back charging £10 to keep timewasters away from A&E units
Doctors want to end the 'free at the point of abuse culture'
One in three family doctors supports charging patients £5 to £10 every time they visit A&E and only refunding them if the trip is found to be necessary, a survey has found.
The controversial proposal would be a "cost-effective" way to cut unnecessary A&E attendances and release pressure on stretched emergency departments, according to 32 per cent of a sample of more than 800 GPs in England.
To discourage patients attending A&E for minor ailments and injuries, the fees could be charged on arrival, but reimbursed if the patient was in genuine need of emergency care, the doctors said.
While acknowledging that charging at A&E was "a clear departure from the traditional NHS vision", Dr Tim Ringrose, chief executive of the online forum Doctors.net.uk, said that many doctors were backing "radical action" to counter "the 'free at the point of abuse culture' that is a key contributor to the current emergency care crisis in some areas."
However, the Royal College of General Practitioners (RCGP) said that the "vast majority" of doctors still believed that healthcare should be provided free at the point of need, and warned that credit card machines in emergency departments would be the beginning of "a slippery slope towards the Americanisation of healthcare".
The survey, carried out by the Press Association, also revealed widespread scepticism about the Government's plans to alleviate the A&E crisis by expanding the role of GPs. Three-quarters of family doctors disagreed that giving elderly people a named GP responsible for their care would cut numbers attending A&E.
The plan is a key pillar of the new GP contract, hailed by the Health Secretary Jeremy Hunt as the return of "proper family doctors". Mr Hunt has previously blamed an increase in attendances at A&E wards since 2004 on changes to the GP contract introduced by Labour, which allowed family doctors to opt out of providing an out-of-hours care service.
GP leaders have furiously denied the claim, pointing out that pressures have increased across the system, with many family doctors seeing as many 60 patients in a single day.
A Department of Health spokesperson said there were "no plans to introduce fees" at A&E departments – as it would "go against the founding principles of the NHS".
Dr Chaand Nagpaul, chair of the British Medical Association's GP committee, said that pressures on the NHS would not be solved by "penalising less well-off patients by erecting financial barriers within the health service".
"It could be counterproductive as patients who are deterred from seeking medical attention at A&E, may end up becoming more ill, requiring greater hospital care later on," he said. "Patients could also inappropriately seek treatment at their GP practice, even if they genuinely need hospital care. This could act as a perverse incentive that sends patients in the wrong direction for their care."
Dr Helen Stokes-Lampard, a GP in Lichfield and spokesperson for the RCGP, said: "Doctors have a duty to provide healthcare to patients regardless of their ability to pay. Patients seek healthcare when they are at their most vulnerable and if they attend A&E, it is usually because they don't know where else to turn. Emergency departments are really struggling but the way to solve the crisis is to adequately fund general practice, so that family doctors can provide more care for patients…"
Attendances at A&E wards have increased from 18 million in 2004-05 to 22 million in 2012-13. There were a record 105,800 emergency hospital admissions in the first week of December 2013. A&E wards missed a government target to see 95 per cent of patients in less than four hours for two weeks running at the beginning of December, with data for the Christmas period due next week. Last winter, 6 per cent of patients waited longer than four hours in A&E departments – a nine-year high.
The College of Emergency Medicine has said the problems is rooted in a staffing crisis, warning that the country has a shortage of 375 emergency doctors.
Join our new commenting forum
Join thought-provoking conversations, follow other Independent readers and see their replies