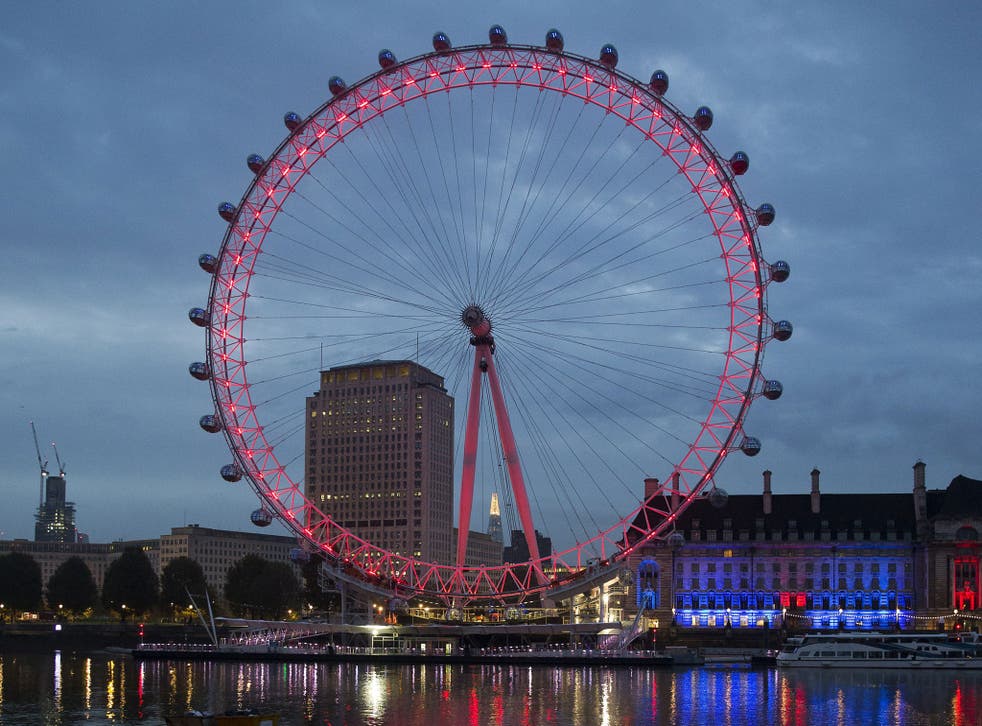 Coca Cola London Eye re-brand slammed by health charities as 'inappropriate'
The Ferris wheel's pods now feature Coca Cola branding inside
Health charities have labelled a new sponsorship deal which has seen the capital's iconic Ferris wheel renamed the Coca Cola London Eye as "inappropriate" for a family attraction.
Merlin Entertainment, the private operator of the London Eye, announced last autumn that the drinks giant would take over from energy firm EDF as the monument's new sponsor, succeeding a previous deal with British Airways.
Following its annual closure for maintenance, the popular attraction re-opened on 17 January. Now, each pod features Coca-Cola branding inside, staff wear red tops with Coca-Cola emblazoned across the back, security staff wear Coca-Cola beanie hats, cafes in the ticket office are branded with large Coca-Cola posters, and the wheel is illuminated "Coca-Cola red" at night, the Guardian reported.
Malcolm Clark, the co-ordinator of the Children's Food Campaign, marked the start of the sponsorship by handing out 500 toothbrushes to the first attraction's visitors, to highlight that each week, almost 500 children aged between 5 and 9-years-old are hospitalised due to rotten teeth.
He told The Independent that he believes the company is using the deal to target families, adding that in a decade the public will view sugary drinks as it currently sees tobacco.
"It's quite telling that is the Coca Cola London eye, not the Diet Coke London eye. They're advertising their full sugar coke." he said.
He continued that while the company has made efforts to improve its range of products in terms of nutrition, "as a company as a whole, their main purpose is selling sugary drinks."
"The London Eye is a global attraction and a great symbol of London. That's a global projection," he said.
And as children are encouraged to drink water at schools, where soft drinks are restricted, the deal seems particularly inappropriate, he added.
"We're particularly concerned about children. Academic evidence showing children find it hard to distinguish between marketing and facts and and take on messages much more enthusiastically."
"I think in 10 to 15 year's time, we'll think "what were we doing allowing this kind of advertising?" There are many in the public health community that see sugar as addictive, and actually you do need to do something about it, and have stricter regulations like we did with tobacco."
Kim Roberts, Chief Executive of HENRY, a national charity working to prevent child obesity, echoed Mr Clark's concerns and told The Independent that the prominent advertisement of junk food makes it even tougher for parents to teach their children about healthy eating.
"The number of overweight and obese children in this country is continuing to rise.
"HENRY is working hard to help families live healthier lifestyles, but the prominence of advertising for food and drinks with high sugar or fat content make it all the more challenging for parents to help their children make healthy choices. If we are going to turn around rising rates of obesity in the UK we need to see a reduction in the promotion and availability of these kinds of products," he said.
A spokeswoman for Merlin Entertainments defended the decision.
"The London Eye is one of London's most iconic landmarks and has been creating moments of happiness for millions of tourists since its launch in 2000. We're committed to working with companies and organisations that share our values and support our vision of providing visitors to the London Eye with the best experience possible," she said.
"For 127 years, Coca-Cola has been associated with moments of happiness and occasions that bring people together. Given this heritage, we think Coca-Cola is a great fit for the London Eye and we're looking forward to working together on this new partnership," she added.
A spokesperson from Coca-Cola Great Britain said: "All of our drinks can be enjoyed as part of a balanced diet and we have taken a number of actions to help people choose the best drink for them and their families.
"These include signing up to the Government's Responsibility Deal and committing to reduce the calories in our drinks, adopting traffic light labelling to provide consumers with simple and clear nutritional information, reformulating many of our brands to reduce their sugar and calorie content and launching smaller packs like our 250ml can."
Join our new commenting forum
Join thought-provoking conversations, follow other Independent readers and see their replies