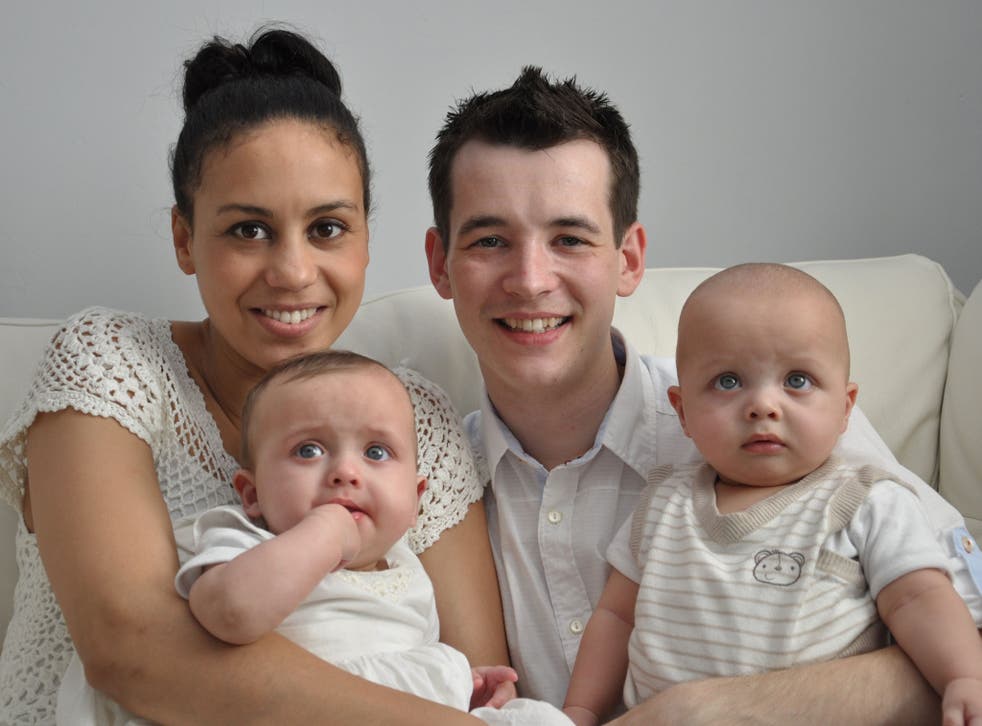 Dads fear the social stigma of staying at home
Study fuels call for flexible work and less bigotry against house husbands
More than half of Britain's working fathers want to cut their hours and play a bigger role in bringing up their children, according to a survey seen by The Independent on Sunday. Despite a growing number of dads taking on more childcare responsibilities, the research reveals that many still encounter prejudice. Seven out of 10 fathers working part time said there was a stigma attached to it and 54 per cent believe they are seen as the weaker partner.
The research shows that most of those who work part time are motivated by a desire to help raise a family, rather than having the decision foisted on them by a lack of work. Only a quarter said their reason for working part time was because they could not find full-time jobs. The majority – 63 per cent – said they had reduced their hours to share the running of the household and family or to spend more time with the kids. Another 7 per cent work fewer hours because they are single dads.
Ken Sanderson, chief executive of the charity Families Need Fathers, said: "These findings illustrate how much family life has changed in recent times. The majority of parents now feel it is crucial for both parents to be equally involved in caring for their children and this has real benefits for children, communities and wider society. Employers should ensure they are doing all they can to enable their staff members to achieve a healthy work-life balance."
Jo Blake, a branch manager at the recruitment agency Office Angels, said the firm had noticed a growing number of employers offering fathers greater flexibility. "One of my clients employs a husband and wife. They are able to alternate the time they start and finish work so one of them is always available to collect or drop off their children at school, but they are not sacrificing their salary by reducing working hours. We are seeing more fathers opt for this flexible working option."
British fathers work the longest hours in the EU – an average of 48 hours a week for those with children under 11. The majority of dads questioned were unhappy with their work-life balance, but despite 57 per cent saying they wanted to work less so they could spend time with children, more than a quarter (27 per cent) did not take the two weeks' paternity leave to which they are entitled.
The Government is planning to bring in new legislation by 2015 so that parents can share the 52-week maternity leave entitlement as they wish. Fathers are currently eligible for up to 26 weeks additional paternity leave (APL) if the mother does not take her full 52 weeks' maternity leave. But critics say APL, which has been available since 2011, is complicated to organise and cannot be divided exactly as parents wish.
Sarah Jackson, chief executive of Working Parents, a charity that lobbies for a better work-life balance, believes employers' attitudes need to change to make sure these opportunities for fathers are taken up. "Couples are beginning to think differently about how they share care as well as the earnings," she said.
"But, as the survey shows, men are very aware of the stigma attached. Men are not stupid, they look at what happens to women in the workplace when they have children and why would they want that to happen to their career?" There has also been a growth in fathers giving up work altogether to look after a children. In the penultimate quarter of last year, 220,000 men classed as "economically inactive" were looking after the home and family, an increase of more than 5 per cent on 2011.
In America, the number of stay-at-home fathers doubled between 2001 and 2011, the effects of which are influencing popular culture. Up All Night, an American sitcom that features a stay-at-home dad, premiers in the UK tomorrow on ITV2. The show, originally made for NBC, tells the story of Reagan Brinkley (Christine Applegate) a TV producer whose husband, Chris (Will Arnett), looks after their new baby.
Marian Salzman, a US trendspotter, predicted that 2013 would be the year of the stay-at-home dad. She said the phenomenon was becoming "increasingly common all over the developed world". Ms Salzman, who heads the US media company Havas PR, believes stay-at-home dads are also likely to be the next big advertising demographic.
"Rather than being diminished by the rise of women, the growing ranks of devoted and capable dads are likely to find their new role liberating. Watch for the rise of child-oriented masculinity-challenging programme makers, brands and advertisers to reflect the essence of this emerging new reality."
Office Angels commissioned the poll, by Opinion Matters, of more than 1,000 working dads in the UK with children up to 16 years-old.
Case study: 'I never wanted to be a weekend dad. Working part time, I get to spend time with my family'
Ben D'Alton, 27, from Morecambe, works part time as a technician for an energy firm so he can help his wife, Fiona, 31, look after their 10-month-old twins, Nahla and Harvey.
"Before I went part time, I was concerned about the drop in income. But my wife and I reassessed our circumstances and simplified our spending in every way we could. We were amazed by how many things we were buying we didn't need, and the outgoings we could live without.
"I now work 26 hours each week – three and a half days. I am the only member of staff who works part time at my company. My wife worked as a learning mentor and carer and is just finishing her maternity leave. Now I feel I have the perfect work-life balance. I never wanted to be a weekend dad, and working part time I get to spend time with my wife and children. I see my children growing up and changing every day, and I feel spending time together strengthens the family that my wife and I are very fortunate to have together.
"A couple of my co-workers said, 'If my wife was having twins, I'd want to stay out of the way'. I thought, 'Why?' Some people couldn't understand why I went part time.
"At the time, this made me feel I should be providing more, as the 'breadwinner'. But then I thought, what is more important – more TV channels and toys or spending time with my family? For both my wife and I, we would rather forgo some material possessions and enjoy this stage of our life. Now, we are loving every minute and wouldn't change a thing."
Join our new commenting forum
Join thought-provoking conversations, follow other Independent readers and see their replies