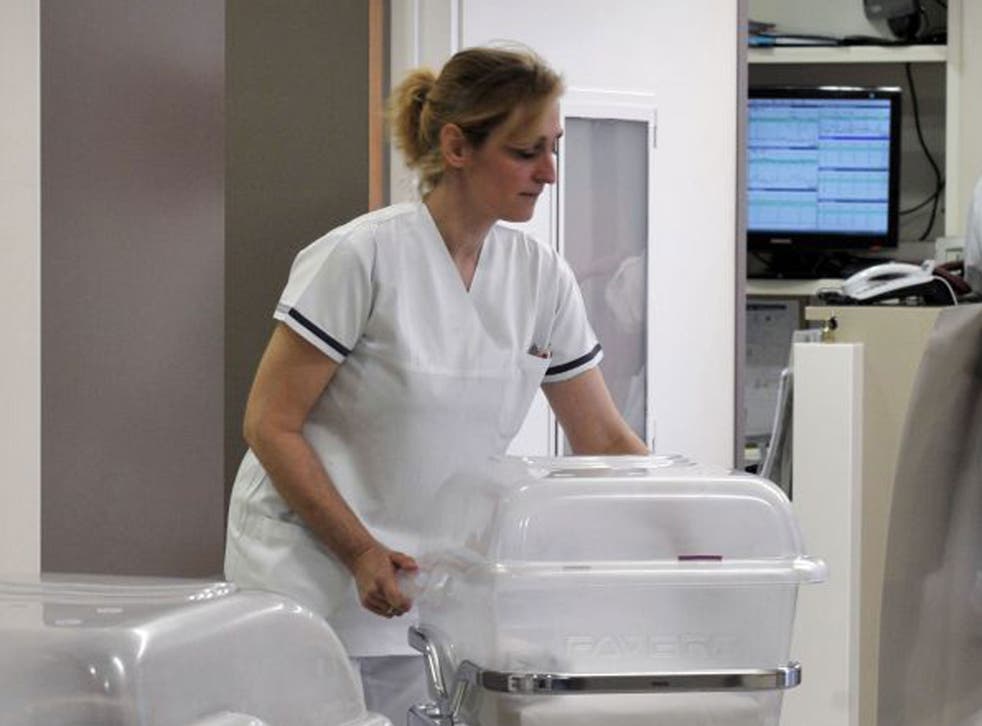 David Cameron hits back after nursing leaders raise major concerns over staffing levels and Government's plan to get trainee nurses working as healthcare assistants
PM says it is 'absolutely vital' to get quality of care right in hospitals
Three-quarters of hospital wards in England are operating with unsafe staffing levels at least once a month, a survey of nursing managers says today.
Nursing leaders also hit out at the Government's plan to get student nurses to work as healthcare assistants for a year, branding the plan "stupid".
The Prime Minister David Cameron strongly defended the Government's approach today, saying: "We have said in the light of [the Mid Staffs] report that nurses should spend some time when they are training as health care assistants in the hospital really making sure that they are focused on the caring and the quality and some of the quite mundane tasks that are absolutely vital to get right in hospital.
"And that is going to be controversial but in the end the sort of health service we want is not just about making sure we have got the facts and the figures and the money and everything else spent well, it's the level of care."
The Government has so far resisted calls to introduce mandatory staff ratios for hospitals in the wake of the Mid Staffordshire scandal arguing that it would not necessarily improve patient care and could lead to organisations seeking to achieve staffing levels only at the minimum level.
But the poll of nurse managers by the Royal College of Nursing found that NHS hospitals are regularly operating at levels that could be potentially unsafe.
Of the 2000 nurses in charge of hospital wards and team leaders working in the community almost three quarters 74 per cent said staffing levels dropped to unsafe levels at least once a month.
More than a third (36 per cent) reported staffing levels were unsafe on a weekly basis, while almost one in ten said staff numbers fell to an unsafe level on every single shift.
In his report into the failings of care at Mid Staffordshire NHS Foundation Trust, inquiry chairman Robert Francis QC said officials should consider the "benefits and value for money of possible staff-patient ratios".
At the start of their annual conference in Liverpool the nursing union said nine in 10 of their members said they would support the introduction of mandatory staffing levels to protect patient safety.
"Without a doubt understaffing is the single biggest challenge facing the NHS today," said Dr Peter Carter, general secretary of the RCN.
"Mandatory staffing levels are proven to reduce patient mortality. With correct management, flexibility and transparency there is no reason that introducing mandatory staffing levels will become a "race to the bottom" as some have described it. It is no less than patients deserve.
"The introduction of mandatory safe staffing levels, enshrined in law is now a matter of extreme urgency."
He said it was important that the Government listened to ward sisters who would be would be crucial in driving improvements in care.
"The concerns of ward sisters are very clear: they do not have enough staff to always provide the high level of care they know all patients deserve; all too often they are not even being allowed to use their experience to safeguard basic patient care."
And on the plan to get nurses to work as healthcare assistants, RCN president Andrea Spyropoulos said the scheme would "waste tax payers money".
"I don't believe it will happen. I believe it is a really stupid idea that will not benefit patients."
Jamie Reed, Labour's Shadow Health Minister, called on the Government to accept Francis' recommendation.
"Robert Francis was right to recommend benchmarks on staffing and the Government should accept it without delay," he said. "Ministers must stop the job losses and ensure all hospitals have enough staff to provide safe care."
However a Department of Health spokesperson said there was "no excuse for hospitals that don't have enough staff on the wards" but that mandatory staffing levels were not the answer.
"Hospitals need the freedom and flexibility to decide on how many staff to employ, because they know the care their patients need," they said
"The Francis Inquiry highlighted the need for better tools for hospitals to decide on the right numbers of staff - we are working with NICE, the CQC and NHS England to develop these. NHS England's Chief Nursing Officer has also said hospitals should publish their staffing levels - and justify them - at least twice a year."
Join our new commenting forum
Join thought-provoking conversations, follow other Independent readers and see their replies