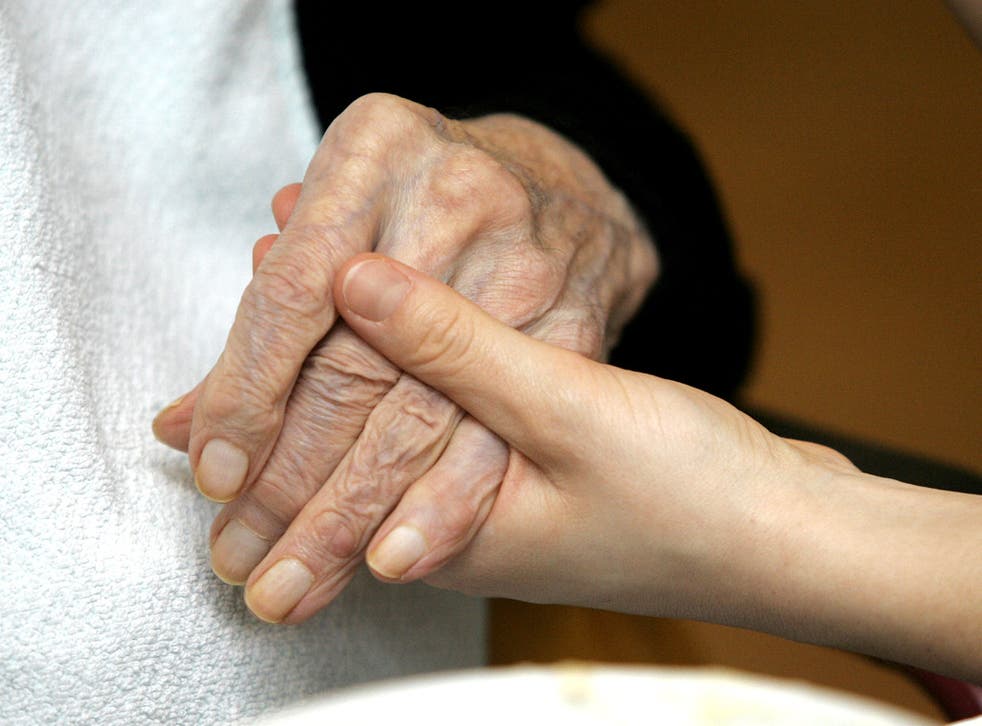 Dementia revolution: Jeremy Hunt pledges £90m for early diagnosis
New package will also include introduction of 'dementia friends' in high street chains
A new package of care for dementia sufferers will make the UK a world leader in fighting the illness, Jeremy Hunt has said.
The Health Secretary has announced a number of ambitions, including faster diagnosis, more funding for research and greater help from businesses to support sufferers.
But Labour warned that the Government must tackle "poor care standards" in order to combat the condition.
NHS England will invest £90 million in a bid to diagnose two-thirds of people with dementia by March next year.
Leading British businesses have signed up to the cause with more than 190,000 staff at Marks & Spencer, Argos, Homebase, Lloyds Bank and Lloyds Pharmacy set to become "dementia friends".
They will be trained to learn how to spot the signs of dementia and offer support for sufferers.
Mr Hunt said: "Dementia can be a horrific and heartbreaking disease, but it is my mission as Health Secretary to make this country the best place in the world to get a dementia diagnosis, as well as a global leader in the fight to find a cure.
"Today's package is about government, clinicians, business, society and investors coming together to raise our game on every front - from speedy diagnosis to compassionate care, and from help on our high streets to the quest for a cure."
According to the Alzheimer's Society there are around 800,000 people in the UK with dementia. One-in-three people aged over 65 will develop the condition, and two-thirds of sufferers are women.
NHS England will target work in areas where it can take up to 25 weeks to carry out a diagnosis.
Mr Hunt added: "To have variation in diagnosis rates from a few weeks to close to six months is totally unacceptable and I am pleased that the NHS England have agreed to address this within the funding they have available."
He was in Paris yesterday to meet French dementia experts and health minister Marisol Touraine. Mr Hunt also visited a leading brain and spine institute.
Jeremy Hughes, chief executive of the Alzheimer's Society, said: "It is unacceptable that some people with dementia have to wait months to get a diagnosis. Today's announcement is a positive step forward to increasing diagnosis rates and ensuring that no matter where you live you will receive a timely assessment.
"Too often we hear about a lack of suitable services available to people with dementia and their carers. We welcome the focus on post-diagnosis support which will provide a vital lifeline to thousands who are currently left in the dark, with nowhere to turn for advice or support."
Prime Minister David Cameron has appointed a World Dementia Envoy following agreement between the G8 countries at a dementia summit in London in December.
Dr Dennis Gillings, an expert in clinical trials, plans to create a World Dementia Council to raise funds for research towards a cure.
Dr Margaret Chan, director general of the World Health Organisation, said: "Dementia is a costly and heartbreaking epidemic with an immense impact. I can think of no other condition that has such a profound effect on loss of function, loss of independence, and the need for care - care that is immensely challenging, physically, psychologically, and financially.
"We need to accelerate research for new interventions, to find ways to improve the quality of life and care, and to do more to support care-givers and families. I welcome the appointment of Dr Gillings to draw the world's attention to these critical issues."
Liz Kendall, Labour's shadow minister for care and older people, said: "Dementia is one of the greatest challenges we face as a country. The Prime Minister is right to focus on it and Labour supports the Government's commitments on research, and to ensure everyone with dementia is properly diagnosed.
"But if his words are to have real meaning, David Cameron must do far more to help people struggling to cope with dementia right now.
"£2.7 billion has been cut from council care budgets under this Government, hitting the quality of life of hundreds of thousands of people with dementia and their families. This isn't good for them, and is a false economy as an increasing number of elderly people with dementia are ending up in hospitals or care homes when they don't need to.
"The Prime Minister cannot credibly claim to show leadership on dementia unless he tackles poor care standards, like the increasing number of 15-minute home visits which are barely enough time to make a cup of tea, let alone help a frail elderly person with dementia get up, washed, dressed and fed."
PA
Join our new commenting forum
Join thought-provoking conversations, follow other Independent readers and see their replies