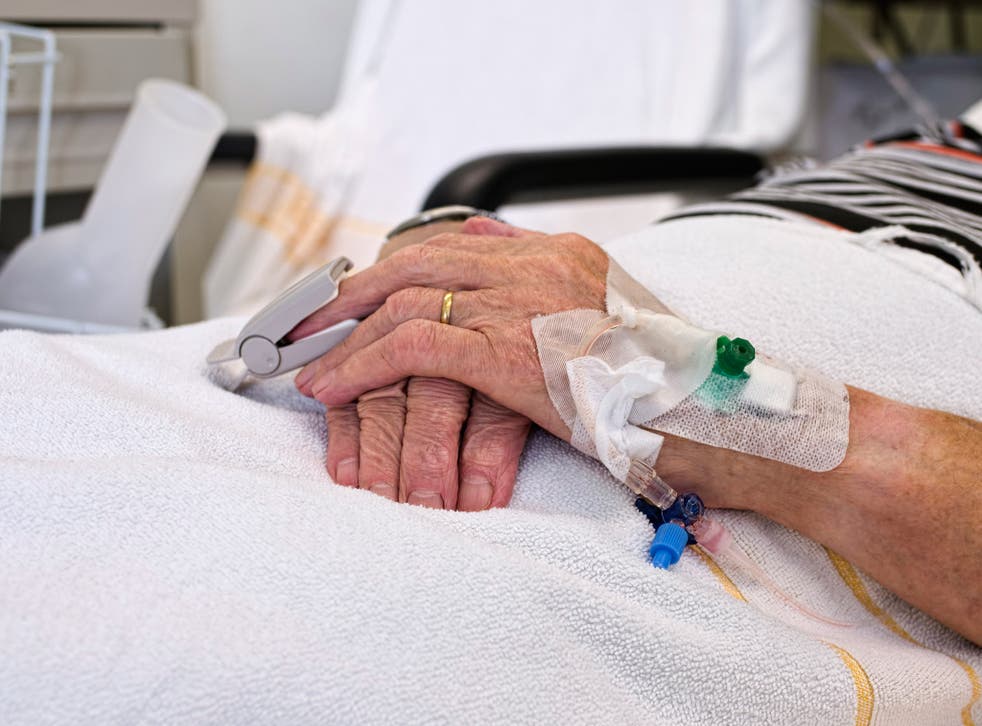 Drugs to prevent 'death rattle' of dying patients not justifiable if intention is only to reduce distress of relatives, says new guidelines
The National Institute of Health and Care Excellence (NICE) says there is little evidence that the drugs used are effective
Drugs used to prevent the so-called "death rattle" of dying patients can have unpleasant side effects and may not be "morally and economically" justifiable if used only to reduce the distress of relatives, according to new guidelines.
The death rattle is a common symptom in the final days and hours before death. It is one of most well-known indicators that death is near and can be extremely upsetting for relatives at the bedside.
It occurs when secretions such as saliva collect at the back of the throat – often after a person has lost their ability to swallow – creating a hollow, gurgling sound.
Clinicians often use drugs called anti-muscarinic agents to 'dry up' the secretions, in order to reduce the symptoms.
However, according to new draft guidance on the care of the dying from the National Institute of Health and Care Excellence (NICE), there is little evidence that the drugs are effective, and they can also cause side effects including dryness in the mouth, blurred vision and retention of urine.
Health news: in pictures

Show all 104
The guidance says that repositioning the patient or using suction tubes can be just as effective at reducing the symptoms.
"It is common to experience noisy respiratory secretions at the end of life…and the death rattle is a strong predictor of death," the draft guidance says. "The noise can cause considerable distress, both at the time and possibly after death, due to concerns that the person may have drowned or suffocated to death.
"For many years it has been the practice of clinicians to administer subcutaneous anti-muscarinic agents in an attempt to 'dry up' secretions and relieve any distress primarily to carers and relatives despite a lack of evidence of any beneficial effect to the patient or improvement in distress levels."
It goes on to say that, along with the side effects, the cost of using drugs makes it "hard both morally and economically to justify their continued use when the current evidence does not support them and treatment is usually aimed at minimising distress of people other than the dying person."
The new guidance also includes recommendations on fluid intake for dying people, decision-making around medication and communication with patients and relatives.
Their publication follows the abolition last year of the controversial Liverpool Care Pathway (LCP), which was withdrawn after a review found serious failings in the way it was being implemented, including concerns that decisions around end of life care were not always being made by experienced clinicians.
NICE also said the LCP had suffered from a "perception that hydration and some essential medications may have been withheld or withdrawn, with negative impact on the dying process."
The new guidelines, which will now go out for consultation, state that people in the last days of life should be encouraged to drink if they are able and wish to.
Sir Andrew Dillon, chief executive of NICE said: "Recognising when we are close to death and helping us to remain comfortable is difficult for everyone involved.
"Earlier this year the Parliamentary and Health Service Ombudsman said that end of life care could be improved for up to 335,000 people every year in England. The guideline we are developing will ensure that people who are nearing the end of their lives are treated with respect and receive excellent care."
Join our new commenting forum
Join thought-provoking conversations, follow other Independent readers and see their replies