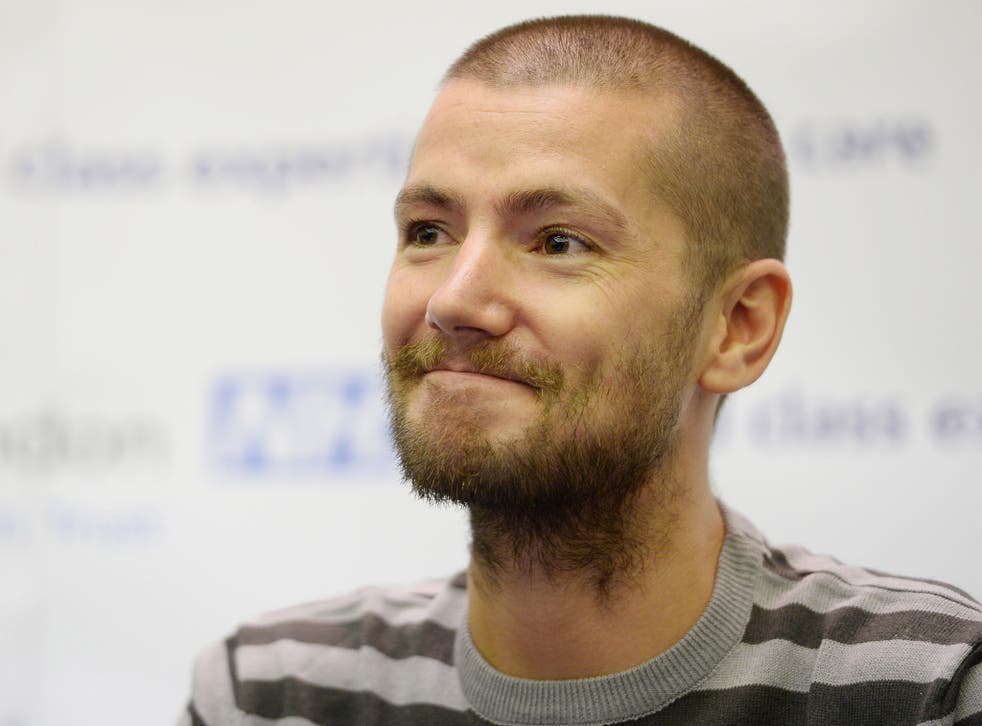 Ebola: British nurse who caught virus plans return to treat people with deadly disease
'There's a lot of stuff on my mind with what's going on back there'
British nurse William Pooley, who caught the ebola virus in Sierra Leone, plans to return to the country to help treat people with the deadly disease.
Mr Pooley, 29, of Suffolk, was flown back to the UK after contracting the virus and was released from the Royal Free Hospital in London earlier this month.
Initially he said he could not return because his passport had been incinerated because his possessions might have been infected.
But, speaking to The Guardian, Mr Pooley said he now wanted to return to Sierra Leone.
"While I'm happy to be recovered and alive, there's a lot of stuff on my mind with what's going on back there," he said.
"It would be relatively safe for me to go back and work there, and it's really the least I could do having received all this amazing care and have people look after me and potentially save my life.
"It's the least I could do to go back and return the favour to some other people, even just for a little while. The more help they get, the less chance there is they get sick."
He urged the world to do more to help deal with the virus, which is thought to have killed more than 2,200 out of 4,200 people who have been infected in Guinea, Liberia, Sierra Leone, Nigeria and Senegal. Experts say the outbreak is out of control.
"It's a global problem and it needs global level leadership so [Barack] Obama and [David] Cameron ... need to show some more leadership on this issue," Mr Pooley said, stressing he was grateful to the Prime Minister for helping to bring him back to the UK for treatment.
"Sierra Leone needs lots of international health-care workers working with big NGOs like MSF [Doctors Without Borders] and Red Cross. All of that needs to be increased."
Mr Pooley's mother, Jackie, said it "would be his choice" whether he went back to Sierra Leone.
"We would want him to go back, not as an individual but with an organisation of some kind so he's got the backing. Obviously in a way we don't want [him] to, but I can see I would feel very proud of him if he decided he was going to, because he knows what it is going to be like," she said.
Mr Pooley said when he first started work in the hospital in Kenema, Sierra Leone, the wards were "pretty grim -- corpses, blood, the place was really dirty, people just dying in quite unpleasant ways".
"There were not enough materials, there was no running water, no sheets or towels to clean a patient with. They might be incontinent, they are often confused, so you can imagine, with diarrhoea and vomiting, patients get in horrible condition," he said.
"When I first started there was not a thing that you could use to help them. You'd just have to improvise, find a way of cleaning them and try and find something to cover them with."
Mr Pooley said he then developed a sore throat, aches and started feeling "pretty rough".
"I went to sleep and then later when it was dark I woke to [see] Ian Crozier, a wonderful doctor who is working with the World Health Organisation, out there. I woke to his voice and his voice was muffled, and when I saw he was wearing PPE [protective clothing] I knew it was bad news," he said.
"He was saying to me the kind of stuff I said to patients myself loads and only ever half believed. He was saying to me 'you are young, you are strong, you are going to be fine' – and it's amazing how that can reassure you.
"Telling mum and dad about having ebola was just horrible. It was definitely the worst thing of it all.
"My fear of the symptoms was perhaps worse than the fear of the death. Working in the hospital, seeing the way people die. Even here with the amazing care you get here you could still die a very horrible death."
Join our new commenting forum
Join thought-provoking conversations, follow other Independent readers and see their replies