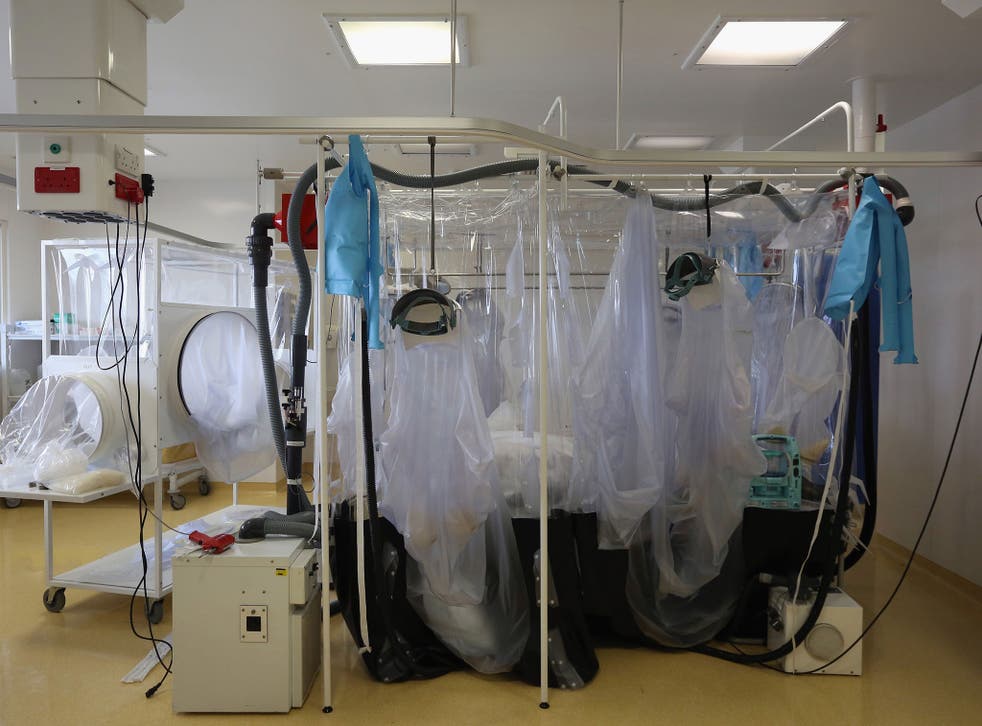 Ebola expert warns of tragedy in British hospitals due to safety failings
"There are failings of infection control in our health service"
A leading global expert on the Ebola virus has warned there will be "tragedy" in a British hospital – because safety procedures are not being followed strictly enough to prevent medical staff from becoming infected.
Dr Simon Mardel, a British expert on viral haemorrhagic fevers who has just been appointed as the World Health Organisation's international clinical co-ordinator in its bid to control Ebola, said that infection control in NHS hospitals was still not up to standard.
"As the Mid-Staffordshire inquiry showed, there are failings of infection control in our health service, and not just in that hospital," Dr Simon Mardel told The Independent.
"Standard procedures are not being followed closely enough. This is a very unforgiving virus, and it's a wake-up call. There is no more room for slip-ups. I do think there's going to be a tragedy. When we do get a case, I'm confident that public health procedures will work really well and prevent further transmission [to the general public] but I think there will be transmission to medical staff."
Dr Mardel added that there were many weaknesses in the British hospital system. "For example, we're mixing clinical and clerical areas, with people eating and drinking in both; 7 per cent of patients admitted to hospital in the UK will get reinfected. We've got to raise the bar."
Dr Mardel, who was involved in bringing the Ebola outbreak in Nigeria under control, was speaking on the eve of his departure for Sierra Leone. He also called on the World Bank to take a leading role in the fight against the disease.
In pictures: Ebola virus

Show all 62
"In Britain we have the facilities but not the compliance," he said. "Most other countries don't even have the facilities. They don't have running water close to patient care, they don't have sinks, and having worked in more than 20 countries over the last 30 years, I'd say the situation was getting worse.
"Unfortunately it's one of those areas that's been neglected because it's no one's responsibility. But it's not a huge, billion-dollar problem: it's really fixable and would be relatively cheap if it was tackled in a joined-up way, rather than by thousands of different NGOs. The World Bank would be the ideal organisation to do it."
Dr Mardel, who was appointed OBE in 1993, has worked in some of the most dangerous places in the world, including Afghanistan and Srebrenica. He said that public information about Ebola would be a priority in his mission to Sierra Leone.
In his view, the US government's treatment of doctors and nurses returning from affected countries has added to the spiral of fear.
"It might seem a good idea to impose travel restrictions or to quarantine health workers, but if you do, what message does that send to African countries? There have already been cases there of health workers being turned away from their home villages. The whole system is breaking down."
Disaster relief: Paying off
Charities working under the Disasters Emergency Committee have reached over eight million people in the fight to tackle the devastating Ebola crisis in West Africa, it is announced today.
Over half a million people have received practical support and 7.5 million people have received vital public health information to keep themselves safe and stop the spread of the disease.
This work has been possible thanks to £14m raised so far, which includes donations from the UK public and £5m in match funding from the UK Government.
Join our new commenting forum
Join thought-provoking conversations, follow other Independent readers and see their replies