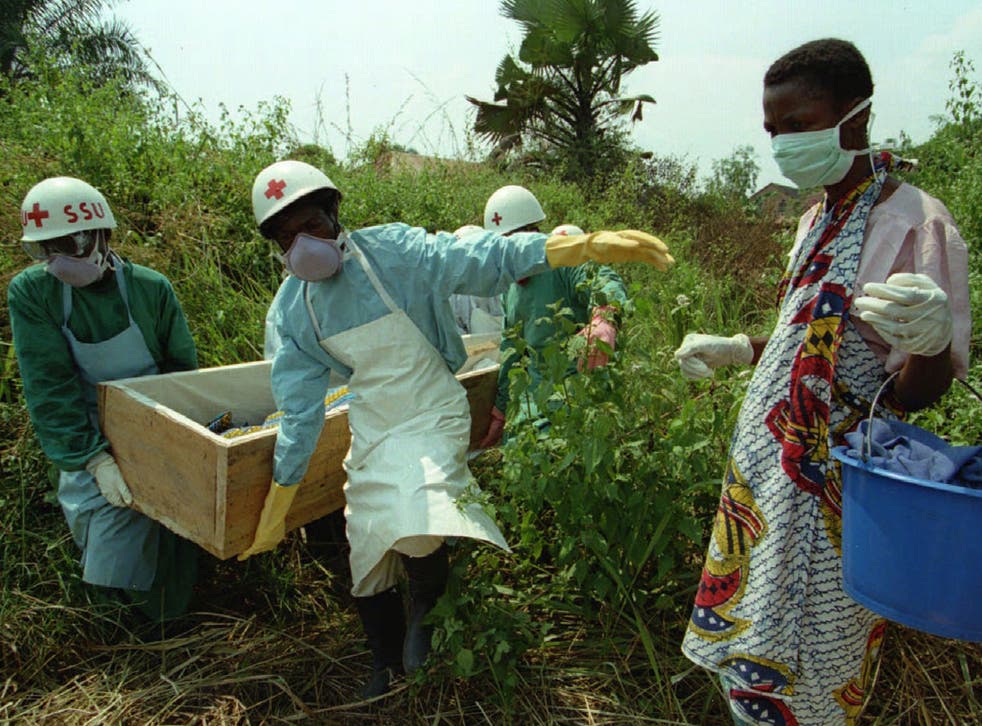 Ebola outbreak: Congo showed transfusion therapy can work, but scientists don't know why
The best treatment available is still surrounded by uncertainty
The experimental transfusion treatment that now forms the best of a limited pool of options for any doctors treating Ebola patients was first used during the Kikwit outbreak in 1995 in Zaire – now the Democratic Republic of Congo.
Called passive immunotherapy, it takes antibodies circulating in the blood of Ebola patients who have survived the disease and injects them into patients showing symptoms of the infection. The hope is that the "foreign" antibodies will curb the virus's replication within the body of the patient.
In June 1995, doctors at the University of Kinshasa treated eight Ebola patients with blood transfusions from five Kikwit patients who had survived the viral infection. Just one of the eight patients died and the rest recovered completely – a 12.5 per cent fatality rate compared with the norm of 80 per cent for that particular Ebola epidemic.
"The reason for this low fatality rate remains to be explained," the Kinshasa doctors wrote in their scientific report published in 1999. "The transfused patients did receive better care than those in the initial phase of the epidemic. Plans should be made to prepare a more thorough evaluation of passive immune therapy during a new Ebola outbreak."
The donated blood contained antibodies to fight the Ebola virus generated by the immune systems of the survivors, but not Ebola antigens, the protein particles that make up the virus.
It was thought that the single blood transfusion gave the recipients a much-needed boost that their own immune systems were failing to provide.
This particular trial involved the transfusion of whole blood, rather than the blood-cell-free plasma used on Ms Cafferkey, but it nevertheless indicated the potential of exploiting the strong "neutralising" antibodies circulating in the blood of survivors to treat Ebola patients.
Abraham Karpas, a retired virologist at Cambridge University who was involved in an early passive immunotherapy trial on HIV patients in the 1980s, said that in the absence of effective anti-viral drugs against Ebola, the therapy should be explored further for patients who have little else to hope for.
"While there are no effective drugs against this lethal virus it would be reasonable to explore the wider use of passive immunotherapy based on the reported study [in Kinshasa]," Dr Karpas said.
The Kinshasa study indicated that a single transfusion with neutralising antibodies could have a significant impact on a patient's chances of recovery. Dr Karpas said this suggested that it might be possible to extend passive immunotherapy by taking Ebola antibodies from animals that are able to survive the infection.
The idea is not as outlandish as it might sound. More than a century ago, doctors used antibody therapy to treat tetanus and diphtheria by injecting blood serum from immunised horses into patients with severe forms of the illnesses.
However, not everyone is convinced that passive immunotherapy has been shown to be effective against Ebola, and have added a note of caution on extending its use.
Professor Peter Horby of the University of Oxford said: "We must not lose sight of the fact that Ebola is one of the most virulent viruses we know. Even with advanced medical care Ebola remains an extremely serious disease. We desperately need a better understanding of the disease process and better, specific treatments."
He added that it was not known if either an antiviral drug or convalescent plasma treatments "are effective, useless, or perhaps even harmful… This underlines the urgent need to properly evaluate experimental therapies for Ebola, including convalescent plasma, so we know what works and what does not."
Join our new commenting forum
Join thought-provoking conversations, follow other Independent readers and see their replies