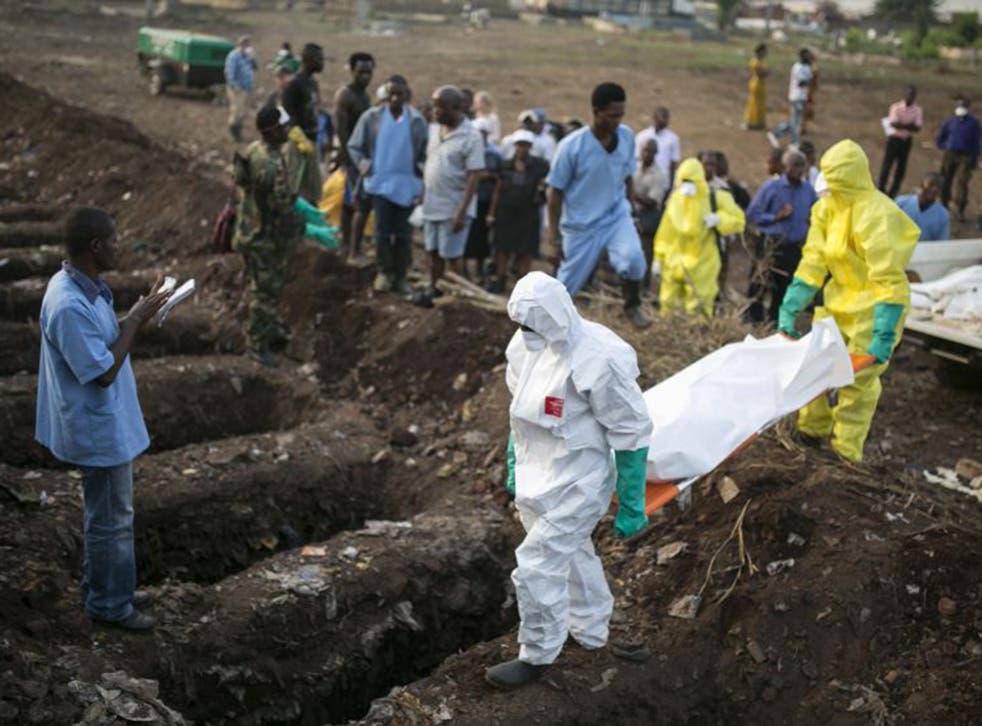 Ebola outbreak: Sierra Leone's guardian of the dead is at work again
The man who tended corpses during the country's bloody civil war is now dealing with victims of the virus
To find Andrew Kondoh, walk through the gates of Kenema's largest cemetery, where teams bury more than 50 bodies in white plastic bags each day. Look for the man with the wispy goatee and big belly who is overseeing one of the world's most chaotic, dangerous graveyards as if he's done it all before.
That's because he has. Twenty years ago, when he was 13, Mr Kondoh took it upon himself to guard a heap of bodies, people killed by rebels during the country's civil war. For three years, as the pile grew, he protected them from being trampled or picked at by dogs. When that conflict ended, Mr Kondoh made a promise to himself. He was done working with the dead.
Then Ebola surged in Sierra Leone. "It's like I'm back there again," Mr Kondoh said. "Except this time I don't see the faces in the body bags. I just imagine them."
The fighting started in 1991, when Mr Kondoh was 11, and ended when he was 22. Rebels swept through the country, murdering civilians, raping women and abducting children. The army pushed back, committing its own horrific abuses. Somewhere between 10,000 to 50,000 people were killed.
In the eastern district of Kenema, rebels killed suspected government sympathisers and left the corpses. The military eventually picked them up. Without a functioning cemetery, soldiers dumped the bodies in an alley, near a shuttered mortuary. From his house, 400 yards away, Mr Kondoh watched them decompose.
He couldn't take it. He stole some rope that his father, a butcher, used to hang cuts of meat. He created a makeshift barrier around the bodies. He started spending his days manning the area, a teenage watchman. He recruited other boys to join him.
"It wasn't just about respect. It was that I worried about disease and infection spreading," he said. "When I saw kids or pregnant women, it was just too much. I can tell you that our war – it was the worst war in the history of the entire world."
When it ended, the leaders of the fighting forces were tried. The dying was over, he told himself. In May, Ebola came to Sierra Leone. In September, he saw a posting for a "burial welfare supervisor". He sent in his CV. "It's not something I wanted to do again," Mr Kondoh said. "But I felt I needed to be on the front line."
A new horror is unfolding amid the reminders of the old one. More than 2,000 Sierra Leoneans have died from Ebola. The National Ebola Response Centre was created in a modern compound atop a hill in Freetown. Until 2012, it had been the special court for Sierra Leone, established by the United Nations for war crimes trials.
Burials in Sierra Leone typically involve large gatherings in which relatives and friends wash, touch and kiss the bodies of the deceased, a sign of respect. But they also hasten the spread of the disease, as Ebola victims are at their most infectious immediately after death.
In August, to stop the chain of transmission, the government of Sierra Leone mandated that all of the deceased be buried as if they had Ebola – in body bags and by teams in protective gear. Families can attend the ceremonies, but they can't go near the dead. Families sometimes attack burial team members whom they see as disrupting their religious practice. Five of the trucks that Mr Kondoh's teams use have been damaged by angry mourners.
Mr Kondoh's days are a blur. He races across Freetown behind an ambulance. He checks for holes in his team's protective gear. He looks for signs that his colleagues – many in their late teens or early twenties – might be depressed or sick. He roughhouses with them, lets them rub his belly. "When he sees you're looking sad, he comes over and asks, 'How you doing, man?'" said Mamadou Jallah, a member of the burial team. "He's like a brother."
Mr Kondoh's wife, Basasatu, makes him change his clothes before coming inside their home. She knows he is at high risk of contracting Ebola.
One day last month, he travelled with a team to pick up a body. It was at a community centre, and the family had gathered inside to pray. When the ambulance arrived, they started wailing. He tried to console them while keeping his distance. After the body was carried to the ambulance, his team made another stop a few hundred yards away. This time, the deceased was a four-year-old.
"I know it's painful to see your loved one being put in a bag," he told the child's family. "But it's government policy." The father nodded, crying. The boy's body was loaded into an ambulance. Mr Kondoh watched, his arms crossed and his lips pursed. "This is when my nights are not OK," he said.
© The Washington Post
More than 7,000 dead
The death toll from Ebola in the three worst-affected countries in West Africa has risen to 7,373 from the 19,031 cases known there to date, the World Health Organisation (WHO) has said.
Sierra Leone accounts for the most cases, 8,759, against 7,819 for Liberia. But Sierra Leone's death toll of 2,477 is far less than the 3,346 recorded in Liberia, leading some to question the validity of the figures coming out of Freetown.
In Liberia yesterday health workers manned polling stations as voters cast their ballots in a senate election twice delayed from October. Speaking from the Guinean capital Conakry, UN Secretary General Ban Ki-moon urged countries affected by Ebola to avoid discriminating against healthcare workers.
Reuters
Join our new commenting forum
Join thought-provoking conversations, follow other Independent readers and see their replies