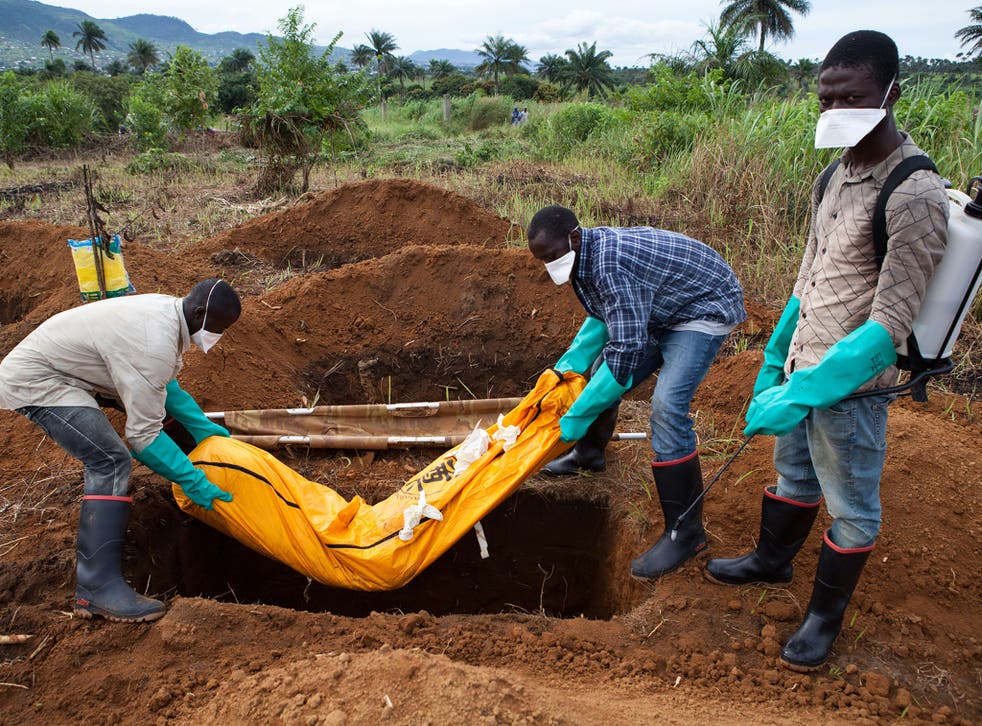 Ebola virus: What price for a miracle cure?
If GlaxoSmithKline's tests go according to plan, the firm and its partners could produce more than 10,000 vaccines by early next year
The head of GlaxoSmithKline's Ebola vaccine programme reported no concerns so far, as the British drugs giant tested the experimental treatment on its first African volunteer.
"Everything we have seen so far is not concerning," said Dr Ripley Ballou, who is overseeing the accelerated phase 1 trials that began a month ago in the US and UK and which have now gone to Mali.
His upbeat assessment comes as a Norwegian woman infected with the virus in Sierra Leone was reportedly given the last remaining dose of the experimental drug ZMapp. The first Briton to contract Ebola, Will Pooley, received ZMapp and then recovered, but the drug's American manufacturer warned it would take months to replenish supplies.
If GSK's tests go according to plan, the firm and its partners could produce more than 10,000 vaccines by early next year. As drug-makers race to tackle the crisis, they must also tackle claims that they could have done more sooner.
See the Ebola outbreak mapped

Show all 7
"Large companies will not invest in research and development for rare and neglected diseases, due to the limited scope for profit," said Mohga Kamal-Yanni, Oxfam's senior health-policy adviser. "But it is neither ethical nor sustainable to leave decisions and financing for research and development to be dictated by the commercial interests of pharmaceutical companies. They will continue producing the medicines that can make the highest profits rather than the therapies that are desperately needed for public health."
Drugs firms don't shy from the fact that they must aim to make a commercial return on their expensive research. They might be guilty of spending more money on finding cures for first-world ailments such as cancer and heart disease, or on lifestyle drugs such as Viagra, but the truth is that even the experts did not put Ebola high on their list of priorities until this latest outbreak, which has killed more than 3,800 people so far.
"Until this outbreak, Ebola was a rare disease occurring in small instances and burning itself out," said Dr Ballou. But he admitted: "In retrospect we should have jumped on this a little bit quicker. We are definitely behind the eight ball right now."
Ebola did not figure in the list of 17 neglected tropical diseases (NTDs) drawn up by the World Health Organisation two years ago that afflict more than one billion people. There were fewer than 500 deaths reported in 1976, when it was first detected, and no deaths recorded in 22 of the past 38 years. In Africa, tuberculosis and the complications of HIV claim many more lives.
The WHO list led to a pledge by 13 pharmaceutical firms, the Bill & Melinda Gates Foundation and the World Bank to work together to eliminate by 2020 diseases including leprosy, sleeping sickness and blinding trachoma, in the so-called "London declaration".
The Association of the British Pharmaceutical Industry talks about its "long-standing and continuing commitment to fighting infectious diseases". Some progress has been made in tackling NTDs.
In 2012, research funding in this area rose slightly after years of decline, according to a Gates Foundation-funded survey. French drugs giant Sanofi is developing a vaccine for dengue fever, and GSK's malaria vaccine – in the works for 30 years – is in the hands of regulators with a verdict due next year. If approved, the company intends to sell it at cost in Africa.
But the commitment to invest is sometimes at odds with a corporation's commercial imperative. AstraZeneca was accused of turning its back on the world's poor in January when Britain's second-largest drugs company announced the closure of a laboratory in India that concentrated on combatting NTDs, TB and malaria.

The trouble is that niche viruses taking flight around the globe has coincided with a crisis of confidence among Big Pharma companies. The pressure is on to find new blockbuster treatments to justify the billions expended in research labs – and then milk sales before patents expire and pave the way for cheap, copycat medicines. It means that the biggest drug firms are focusing on fewer therapy areas.
City analysts at Deutsche Bank say that GSK, Novartis of Switzerland and Sanofi are investing most in NTD research. But even for the biggest contributor, GSK, whose £105m-a-year is estimated to contribute a third of all NTD spending, the sum amounts to 3 per cent of its overall research and development budget. And its hotly anticipated Ebola vaccine – a chimpanzee cold virus injected with a small piece of the Ebola gene – came as part of the acquisition of Swiss specialist Okairos two years ago.
Believe it or not, part of this investment in NTDs is down to drugs companies trying to do the right thing. But part of it is cultivating African markets for the longer term, when the continent's economies are expected to strengthen.
However, around two-thirds of research funds in this area come from governments and charities, such as the $50m pledged last month by the Gates Foundation to fight Ebola. Even those organisations must make a choice.
"There are far more viruses in the world than virologists," Dr Ben Neuman, a virologist at University of Reading, wrote earlier this year. "We each have to choose what we work on. Self-interest plays a part. Why should the government of a country like the UK expend a large amount of money on Ebola, which only seems to crop up in sub-Saharan Africa?"
The trials of GSK's research programme are in partnership with the US National Institutes of Health. The UK government, the Wellcome Trust medical charity and the Medical Research Council have all thrown money into the pot with the aim of paying for the production of 10,000 doses of vaccine by early next year, if approval is granted. Rival Johnson & Johnson also has plans for human trials.
Smaller biotech firms have worked on antidotes, while the biggest corporations have put more effort into preventative vaccines. A patient hospitalised with the Ebola virus in Dallas, Thomas Duncan, died after being treated with brincidofovir, an experimental drug from developer Chimerix.
The cost of the loss of life may be immeasurable for the families and communities that have been ravaged. International bodies are also putting a price on the economic cost of the crisis.
The World Bank said it could result in $32.6bn of lost economic growth by the end of 2015, an impact the organisation's president, Jim Yong Kim, called "potentially catastrophic". He told a meeting of international leaders: "Unless we quickly contain and stop the Ebola epidemic, nothing less than the future of not only West Africa but perhaps even Africa is at stake."
The International Monetary Fund last month approved a $130m aid package for the three West African countries at the centre of the crisis – Sierra Leone, Guinea and Liberia.
Join our new commenting forum
Join thought-provoking conversations, follow other Independent readers and see their replies