Elderly will be assigned local doctor who is personally responsible for their care, says Jeremy Hunt
Health secretary, Jeremy Hunt, announces measures as part of new era of 'personalised' NHS care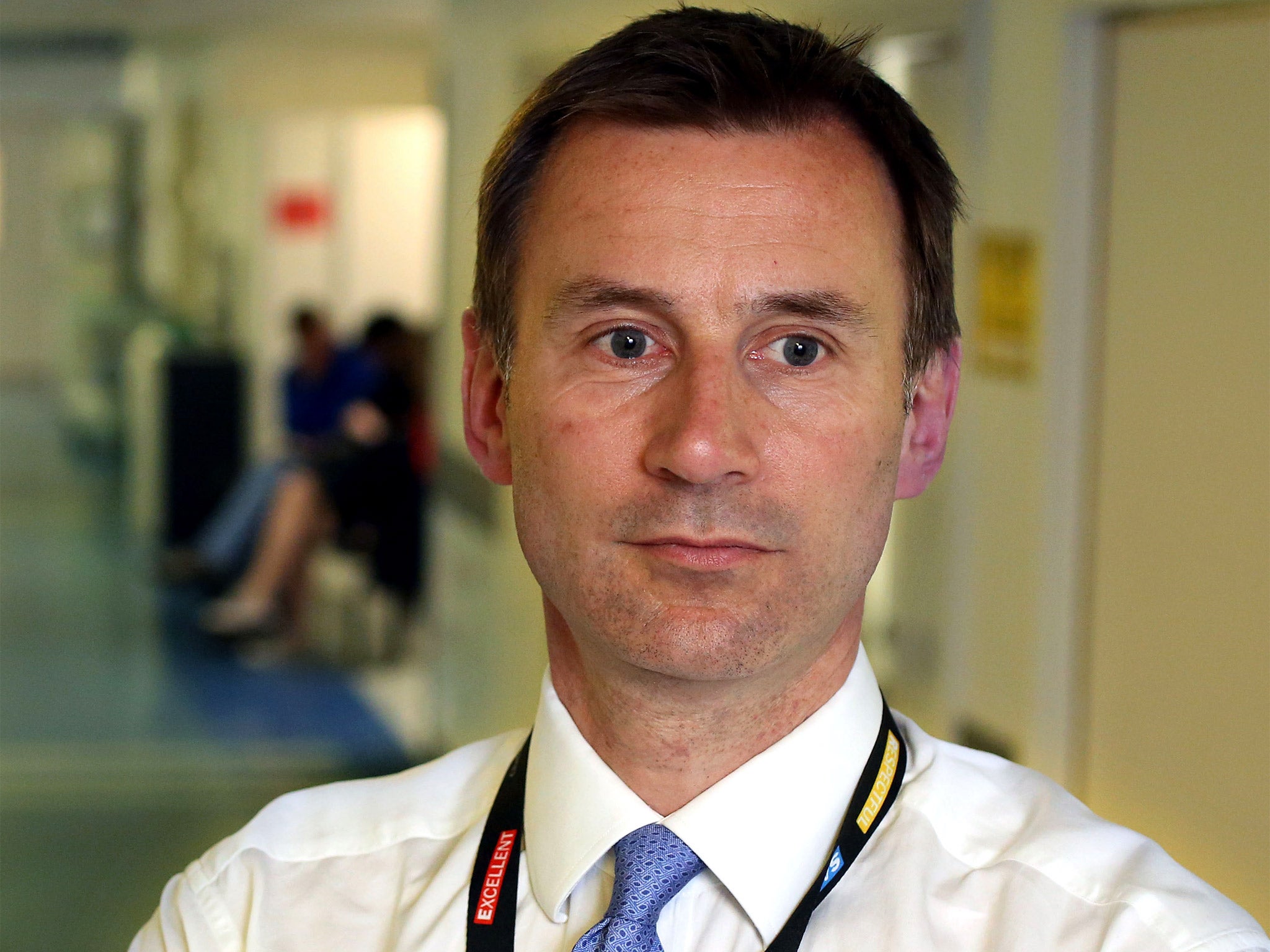 Every vulnerable elderly person will be assigned a local doctor or nurse who is personally responsible and accountable for their care, the health secretary Jeremy Hunt will announced today, in a speech to mark the 65th anniversary of the health service.
Confirming plans revealed in The Independent, Mr Hunt will call for a new era of " personalised" NHS care.
The health secretary will also announce the establishment of a new organisation – Genomics England – which will begin the work of mapping the individual genetic code of hundreds of thousands of NHS patients.
While praising NHS staff and calling the health service "the nation's most loved and most successful institution" Mr Hunt warns that the NHS must change to meet the needs of millions more patients suffering from chronic conditions, often without a cure.
"The world today is very different to 1948," Mr Hunt will say. " The old model was curable illnesses where you went into hospital unwell and came out better. Yet most people now leave hospital with long term conditions which need to be supported and managed at home."
NHS England will be tasked with ensuring that a named clinician will be responsible for each vulnerable older person when they are outside hospital, in the same way a named consultant is responsible for patients in hospital.
The proposals will form part of a consultation on NHS England's 2014-15 mandate, to be published today.
The plans to sequence the genome of an initial 100,000 NHS patients was announced by the Prime Minister last year. The scheme could radically improve understanding of common diseases and will enable clinicians to design tailor-made treatments. DNA analysis can detect predisposition to certain rare cancers and can help clinicians determine how cancers might develop in particular individuals.
The project will be led by Sir John Chisholm, a former chairman of the Medical Research Council, and will capitalise on the plummeting cost of DNA sequencing. The first complete mapping of the human genome, completed in 2003, took a decade and cost £750m, but sequencing can now be done far more quickly at much lower cost.
"Combine the information from genomes with the information in digital medical records – all done with proper consent – and you have the most remarkable treasure trove about the make-up of diseases with huge clues as to how to treat them," Mr Hunt will say.
In an interview with The House magazine, published today, the health secretary admitted that while the NHS needed "a very different attitude to patient safety", the health service would never achieve "zero harm".
He also discussed details of a scheme which has seen civil servants and ministers from the Department of Health spend up to four weeks working on the frontline of the NHS. Mr Hunt said that his own duties had included "washing beds in A&E departments, photocopying forms and issuing prescriptions" and that some civil servants had been tasked with emptying bed pans.
"In the Department of Health we need to be connecting with what our patients are experiencing day in day out, otherwise we are not going to devise the best policy," he said.
Video: David Cameron praises the NHS
Join our commenting forum
Join thought-provoking conversations, follow other Independent readers and see their replies