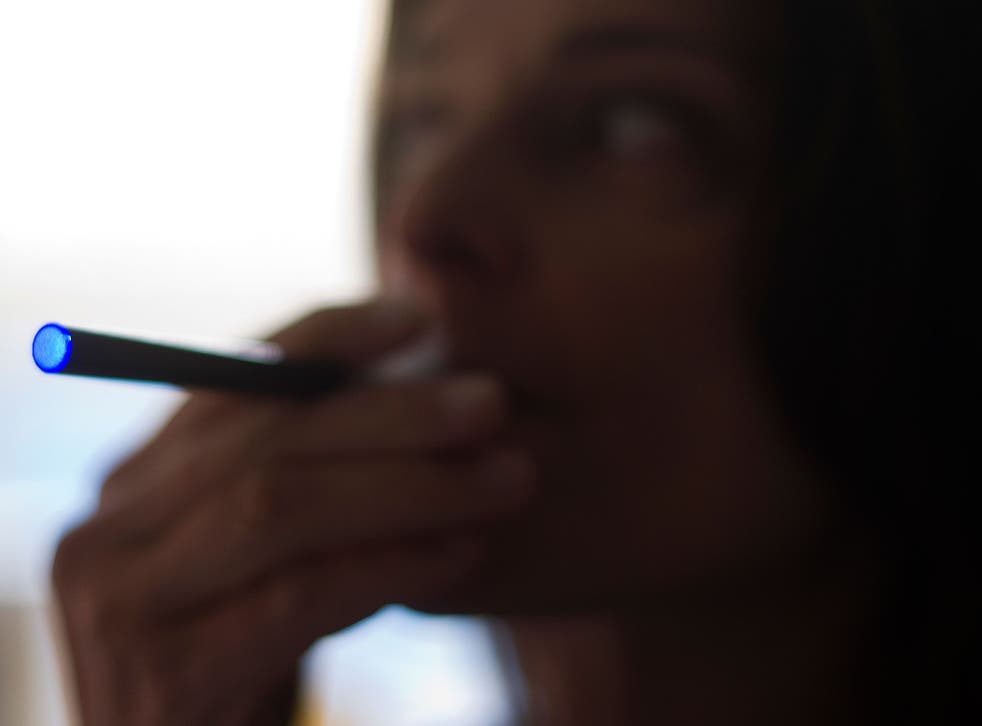 Fears that e-cigarettes are gateway drug as vaping outstrips puffing
36 per cent of 13- and 14-year-olds who had used e-cigarettes have never smoked a real cigarette
Twice as many young teenagers are using e-cigarettes than conventional cigarettes – and a significant proportion of them are getting their first taste of nicotine from "vaping" rather than smoking, a study has found.
The findings have raised concerns among some experts that e-cigarettes, widely viewed as harmless to health, could be introducing children to the risk of nicotine addiction at an early age and so act as a "gateway" to smoking.
The study, based on surveys of 40,000 teenagers at 400 secondary schools across the US, is the first evidence among this age group that the use of e-cigarettes has surpassed the use of conventional tobacco products, the researchers said.
"Adolescence is the period when almost all addictions begin. We see the use of substances increase markedly between the ages of about 12 and 18," said Wilson Compton, deputy director of the US National Institute on Drug Abuse in Washington, who presented the findings at the American Association for the Advancement of Science in San Jose, California.
"The data I'm presenting is the first time we've seen such high rates in youth. It is surprising. The one clue about reasons for the high rates is the fact that very few [young people] perceive e-cigarettes to be harmful," Dr Compton said. "What we've seen in the most recent data from 2014 is the surprisingly high rates of use of e-cigarettes by 14-, 16- and 18-year-olds. Those rates of e-cigarette use are higher than traditional cigarettes. So that's quite surprising that a larger number of teenagers in the US are now reporting current use of e-cigarettes than traditional tobacco cigarettes."
The 2014 study asked school-age teenagers whether they had used an e-cigarette – in which liquid nicotine is vapourised in an electronic "cigarette" before being inhaled – in the past 30 days.
More than twice as many children between the ages of 13 and 16 reported using e-cigarettes rather than tobacco cigarettes, the scientists found. For children aged 13 and 14, 9 per cent said they had used an e-cigarette in the past 30 days compared with 4 per cent who said they had smoked a cigarette. For children aged 15 and 16, the figures were 16 per cent and 7 per cent respectively.
Scientists also found that 36 per cent of 13- and 14-year-olds who had used e-cigarettes had never smoked a real cigarette.
"That's a concern because that may be a unique and new pathway to nicotine exposure and could open up the potential for the development of addiction to nicotine with the potential for long-lasting complications and progression to a use of the other, absolutely harmful forms of tobacco," Dr Compton said.
However, experts in Britain dismissed the concerns, saying that the use of e-cigarettes was preferable to children taking up smoking and suffering the serious, long-term health risks associated with the toxic substances found in tobacco.
"A lot of adolescents try e-cigs by taking a puff from someone's device, but, crucially, they do not progress to regular use. In fact, they usually do not try them again and there is even some evidence that this may protect them from picking up smoking," said Professor Peter Hajek, director of the Tobacco Dependence Research Unit at Queen Mary University of London.
"The data show no uptake, just experimentation. Smoking prevalence in youth is showing an unprecedented decline and it is now lower than ever before. The fact that young people are trying e-cigs instead of cigarettes is a cause for relief rather than alarm."
Deborah Arnott, chief executive of Action on Smoking and Health, said: "Nicotine can be harmful to the growing brain so it's best if young people avoid it. But if they're going to experiment it's better to use e-cigarettes, as vaping is far less dangerous than smoking and much less addictive.
"So far in the UK and the US, smoking rates are going down more than e-cigarette use is growing. This would not be the case if vaping really were a gateway into smoking."
Trend setter? Leonardo DiCaprio smokes an e-cigarette during last year's US tennis Open GC Images
Join our new commenting forum
Join thought-provoking conversations, follow other Independent readers and see their replies