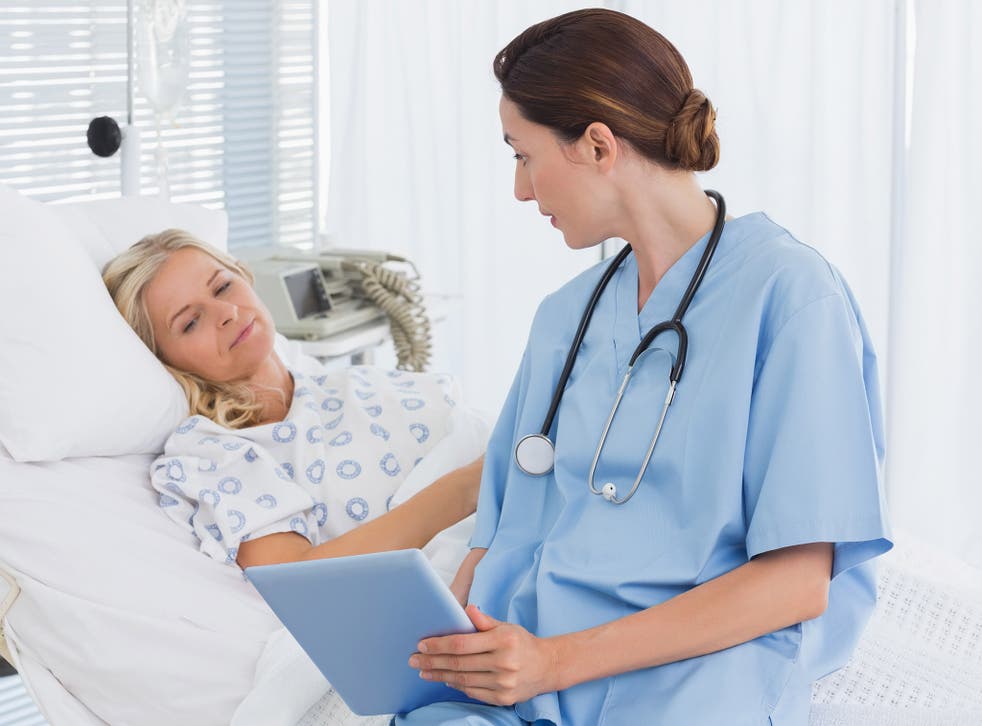 Health apps used by NHS staff putting 'highly sensitive and confidential' patient data at risk, new report warns
Health serivce criticised for 'failing to keep pace with advances in digital technology and to take advantage of online tools and e-health' after researchers found doctors and nurses were sharing information via their unsecured smartphones
Paul Gallagher
Wednesday 07 October 2015 19:16 Comments
"Highly sensitive and confidential" patient data is at risk of being disclosed because doctors and nurses are routinely using their own smartphones for patient care, according to a new report.
The practice of using health apps and messaging systems to treat people raises the prospect of inadvertent privacy breaches in the absence of a comprehensive digital security policy, it said.
More than 850 clinical staff at five different hospitals of varying sizes in London answered questions on ownership and use of portable devices and mobile health apps in the workplace.
Many doctors and nurses said they had sent patient data over their smartphones using short message script (SMS), app based messaging, such as WhatsApp, and picture messaging using their smartphone camera.
Almost two thirds of the doctors had used SMS (65 per cent); a third had used app based messaging; and almost half (46 per cent) had used their phone's camera and picture messaging to send a photo of a wound or x-ray to a colleague. The corresponding figures for nurses were much lower - around 14 per cent, 6 per cent and 7.5 per cent respectively.
Doctors were significantly more likely to send clinical patient data using all these methods, and one in four (27.5 per cent) of the doctors believed they still retained clinical information on their smartphones.
Janet Davies, Chief Executive and General Secretary of the Royal College of Nursing, criticised the NHS for "failing to keep pace with advances in digital technology and to take advantage of online tools and e-health".
She added: "There are digital tools and new technologies which could greatly improve efficiency and patient care, but the NHS is still not making the most of them. Digital tools and new technology will be essential to improving patient care in the future and coping with rising demand. But this can only happen with proper investment and training now."
A substantial proportion of the 287 doctors and 564 nurses across a range of specialities who responded wanted to be able to use their own devices at work. Around 70 per cent of the doctors and over a third (37 per cent) of nurses wanted a secure means of sending patient data to colleagues using their own smartphone. The results are published in the online journal BMJ Innovations.
Most (94 per cent) of the doctors used their smartphone while at work to communicate with their colleagues, compared with under a third of nurses (28.5 per cent). Half the doctors used their smartphone instead of a traditional bleeper.
Almost eight out of 10 of the doctors and just over a third of nurses had downloaded a medical app to their device, with almost 90 per cent of the doctors and two thirds of nurses saying that they used these apps as part of their clinical work.
One in three of the doctors who owned an app used them daily, compared with around one in five nurses. The apps included drug formularies, medical calculators, and those for disease diagnosis and treatment, reference and education, documentation and drug preparation.
The researchers said fully secure messaging services for smartphones are not yet available in the UK, added to which the data is unlikely to be encrypted. They urged NHS organisations to make sure staff understand the potential risks of sharing patient information via their unsecured smartphones.
"The results provide strong evidence that healthcare organisations need to develop policies to support the safe and secure use of digital technologies in the workplace and that strategies are needed to secure further innovations in digital health," they concluded.
An NHS England spokesperson said: "Protecting patient information is crucial. Apps and other online services offer powerful benefits to clinical practice but it's vital that doctors and nurses know which ones are safe to use. That's why we have recently begun piloting a new assessment model to help clinicians quickly identify the safest, most robust apps and digital health tools."
Register for free to continue reading
Registration is a free and easy way to support our truly independent journalism
By registering, you will also enjoy limited access to Premium articles, exclusive newsletters, commenting, and virtual events with our leading journalists
Already have an account? sign in
Join our new commenting forum
Join thought-provoking conversations, follow other Independent readers and see their replies