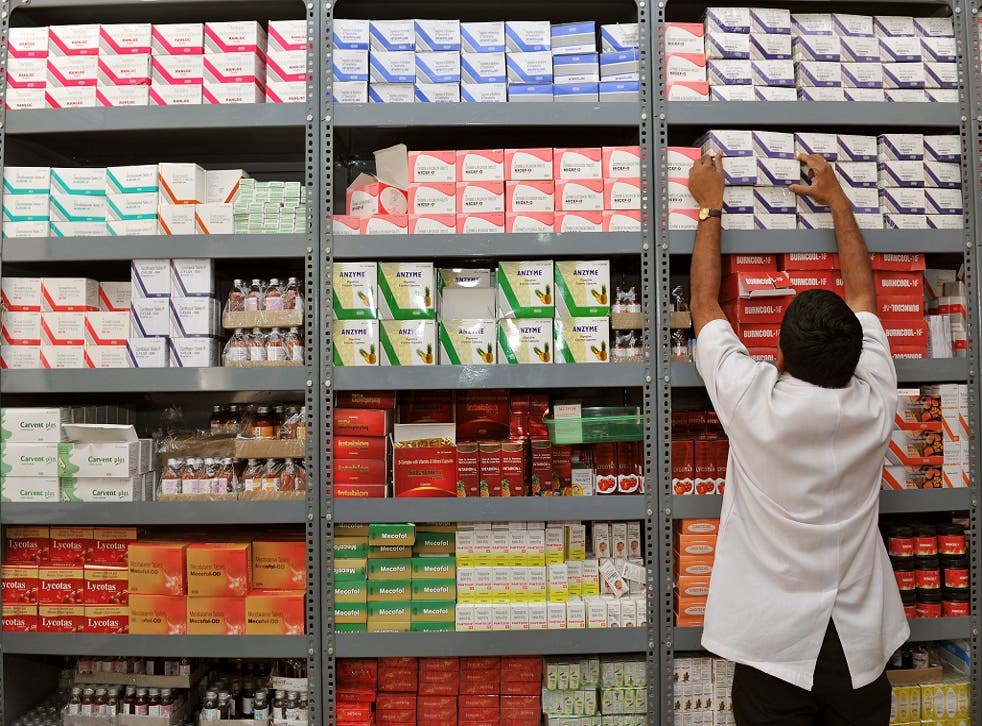 'Hidden army' of pharmacists could solve lack of GPs crisis
Plan would see pharmacists take control of a GP practice's medicine stocks
Patients visiting their GP surgery with long-term health problems such as asthma and high blood pressure could be given an appointment with an in-house pharmacist instead of a doctor, according to radical proposals to bring down waiting times. Under the new proposals, pharmacists would take on a greater role in running surgeries, and even treating patients.
The plan, announced today by the Royal College of General Practitioners (RCGP) and the Royal Pharmaceutical Society (RPS), would see pharmacists take control of a GP practice's medicine stocks and liaise with local hospitals and care homes about prescriptions.
Though many GP surgeries already have pharmacy counters on site, the RCGP argues they would also relieve pressure on GPs' waiting lists by seeing those patients whose main reason for visiting was medicines-related.
This could include large numbers of patients who have already been diagnosed with a long-term health condition, such as asthma, high blood pressure, diabetes or chronic obstructive pulmonary disease (COPD).
A long-term shortage of newly trained GPs, coupled with a growing wave of retirements, means that surgeries around the country are under-staffed, despite the NHS recently giving general practice a £1bn funding boost.
By contrast, there is a surplus of pharmacists, many of whom are qualified to prescribe medicines.
GP waiting times remain a live political issue, with the RCGP estimating that there will be 67 million occasions in 2015 when a patient will have to wait a week or more to see their doctor or a practice nurse.
While there is no timescale on the proposals, the RCGP said that practices should start recruiting as soon as possible, so that every GP practice has a pharmacist on staff within a few years.
Dr Maureen Baker, chair of the RCGP, said the "hidden army of highly trained pharmacists" could be a solution to the GP workforce crisis.
Dr Baker said the expertise of pharmacists could also help GP practices avoid purchasing more medicines than they needed, freeing up funds for better patient care.
A recent survey of one practice found that GPs were spending around an hour a day on medicines management.
"There's a whole mass of day-to-day medicine-related issues going on within a GP surgery that will benefit from having a pharmacist there, taking workload off the GP," said David Branford, chair of the English Board of the RPS.
Katherine Murphy, chief executive of the Patients Association, backed the plans but said pharmacists undertaking roles in GP practices would have to be properly qualified for their new responsibilities. "Any action that can, at the very least, ease the problem [of GP waiting times] is to be welcomed and this plan for doctors and pharmacists to work together is an innovative step in the right direction," she added.
Dr Baker said that "over time, seeing the practice pharmacist for help with managing medicines, for example, will become the norm, much in the same way as seeing the practice nurse for procedures such as blood tests and travel inoculations, has become".
Dr Chaand Nagpaul, chair of the British Medical Association's GP committee, said the plan was a "welcome step forward", and NHS England said the initiative complemented plans to increase the GP workforce.
Comment: Pharmacists plan faces practical barriers
Jeremy Laurance
On the face of it the plan to bolster general practice with pharmacists makes sense. GPs are facing increasing demand from ageing patients, often drug-related. They are delivering 70 million more consultations than five years ago with the same workforce.
The average GP spends an hour a day dealing with medicine-related issues which pharmacists could deal with.
But two barriers must be overcome. First, will patients be content to see a pharmacist rather than a doctor? It has taken over a decade for patients to accept appointments with a practice nurse.
Second, who will pay? The plan is that GPs should fund the pharmacist's salary and costs out of their practice budget. They will need convincing that this is a worthwhile investment.
Alternatively, Clinical Commissioning Groups could choose to fund pharmacists for all practices in their area. But they too will take some persuading that this is a good use of their funds at a time of extreme financial constraint.
GPs vs Pharmacists
GPs
More than 65,000 GPs are registered in the UK but the profession is still understaffed
Salary: average in 2012-13 was £92,900
Training: 10 years: five at medical school, two in foundation, three in GP training
Pharmacists
Responsible for preparing and dispensing medicine
Salary: £20,000 to £35,000 initially, but up to £60,000
Training: four years of pharmacy school followed by one year of work experience
Join our new commenting forum
Join thought-provoking conversations, follow other Independent readers and see their replies