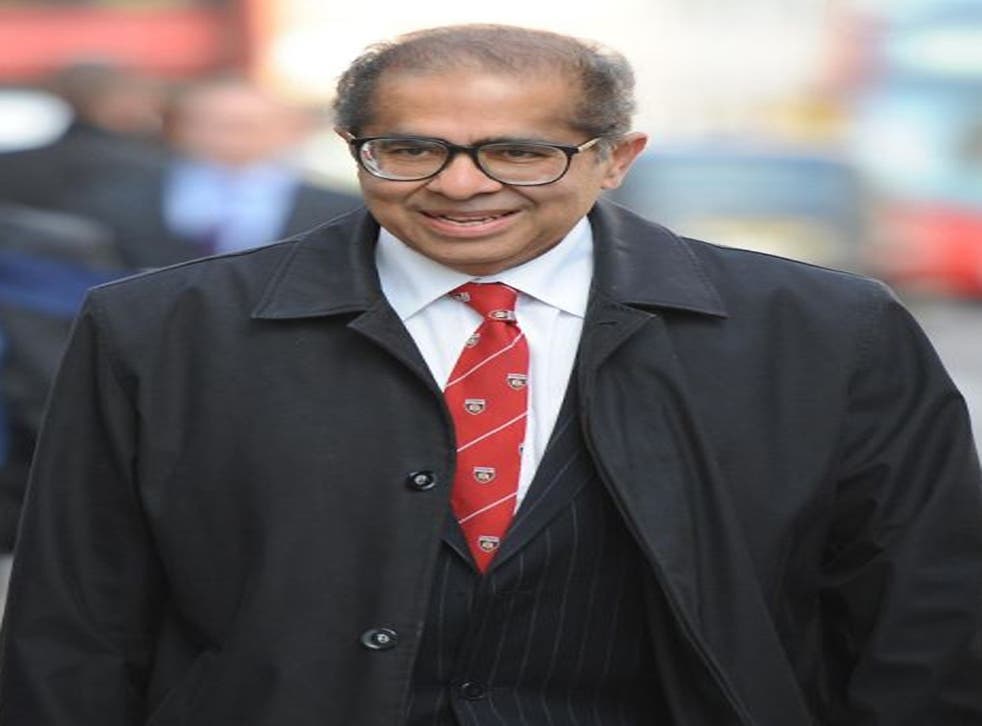 Ian Tomlinson pathologist Freddy Patel struck off
The pathologist who botched the post-mortem examination on newspaper seller Ian Tomlinson who died in the G20 riots was banned from working as a doctor today.
Dr Freddy Patel, described as being arrogant and having a bad attitude, was finally banned from practising as a medic after being investigated numerous times and suspended on two previous occasions over his shoddy work dating back a decade.
Dr Patel was found guilty of misconduct but was not at the Medical Practitioners Tribunal Service (MPTS), sitting in Manchester, where he was struck off the medical register.
The medic's actions were found to be misleading, dishonest and liable to bring his profession into disrepute over parts of his handling of the post-mortem on Mr Tomlinson.
After the hearing Mr Tomlinson's family said Dr Patel should not have been doing the examination in the first place given his record.
The doctor, who qualified at the University of Zambia in 1974 and has practised as a pathologist for 35 years, was excused attendance but listened in on the hearing by conference call from London.
He had already botched previous post-mortem examinations dating as far back as 2002 by the time Mr Tomlinson died in 2009.
Dr Patel was found guilty of serious misconduct and suspended for four months over his post-mortem examination reports in 2002 into the death of a victim of so-called "Camden Ripper" Anthony Hardy.
The naked body of Sally White, 31, was discovered in a room in Hardy's flat in January 2002.
Dr Patel explained away her injuries and ruled she died from natural causes. In fact she was the first victim of serial killer Hardy and suspected of having been asphyxiated.
Mr Tomlinson, 47, died on April 1 2009 after he became caught up in the G20 riots in the City of London as he tried to get home and was forcibly pushed over by Pc Simon Harwood.
Dr Patel carried out the post-mortem examination on Mr Tomlinson and concluded that he died from a heart attack, but questions were raised when an American tourist came forward with a video recording of him being shoved by the officer.
Further medical reports suggested that Mr Tomlinson died from an injury to his liver that caused internal bleeding and then cardiac arrest.
At the inquest into Mr Tomlinson's death, Dr Patel's claim that he died of a heart attack was discredited by the jury in favour of the string of experts who said he died of internal bleeding.
Dr Patel's first post-mortem examination also made it all but impossible to conclude with any certainty how Mr Tomlinson came to die.
The inquest jury ruled Mr Tomlinson was unlawfully killed.
The Rev Robert Lloyd-Richards, chairman of the MPTS fitness to practise panel, told Dr Patel today: "Your rigid mind-set, illustrated by your inability to reflect on the case of Mr Tomlinson and your unwarranted confidence in your own abilities does not convince this panel that it would be appropriate to impose conditions, even with the most stringent supervision, on your registration.
"The panel considers that you have a deep-seated attitudinal problem.
"You have twice been suspended for your failings in relation to post-mortem examinations you have carried out.
"You have now appeared before a fitness to practise panel three times.
"The failings against you both historically and presently involve five separate post-mortem examinations."
Along with Mr Tomlinson and the Camden Ripper case, other botched cases conducted by Dr Patel include those of a four-week-old baby, a five-year-old girl and an elderly woman.
After today's MPTS hearing Mr Tomlinson's widow Julia said: "We aren't surprised he has been struck off. It is more of a surprise that he was able to work as a pathologist for so long and that he was selected to do the post-mortem on Ian.
"We are pleased that he will not be able to put any more families through the ordeal he caused us, but the damage he has done can't now be undone."
Last month, Pc Harwood was found not guilty of the manslaughter of Mr Tomlinson following a criminal trial.
Evidence about his chequered disciplinary history as an officer was ruled inadmissible and the jury was not told about a series of allegations about his behaviour in the past.
The officer, who serves with the Metropolitan Police, faces an internal disciplinary hearing being held by his employers next month.
PA
Join our new commenting forum
Join thought-provoking conversations, follow other Independent readers and see their replies