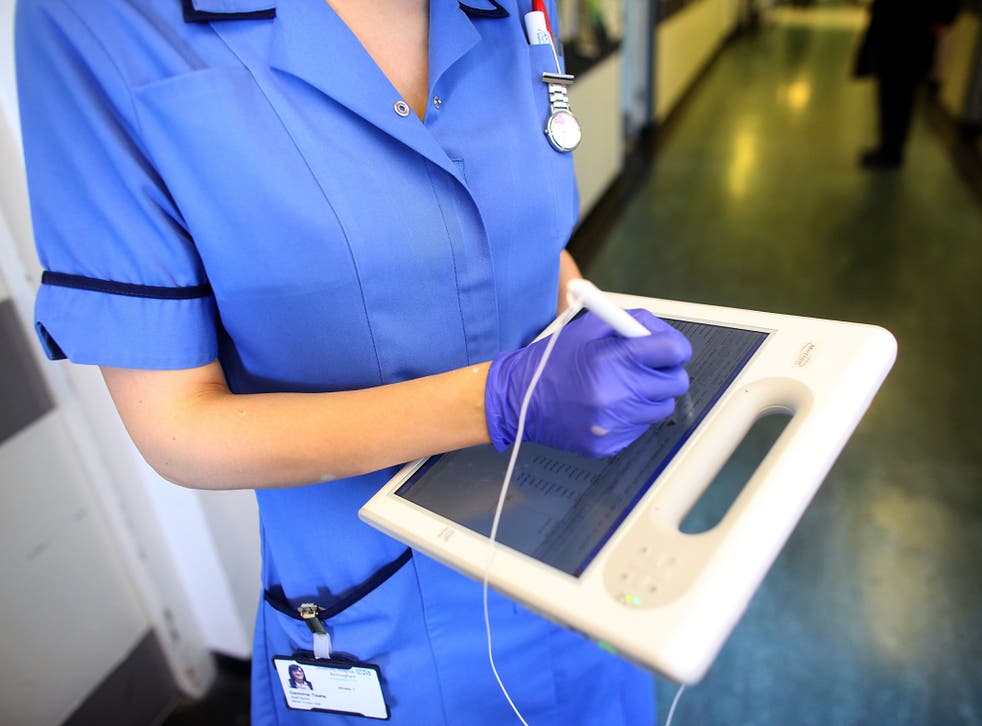 Increased demand on nurses leaves shortfall of 10,000 staff
Despite extra funding for the NHS, the pressures on the workforce have surged as retiring staff members are not replaced
The number of NHS nurses per patient has fallen in the past four years, opening up a "workforce gap" equivalent to 10,000 full-time staff, official figures have shown.
While the size of the nursing workforce has remained steady at 281,000 full-time equivalents, population growth since 2010 means that demand on each nurse has surged since the start of the decade.
The figures undermine government claims to have protected NHS front-line staff. Jeremy Hunt, the Health Secretary, has said that resources have been "poured into" the NHS, with 6,100 more nurses recruited under the coalition. However, this has been offset by rising levels of retirement and emigration among nurses.
Thousands of nurses will join other healthcare professionals in a four-hour strike tomorrow morning over pay. Despite rising demands on their time, NHS staff have been denied an across-the-board 1 per cent pay rise this year, which the Government has said is unaffordable. Mr Hunt has said that jobs would have to be cut to pay for the salary increase.
There have been increasing reports of work-related stress and overtime working among nurses. NHS staff surveys have shown steadily rising rates of stress: in 2010, this was reported by 33 per cent of nurses; it was 42 per cent last year. Figures for those working extra hours have risen from 76 per cent to 81 per cent in the same period.
According to calculations from the House of Commons Library, the ratio of nurses per head of UK population has fallen from 5,364 for every million people in May 2010 to 5,182 in May 2014. To restore nurse-to-patient ratios to 2010 levels, an additional 10,000 staff would be required, according to the Labour Party, which obtained the figures.
The new figures also show declining rates of recruitment to nurse training programmes.
Labour's health spokesman Andy Burnham, who last week committed Labour to doing "whatever it takes" to protect and improve the NHS, claimed that the figures were "indisputable proof" of decline under the coalition and warned that hospitals "across England" were operating without enough staff.
"Labour is the only party prepared to put in the extra funding to halt the decline and turn the NHS around – investment that David Cameron won't match. NHS waiting lists are at a six-year high and it has got harder for millions to get a GP appointment, too," he said.
Labour is offering increased investment for the NHS as a key pillar of its election manifesto. Its commitments include a pledge to recruit 20,000 more nurses by 2020.
However, many analysts believe that the £2.5bn additional annual funding it has proposed will not be enough to recruit extra staff and improve services while also paying off a projected deficit of £30bn in the NHS budget by 2020.
David Cameron has pledged to "protect" the NHS, which has received only a 0.7 per cent increase in spending since 2010, despite demand growing by about 4 per cent a year.
Dr Peter Carter, chief executive and general secretary of the Royal College of Nursing (RCN), said that nurse staffing levels had been "eroded" for several years, with more posts left vacant and training places cut.
"The NHS is now playing catch-up by using agency cover and recruiting from overseas," he said. "We can't fix this with stop-gap solutions or pushing the staff we have to the point of burnout. The level of demand for care is due to rise considerably as we deal with an ageing population and public health challenges. The only way the NHS can deliver what future patients will need is to plan for the long term, train enough nurses and support them in keeping people well and healthy."
In an open letter to The Independent last week, the RCN warned that the NHS is at "breaking point" and that rising demand and pay freezes had left staff feeling "undervalued and demoralised".
Analysis by the Centre for Workforce Intelligence last year projected that nursing numbers will have fallen by 5 per cent by 2016 –in part due to fewer nurses on training courses. The number of training commissions has fallen from 20,800 to 18,000 from 2009-10 to 2013-14.
In the past year, hospitals have invested heavily in improving their nursing workforce, in the wake of the Francis report into the Mid Staffordshire NHS Foundation Trust.
However, according to the hospital watchdog Monitor, much of this investment was spent on expensive agency staff to fill gaps in nursing rosters. Two-thirds of major hospitals are now in deficit. Health experts have warned that tightening finances could mean lower staffing levels, with hospitals likely to resist filling posts vacated by retiring staff members.
A health spokesman said that after the Mid Staffs tragedy where short-staffing was a factor, the Government "now has 12,500 more clinical staff in the NHS including over 6,000 more nurses on wards".
Join our new commenting forum
Join thought-provoking conversations, follow other Independent readers and see their replies