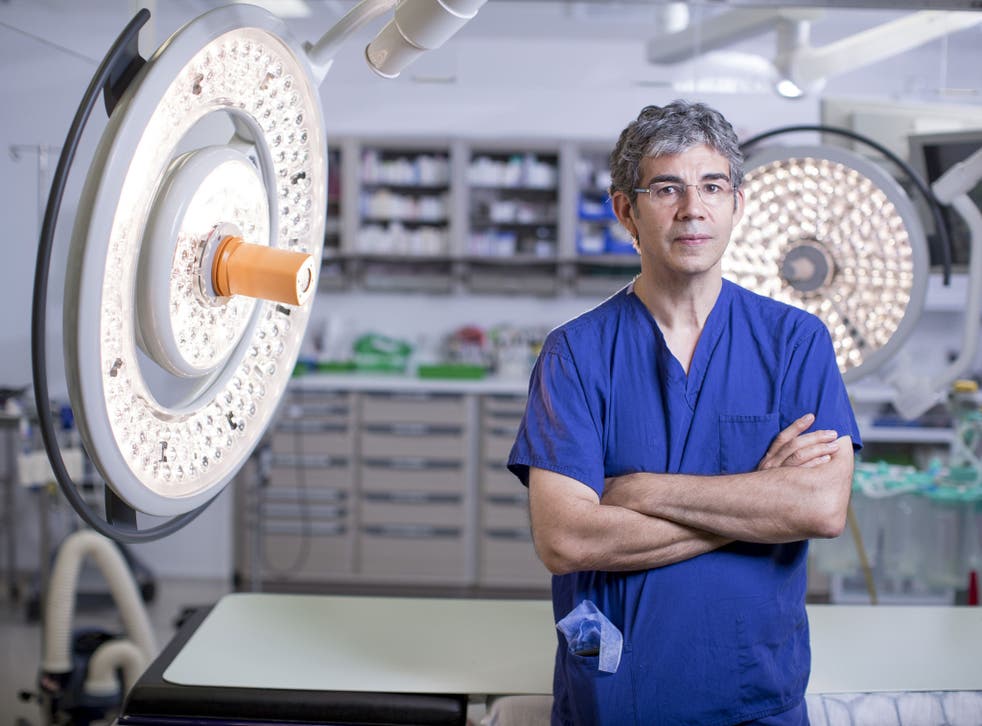 'Indiana Jones of surgery' leads UK medics in war-zone training
At least 1,000 doctors have signed up for specialist courses to work in disaster and conflict areas
More than 1,000 NHS physicians are set to receive specialist training to provide emergency medical interventions in disaster and conflict zones, under the tutelage of one of Britain's most renowned surgeons.
The first group of 30 clinicians completed an intensive training course earlier this month which equipped them with skills needed for medical procedures with minimal equipment and support. It was funded by the Department for International Development (DFID) and led by the London vascular surgeon David Nott – dubbed the "Indiana Jones of surgery".
Mr Nott, who has piloted the course alongside the Royal College of Surgeons, has 20 years' experience working in regions scarred by war and natural disasters, and made headlines five years ago when he amputated a boy's shoulder in the Democratic Republic of the Congo (DRC), taking instructions from a colleague in the UK via text message.
A register of medics willing to be deployed to humanitarian crisis zones – the UK International Emergency Trauma Register – was set up by DFID last year and now contains more than 1,000 names. Surgeons who have completed the required training may be called up to join emergency response teams in the event of a natural disaster or a major humanitarian crisis where the UK government has decided to intervene directly.
Increasing numbers of British doctors travel to Syria with NGOs to assist at hospitals overwhelmed by victims of the civil war. Although there are no plans yet for the UK government to provide direct medical assistance in Syria, DFID financially supports NGOs providing back-up at hospitals and field clinics. Overall, the UK has committed £348m to aid the Syrian people.
Mr Nott, who has been working as an emergency surgeon for the NGOs Médecins sans Frontières (MSF) and the International Committee of the Red Cross (ICRC) for 20 years, said that the training is sorely needed.
"It's the first course run like this in the whole world," he said. "We go through things by scenarios. If there was a chest problem and you need to sort it out but you're working in a tent, you don't have much blood stock and you don't have any intensive care unit, how do you save that person? How do you save the person that is bleeding out from their arm? How do you save someone with abdominal gunshot wounds? There are ways. If you've had the training, even if you've seen it done only once or twice, then it's much easier."
The one-week intensive course had participants working with cadavers in simulated disaster zones. Mr Nott, who will soon travel to Syria with an NGO to teach similar techniques to local doctors in rebel-held areas, said that many doctors in the UK "have the ambition" to work in extreme circumstances.
One of his own students at Imperial College London, Dr Isa Abdur Rahman, 26, was killed working in a makeshift hospital in Syria in May. A number of young doctors, often with family ties to Syria, have risked their lives working for medical charities in the country since the conflict began two and a half years ago.
"You can't stop the desire of people to go," Mr Nott said. "If you want to go and do things, it's a great thing, but you do take huge risks. We're opening this course not only to consultants but to juniors as well, so at least if they're not experienced enough at the present time, they are the generation that's going to follow."
Mr Nott first worked for MSF in Bosnia in 1993. Since then, he has travelled to dozens of countries including Sierra Leone, Sudan, the DRC and Chad, and has served with the Defence Medical Services in Basra, Iraq, at the height of violence in the city in 2007, as well as at Camp Bastion in Afghanistan.
While working 24-hour shifts with MSF in the DRC in 2008, he had to perform a life-saving amputation on a boy whose left arm had been ripped off, becoming badly infected. Although he had never performed the operation before, he took instructions via text from a colleague who had at London's Royal Marsden Hospital, and saved the boy's life.
The following year, while working in the wake of the Haiti earthquake, he saved the life of a baby found in the rubble of a hospital in Port-au-Prince, arranging an emergency flight to Britain for specialist surgery on her skull. The child, Landina Seignon, made global headlines when she was reunited with her mother, who rescuers had feared was dead.
Mr Nott still operates at three London hospitals, working in general surgery at Chelsea and Westminster, vascular and trauma at St Mary's and in cancer surgery at the Royal Marsden. He takes six weeks' unpaid leave each year to carry out his humanitarian work.
"I felt that my first mission, to Bosnia, was the most exciting thing I've ever done in my whole life," he said. "To be able to help people that really needed it, who wouldn't have help without you, was something fantastic. That always stayed with me. It was a burning flame that I couldn't put out. Life is enriched hugely by doing something like this. We found that all it needs is somebody to get this course up and running and you suddenly see people coming out of the woodwork that also have the ambition to do this."
In memory of dedication
Dr Isa Abdur Rahman, who trained under Mr Nott, was killed working in Syria in May. The 26-year-old graduate from Imperial College London was working for the UK charity Hand in Hand for Syria when the makeshift hospital in Idlib province where he was based was shelled. His friends set up an online fundraising page in his honour, which has raised nearly £72,000. They plan to use the funds to build a field hospital in memory of Dr Rahman in Homs, Syria.
The married student, who had given up his position at London's Royal Free Hospital to volunteer to work in a war zone, died along with two others. Faddy Sahloul, chairman and founder of Hand in Hand for Syria, said: "I was very close to Dr Isa, a shy young man whom I first met two years ago. We spent a significant amount of time working together in Turkey and Syria and he was one of the bravest and most dedicated people I have met."
Join our new commenting forum
Join thought-provoking conversations, follow other Independent readers and see their replies