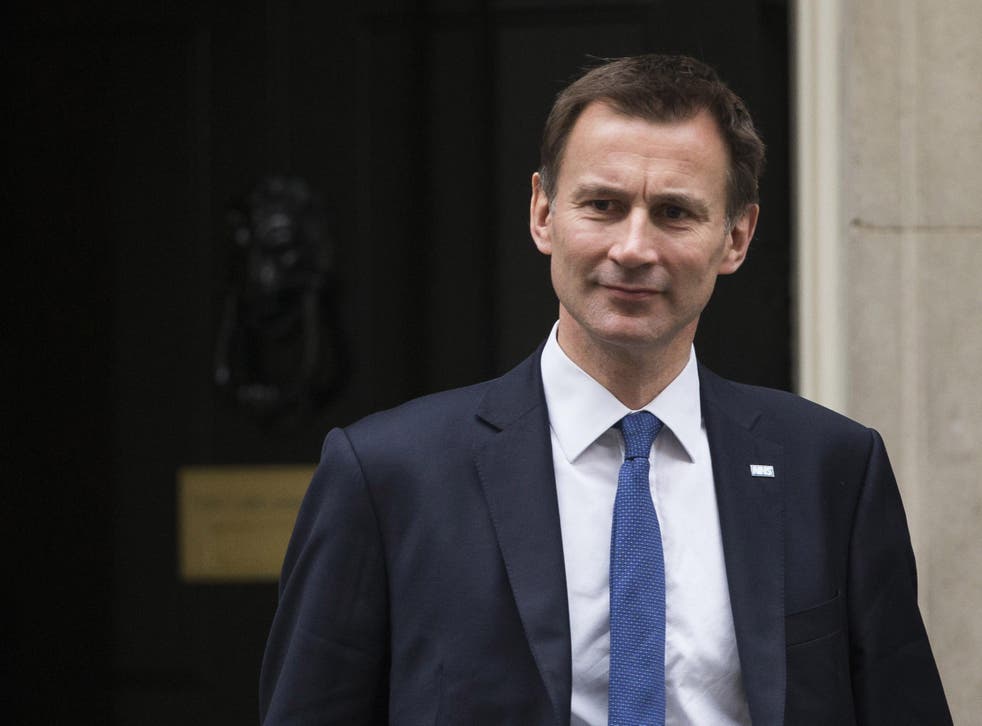 Jeremy Hunt said 'what will the Daily Mail say?' when told about funding of HIV prevention drug
Exclusive: A daily dose of the new drug has been shown to reduce HIV infection by 86 per cent
Fear of a public and right-wing media backlash could be holding back the funding of a new "game-changing" preventative HIV treatment, according to the leader of the drug's clinical trial.
The High Court last month overturned NHS England's claim that it did not have the power to fund the prescription of pre-exposure prophylaxis (PrEP) pills to people at high risk of HIV infection.
NHS England is appealing the ruling, which sparked angry criticism from right-wing politicians and commentators – with some dubbing the new treatment a "lifestyle drug" and "promiscuity pill", reported the Daily Mail.
In an interview with The Independent, Professor Sheena McCormack said the Government risks being influenced by public outrage instead of making a "straightforward, everyday business decision" according to clinical evidence and costs.
"I think they fear that public reaction," said Prof McCormack, head of a major study into PrEP called Proud which ends this month. "When I went to see Jeremy Hunt, he said: 'What will the Daily Mail say?' and commissioners have said that to me."
The Department of Health said it was unable to comment on a private conversation.
PrEP works by preventing the HIV virus from becoming established in the event of transmission, and a daily dose of the drug has been shown to reduce the incidence of HIV infection by 86 per cent.
While the trial was limited to men, the drug could potentially be prescribed to at-risk women, too, say researchers.
Drug producer Gilead has said it will donate 2,000 bottles of PrEP – a drug called Truvada – to participants in the drug's trial after the two-year study ends later this month. The donation, made in response to a request by the trial leaders, means around 350 men will continue to receive PrEP from 13 sexual health clinics in England for six months while a final funding decision is made.
"We're left in limbo because we still don't know what the NHS is going to decide, and to help our participants plan for the future we need a decision and we don't have it," Prof McCormack said.
Earlier this year, NHS England said it could not legally commission PrEP, because as medicine designed for prevention, rather than treatment, its provision was the responsibility of local authorities. It also claimed that funding PrEP would pave the way for legal challenges from other treatments that could be displaced by the new drug.
But following a challenge from the National Aids Trust, Mr Justice Green at the High Court ruled that NHS England had "erred in deciding that it has no power or duty to commission the preventative drugs in issue".
Commissioning PrEP could cost £10m to £20m a year, and it is in competition with other drugs and procedures for funding, said NHS England in a statement after the ruling was made.
In the statement, NHS England made reference to the ruling's impact on the provision of other treatments, as ranked by the Clinical Priorities Advisory Group.
"NHS England is able to confirm funding for those new treatments and services in levels one and two of the Clinical Priorities Advisory Group prioritisation round, meaning that they will be available to patients immediately, and will not be affected by any subsequent decision from the courts," it said.
"However, given the ruling, NHS England cannot now confirm funding for those treatments and services in levels three and four."
Prof McCormack said it was "completely inappropriate" to pit one patient group against another when making funding decisions relating to public health. "It's not surprising the Daily Mail would go off on that homophobic rant, given the language in NHS England's announcement," she said. "I looked at the language in their release and it was disgraceful."
"The Patients' Association wrote a piece saying this is NHS England's job and they shouldn't be pitting one patient group against another. It's completely inappropriate. Why would they do that? It seems a strange tactic to me."
More than 103,900 people are living with HIV in the UK, according to HIV Aware. And in 2014, 3,360 men who have sex with men were diagnosed with the virus, which according to the charity is the highest number ever recorded in a year.
World Aids Day 2015 around the world - in pictures

Show all 9
The patent for Truvada expires in July 2017, after when the drug may become more affordable as a generic version becomes available. But holding back preventative HIV treatment before then could end up more expensive for the NHS, according to Prof McCormack, as once someone is infected with the virus, they must receive treatment for the rest of their life.
"It's back to the contraceptive pill – the same sort of rhetoric came out then. It hit the market at a time of great promiscuity," she said.
"This is just a straightforward, everyday business decision for [NHS England]. They must make a decision on the clinical effectiveness, and the bean counters have to do it on the money."
Join our new commenting forum
Join thought-provoking conversations, follow other Independent readers and see their replies