Junior doctors: NHS workforce voices its solidarity over planned strike
Exclusive: Letter signed by more than 1,000 staff says strike action is 'the only option' to protect patients and doctors alike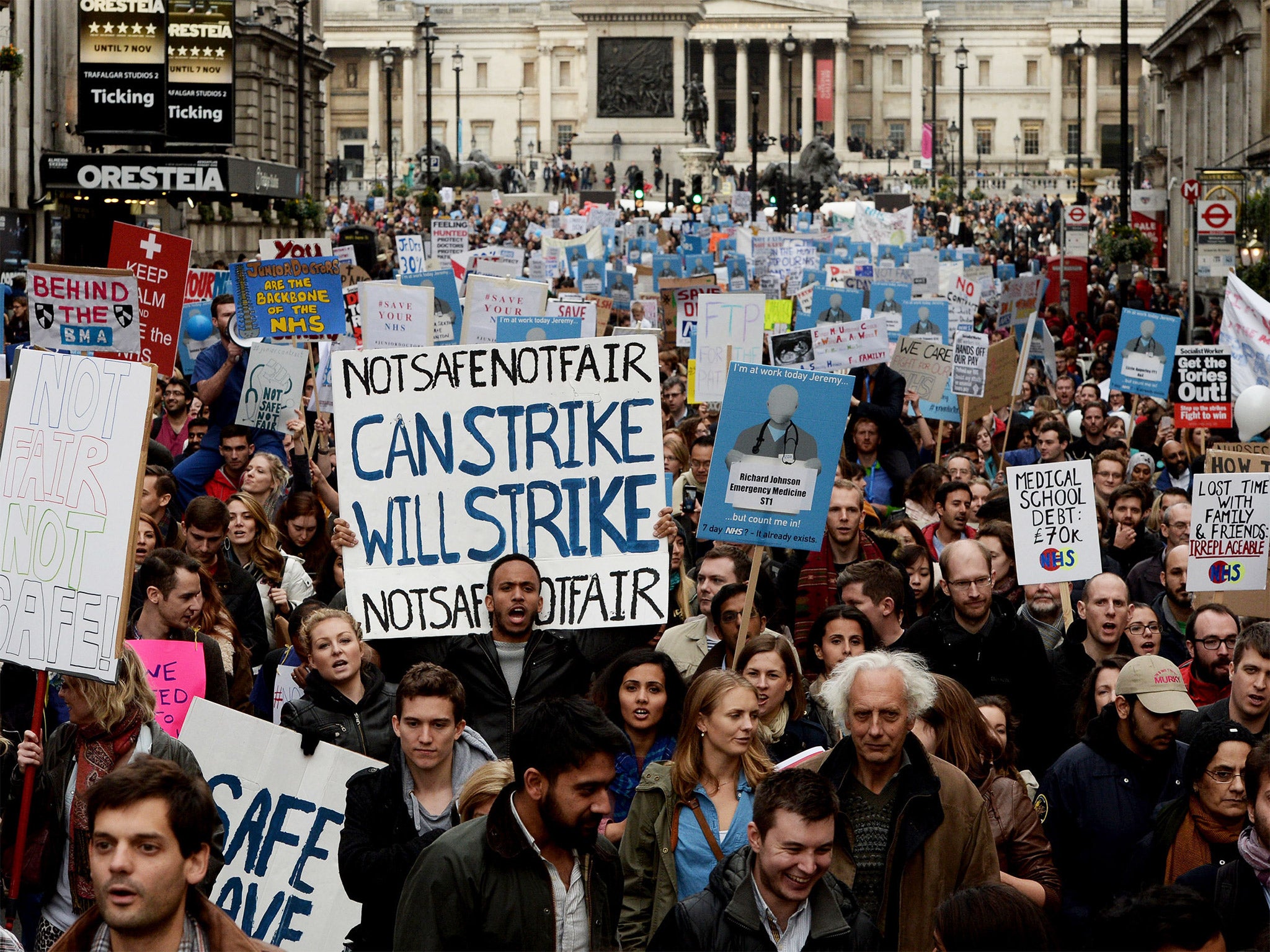 Nurses, healthcare assistants, porters and other members of the NHS workforce have voiced their solidarity with junior doctors over next week's planned strike action.
In a letter published in The Independent, signed by more than 1,000 NHS staff, they say strike action is "the only option" to protect patients and doctors alike.
The message of support, which was also signed by NHS paramedics, carers, scientists and secretaries, comes as the Government and the British Medical Association clashed over the coming strikes, with Health Secretary Jeremy Hunt claiming an agreement was close but that the BMA had walked out after less than an hour of renewed talks on Monday.
Dr Mark Porter, chair of BMA Council, hit back saying that the union had fully considered the new contract offer from the Government, accusing negotiators of "not taking the concerns of junior doctors seriously".
However, talks between the Government and the BMA, facilitated by the mediation service Acas, are expected to continue up to and, if necessary, after next Tuesday's strike. Junior doctors have warned that industrial action will continue until their demands are met – raising the prospect of a year or more of unrest in the NHS.
As NHS colleagues voiced support for doctors, Labour's Shadow Health Secretary Heidi Alexander claimed that the clash between the Government and junior doctors was "the forerunner" to cuts to other NHS professionals' out-of-hours pay.
Mr Hunt said this was not the case, but insisted that the Government was committed to delivering a wider range of NHS services in hospitals at the weekend.
"We have a situation where every weekend in the NHS we have lapses in care, that we are not able to promise NHS patients the same high-quality care every day of the week," he told the BBC's Today programme.
The BMA has said it is still possible next week's strike could be called off, but the union is seeking further concessions from the Government on the two key points of disagreement – out-of-hours pay and safeguards to protect doctors from working dangerously long hours.
In their letter of support to junior doctors, NHS colleagues express their opposition to a contract they said would make doctors "even more exhausted and demoralised than they already are".
"We see them miss their children's birthdays, relatives' funerals and precious evenings with their families, just as we do," they write. "We know how that feels and what sacrifices they make, because we make them too.
"It is time for us now to stand together as healthcare professionals and unite for the sake of our patients, our working conditions and most of all, our precious NHS."
It has also been confirmed that junior dentists will go on strike for the first time ever next week, in support of the BMA's action.
The BMA leads contract negotiations for the bulk of dentists, as well as doctors, and the British Dental Association said dentists "would not stand by and see patients and practitioners put at risk".
Join our commenting forum
Join thought-provoking conversations, follow other Independent readers and see their replies