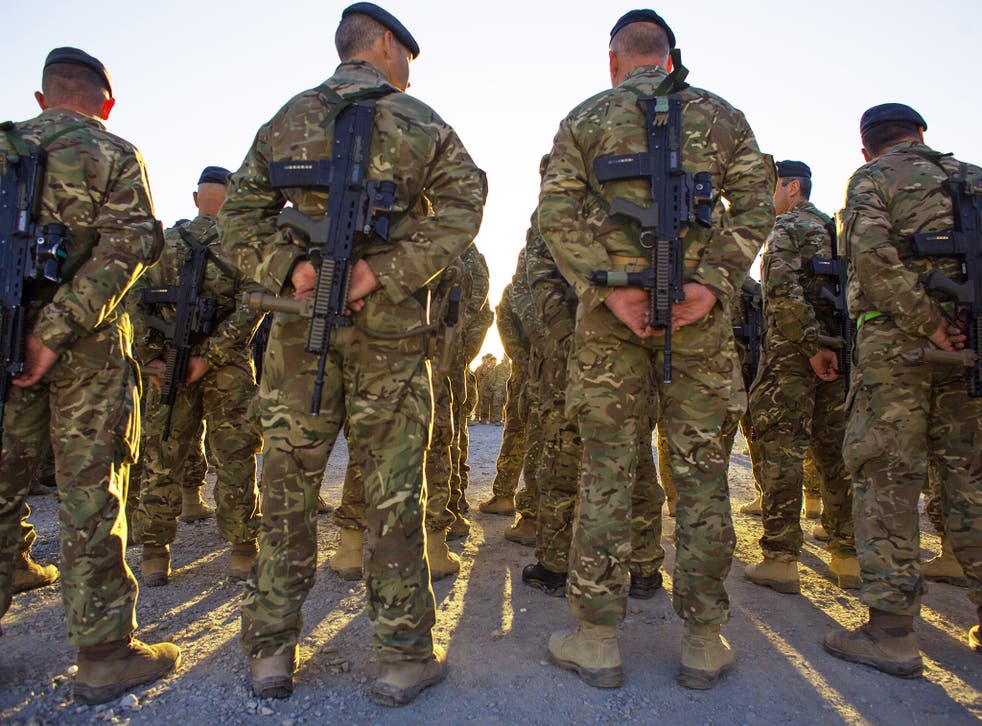 Lariam: Hundreds of British soldiers suffering from mental illness after being given anti-malarial drug
Exclusive: Shocking figures reveal scale of mental health problems among veterans treated with Lariam
The Ministry of Defence (MoD) has been accused of knowingly risking the mental health of its own soldiers after new figures showed that nearly 1,000 British servicemen and women have required psychiatric treatment after taking a discredited anti-malarial drug.
Psychosis, suicidal thoughts, depression and hallucinations are among the mental-health problems associated with Lariam, also known as mefloquine.
But the MoD has rejected all appeals to stop giving the drug to troops posted overseas – to the mounting fury of relatives, politicians and retired military figures who fear it could be responsible for an epidemic of psychiatric illness in Britain's Armed Forces.
The Independent can reveal that a retired major-general who was given Lariam prior to a deployment to Sierra Leone is among those struggling with the after-effects.
Maj-Gen Alastair Duncan, who commanded British forces in Bosnia, is currently in a secure psychiatric unit after a post-traumatic stress disorder (PTSD) episode over Christmas.
His wife, Ellen, told The Independent: "Like others, I believe that this is a scandal. If 1,000 troops have reported the effects then you can be sure there are others who have not. I know personally of several and anecdotally of many more. "The long-term effects of this will be more and more in evidence over the coming years," she added, saying the MoD appeared to be "staggeringly unprepared to deal with the fallout".
In October 2013, Roche, the manufacturer of Lariam, wrote to doctors in Britain warning that "hallucinations, psychosis, suicide, suicidal thoughts and self-endangering behaviour have been reported" and that the drug "may induce potentially serious neuropsychiatric disorders.
It was declared a "drug of last resort" by the US military two years ago, and the US Special Forces Command has banned its use. Alternative anti-malarial drugs are available.
Yet hundreds of British soldiers are still falling victim to the drug's side-effects each year, as the MoD continues to give it to troops deployed to sub-Saharan Africa, and parts of South-east Asia and Latin America.
New figures released by the MoD in response to a Freedom of Information (FoI) request reveal that 994 service personnel – the equivalent of two infantry battalions – have been admitted to psychiatric hospitals or treated at mental health clinics after being prescribed Lariam since 2008. Previous figures had suggested the number of personnel requiring treatment was substantially lower, at around 700.
The figures also show that Lariam was given to 1,892 British service personnel in 2014 – a year in which 263 needed medical treatment as a result of taking the drug. In total, 17,000 service personnel have been given Lariam over the last seven years.
The victims range from rank-and-file soldiers to senior officers. And the true scale of the problem is likely to be even greater than the new figures suggest, as they do not include those who were given Lariam prior to 2007.
Given the stigma which surrounds mental health issues in the military, many soldiers seek medical treatment as a last resort. Many cases are resolved by support from military social workers or padres "without the need for further referral", states the MoD's FoI response.
Since The Independent first revealed concerns over the military's use of the drug 18 months ago, the MoD has ignored repeated calls from senior military figures and medical experts to discontinue its use.
Responding to the new statistics yesterday, General Lord Dannatt, former head of the British Army, said: "It is extraordinary that the MoD continues with this policy given the mounting evidence as to the harmful effects of Lariam. The MoD should decide as a matter of urgency to no longer prescribe Lariam but use some other malaria prophylactic."
And Madeleine Moon, Labour parliamentary candidate for Bridgend and former member of the Commons Defence Select Committee, said: "This is a horrific statistic and it beggars belief that the MoD is still refusing to stop dispensing Lariam." She added: "Our service personnel, who cannot refuse to take this drug, deserve better than the MoD imposing what is in effect a Russian roulette risk."
The anti-malarial was developed by the US Army in the 1970s, but its reputation has suffered in recent years amid repeated warnings over its side-effects and the increasing popularity of alternatives.
Almost a decade ago Dr Franz B Humer, then chairman of Roche, told the company's annual general meeting in 2007: "More effective anti-malarials with better side-effect profiles were now available, and these were generally used."
Maj-Gen Patrick Cordingley DSO, commander of the Desert Rats during the Gulf War, took the drug about 25 years ago. "It was a thoroughly unpleasant experience and I wouldn't put anyone through it – I'm amazed that the Ministry of Defence allows it to be used.
"It had the most terrible effect on me, I wasn't quite delirious but I was extremely unpleasant and out of my mind. That lasted for three or four days, and then I felt woolly headed for quite a long time."
Maj-Gen Julian Thompson, who commanded 3 Commando during the Falklands War, said: "Having twice used Lariam myself when travelling to Africa, I switched to Malarone over 10 years ago, after I experienced hallucinations."
Lariam is significantly cheaper than alternative drugs, being around half the cost of Doxycycline and a third of the cost of Malarone.
"I can only come to the conclusion that the MoD has a large supply of Lariam, and some 'chairborne' jobsworth in the MoD has decreed that as a cost-saving measure, the stocks are to be consumed before an alternative is purchased," said Maj-Gen Thompson.
Public Health England's current guidance on malaria states that "increased neuropsychiatric adverse events" have been found in those who take Lariam compared to people who take other anti-malarials, and that it "may increase the risk of psychosis and anxiety reactions".
Lt-Col Ashley Croft, who served for more than 27 years in the Royal Army Medical Corps and is an expert on malaria, said: "It has been known since the early 1990s that mefloquine/Lariam causes neuro-psychiatric illness, including psychotic episodes, in some users."
Defence ministries in Germany, the Netherlands, Denmark, and Canada have either banned the use of Lariam, or use it as a last resort, according to Lt-Col Croft. "The French military, although with a large presence in the tropics, has deliberately and sensibly never used the drug, for malaria prophylaxis."
He described the MoD's continuing use of the drug as "reckless, and shows a callous disregard for the safety and welfare of its personnel".
The Medicines and Healthcare Products Regulatory Agency has received 2,248 reports of "adverse reactions" to the drug since 1986, in the form of "psychiatric disorders". During this time, 44 people have become suicidal, with nine killing themselves.
Jane Casperson-Quinn's husband Cameron, an infantry major, committed suicide in 2006 – five years after taking Lariam. Responding to the new figures released by the MoD, she said: "Their continued blanket prescribing of this dangerous neuro-toxic drug represents a fundamental failure to protect those who are protecting us, and this is inexcusable."
Yet there are no signs of the policy changing. In a statement, an MoD spokesperson said: "All our medical advice is based on the current guidelines set out by Public Health England.
"Based on this expert advice, the MoD continues to prescribe mefloquine (Lariam) as part of the range of malaria prevention treatments recommended, which help us to protect our personnel from this disease."
Join our new commenting forum
Join thought-provoking conversations, follow other Independent readers and see their replies