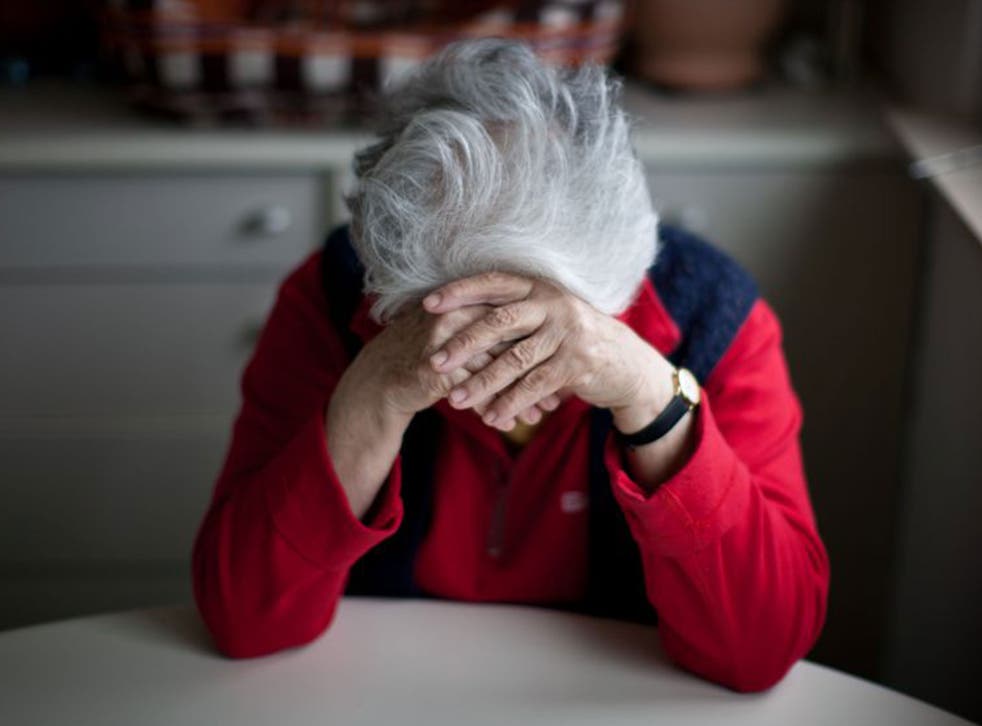 Lonely Britain: Tens of thousands of elderly men and women are left home and alone
Some pensioners go for weeks with no human contact, as waiting lists grow for social clubs
Tens of thousands of elderly men and women are trapped in "loneliness hot spots" around the country as a leading charity warns social isolation for the most vulnerable in society has reached a state of emergency.
Trevor Lyttleton, chairman of Contact the Elderly, said the number of lonely pensioners aged 75 or older was at its worst more than any time in the almost 50 years since he founded the charity. Some go whole weeks without any human contact, and more than 1,200 people are on the waiting list to join the charity's monthly tea parties that are a lifeline for many.
In Birmingham, more than 34,000 people in this age group are isolated, and Contact the Elderly has only five groups operating in the city. The situation is even more acute in Durham where a single group of the charity's volunteers tries to reach some of the 21,000 people aged over 75 living alone in the city.
Derby, Blackpool and Canterbury are among the many places in which the charity has no representation, as the charity tries to double its 5,000 volunteers in the run-up to its golden jubilee next April. It urgently requires more than £1m in government funding to combat the problem.
Mr Lyttleton said: "Loneliness among older people has reached a state of emergency and must not be ignored. My mantra is, if not now, when? For almost 50 years, we have been focusing on providing a cost-effective solution, yet the demand for our service has never been so high. We know our formula of tea and conversation works, but we simply cannot reach out to the people that desperately need our help without increased volunteers and funding."
The warning from Contact the Elderly comes days after the body of a woman in her seventies was found in her Bournemouth flat, where it had remained undiscovered for six years. Anne Leitrim had not been seen since 2008 and neighbours simply assumed she had moved out of the area.
Today, about 2.5 million people say they feel alone, and more than half of people aged 75 or older live alone. Contact the Elderly launched its Power of Chat campaign last week and published research into the impact of its work.
Mary Rance, the charity's chief executive, said: "A staggering 96 per cent of the guests said the tea parties give them something to look forward to, while 78 per cent said they feel less lonely as a result. Almost one in five of the older people we support say they joined the group as they rarely ever saw another person."
Sylvia Rothberg, 98, from Maida Vale, north-west London, said the monthly parties had made a huge difference to her life after she received a leaflet through her door.
She said: "My husband died 12 years ago and my son died six years ago, so I found myself with little contact with anyone. Now the volunteers come and pick me up and we go to someone's house for tea and it's great seeing so many people. I always look forward to it."
A study this month for the Office for National Statistics also found that the UK population was among some of the most disconnected across the continent: Cyprus, Romania and Spain all scored more highly when it came to forging friendships.
Last year, Health Secretary Jeremy Hunt called the 800,000 people suffering from chronic loneliness "a national disgrace". New statistics on social isolation among the elderly will be published next month.
Ms Rance said: "The impact of loneliness runs deep, with many people suffering severe mental and physical health issues as a result. Our regular friendship link keeps our older guests out of hospital, with less reliance on social services and 25 per cent fewer visits to the doctor.
"We know there is a simple solution; we have been delivering it for 50 years. The solution is as simple as having something to look forward to, a friendly face, human contact, a cup of tea and a chat."
Care and support minister Norman Lamb, who spent time with the Royal Voluntary Service's Books on Wheels project this month, said: "Loneliness needs to be tackled by a change in society's attitude. Every one of us can help to combat loneliness and we all need to be more creative about how we help elderly people and the chronically lonely to feel more a part of their society."
The Institute for Fiscal Studies published research last week that claimed that "the next decade or so" will see a big fall in the proportion of older pensioners living alone. It said a shift in death rates would result in couples living longer.
Ms Rance said: "This scenario would be lovely if it did play out to be true. But right now, we are concerned for the here and now."
Paul Gallagher is cycling London to Paris in September to raise money for Contact the Elderly. For further details and how to donate visit: www.justgiving.com/Paul-Gallagher9
Join our new commenting forum
Join thought-provoking conversations, follow other Independent readers and see their replies