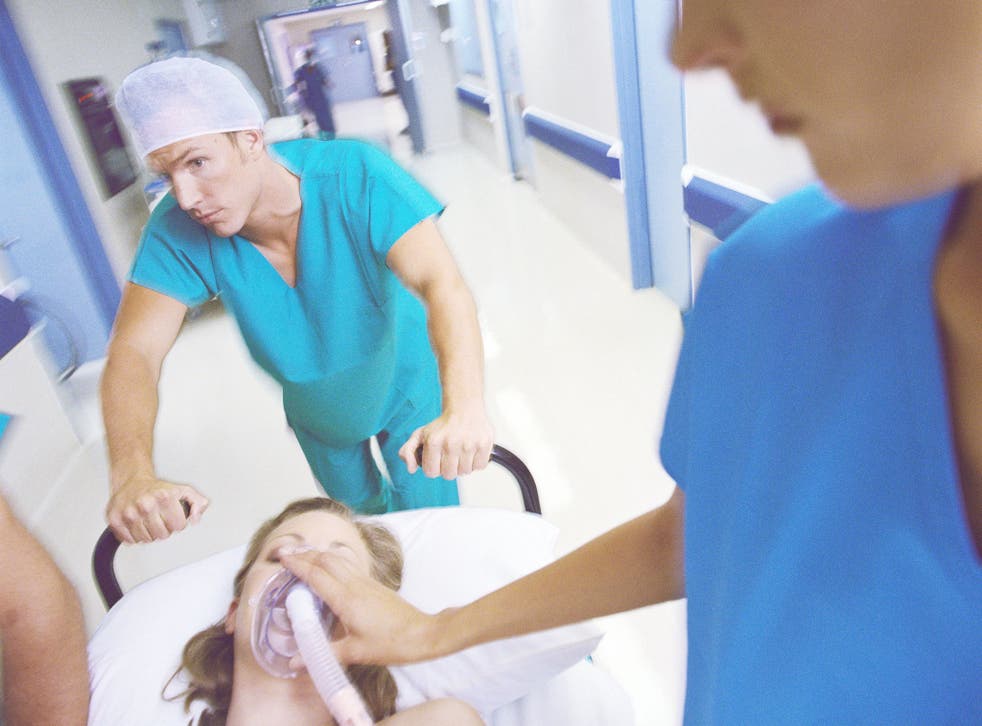 Migrants will have to pay at A&E – and all patients will have to prove they are not foreigners to get free NHS treatment
New government plans mean patients must prove they are not  foreigners – or be charged for life-saving treatment
Patients admitted to hospital in an emergency will have to prove they are not migrants under government plans to charge foreigners to use the NHS.
As part of proposals to recoup up to £500m from visitors from outside the European Union who use the NHS, hospitals will be required to identify those patients who are not eligible for free care - and make foreigners pay for life-saving treatment they receive on accident and emergency wards.
But the reforms mean that eligible patients will also have to prove they have the right to be treated free of charge.
While the Government has made clear that no one will be denied medical care, they will be expected to prove their eligibility with an NHS number or passport either when they present themselves or once they have been "stabilised".
Such a move could prove deeply unpopular, especially with the relatives of frail or elderly patients. Exact details of how the scheme will operate are expected to be announced in the spring.
"It would be discriminatory to just ask for documentation from patients who happen to look foreign and talk funny," Richard Vautrey, a GP who sits on the British Medical Association's governing council told its conference this year. "To remain within the law, every patient would have to provide evidence of eligibility."
The Department of Health said that "life-saving treatment" would still be free but all follow-up care would be charged for. "If you came into A&E with a blood clot or heart attack you would be stabilised for free but you would be expected to pay for subsequent care," a spokeswoman said.
"If you came in with a broken bone and could communicate you might be asked for payment upfront. But if, for example, you did not have your wallet you would still be treated and the NHS would try and recoup the cost down the line."
She added that the Government would later provide further details on how eligible patients could prove their right to NHS services, as well as how the charging regime for foreign patients would operate.
But the British Medical Association (BMA) warned that the proposals would saddle the NHS with bureaucracy which could end up costing more than it saved. It also warned there was a risk that seriously ill people might be deterred from seeking help.
"There remains a real risk that some migrants and short-term visitors who desperately need care could be discouraged from approaching the NHS if they cannot pay the proposed charges," said Dr Mark Porter, chair of the BMA Council. "There is particular confusion over entitlements to emergency care services, given the proposals introduce charging for A&E visits yet say no patient will be turned away if they need care."
Under the changes to the NHS charging regime announced by the Government today, GP and nurse consultations will remain free for foreign visitors - but other primary care services such as minor surgery and physiotherapy referred through a GP will be charged for.
Overseas visitors will also have to pay higher charges for services that are subsidised for patients entitled to free NHS care, such as visiting a dentist or an optician. The Government will announce full details of how the plan will work in March, with the changes being rolled out later in the year.
Lord Howe, a Health minister, said the changes were about making sure the system was fair. "Having a universal health service free at the point of use rightly makes us the envy of the world, but we must make sure the system is fair to the hard-working British taxpayers who fund it," he said.
"We know we need to make changes across the NHS better to identify and charge visitors and migrants. Introducing charging at primary care is the first step to achieving this. We are already looking at taking action and next year we will set out our detailed plans to clamp down on the abuse of our NHS."
But Labour criticised the move, saying it would result in doctors and nurses having to act as "surrogate immigration officials".
"Labour is in favour of improving the recovery of costs from people with no entitlement to NHS treatment," said Lord Hunt of Kings Heath, a shadow Health minister.
"Rather than more grandstanding, the Government needs to deliver practical, thought-through changes to make that happen. Instead this out-of-touch government is left asking doctors and nurses to act as surrogate immigration officials."
Katherine Murphy, chief executive of the Patients Association, acknowledged that "the NHS is not a bottomless pit" and that there were many people who came to the UK to get NHS care without paying. But she said the plans would be "fruitless" unless the Government worked out a better way to collect the money.
"The Government has got to have some way of recognising people who are not entitled to care.
"Even if they have admin people in A&E policing the wards, it's still not that straightforward. What about people who are only in the country for a week then disappear? How are they going to police that? Even if a bill gets sent, who's going to chase it up?
"This is something that has been going on for years and years and it has not been addressed because of the complexity of it. Unless the Government has got some new way of doing it, I'm not sure it's going to be addressed."
Immigration: policy by policy
The new rules will mean:
1 EU jobseekers have to wait three months before they can apply for UK out-of-work benefits.
2 Only those who can provide compelling evidence that they have a genuine chance of finding work will be allowed to continue claiming benefits after six months.
3 No newly arrived EU jobseekers will be able to claim housing benefit.
4 Any EU national sleeping rough or begging will be deported and refused re-entry for 12 months "unless they can prove they have a job".
5 Migrants will be quizzed about what efforts they have made to find work before coming to the UK and whether their English language skills will be a barrier.
Treatment abroad: how other countries manage
Spain According to a health-care law enacted in 2012, illegal immigrants who are over 18 will only be treated free of charge if it is an emergency, pregnancy or birth.
US Only "lawfully present" immigrants are eligible for the benefits and responsibilities of the Affordable Care Act. Undocumented immigrants are not eligible for any ACA benefits.
Thailand Although the government allows migrant workers to buy health insurance and access medical services, there are many obstacles which prevent them from actually receiving treatment at state hospitals.
Australia Migrants are only eligible for the universal healthcare system Medicare if they hold Australian citizenship, have been issued with a permanent visa, hold New Zealand citizenship or have applied for a permanent visa.
China According to a project trialled this month, more healthcare services are to be made available to migrants. Those who have lived in a certain area for more than six months will have their own health file maintained by the government, migrant children will be provided with vaccinations, and pregnant women will be provided with healthcare management. Migrants do not currently have the same access to services as permanent residents.
Join our new commenting forum
Join thought-provoking conversations, follow other Independent readers and see their replies