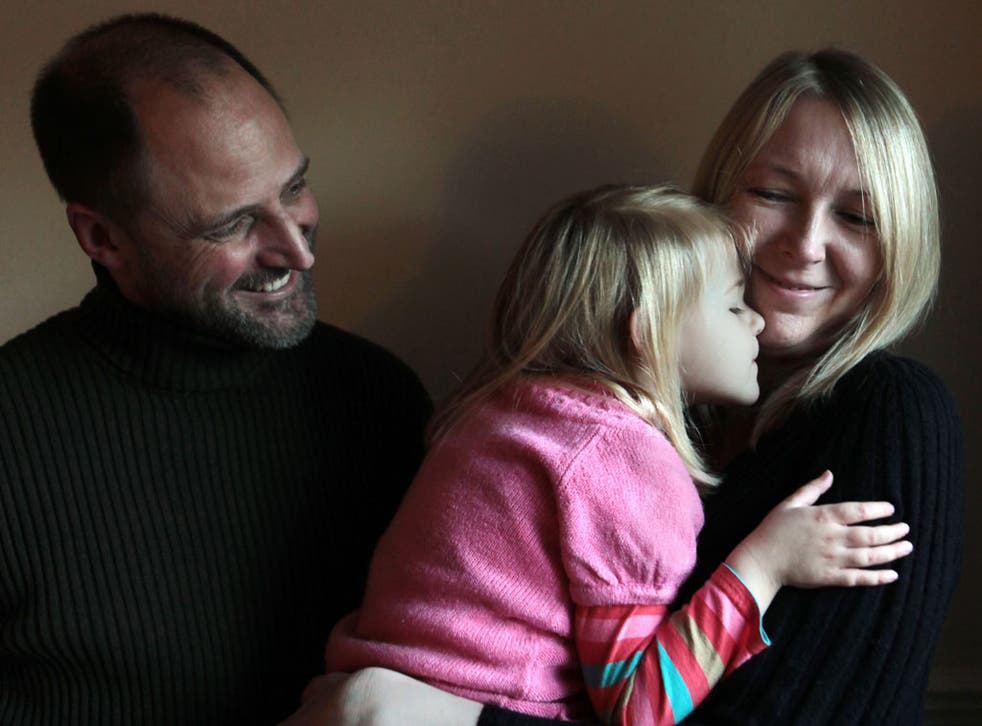 Miracle of the artificial heart, 30 years on
Since Barney Clark became the first recipient in 1982, thousands of lives have been saved – including that of an Oxfordshire toddler
When Seattle dentist Barney Clark told doctors 30 years ago today he did not expect to live longer than a few days after receiving the world's first permanent artificial heart, few people disagreed with him. But the 61-year-old American defied the odds.
He survived 112 days connected to the Jarvik-7 – the washing-machine-sized air compressor named after its designer and used to pump blood around the body – before succumbing to infection. Clark said he knew the risks and wanted to advance science. Three decades on, thousands of lives are saved every year because of those advancements. Toddler Ellie Beale is one of them.
"She was a perfectly healthy baby for the first 19 months of her life. Then things started to go wrong," says her mother, Debbie Bolton. "She went off her food, started to sleep longer and her face puffed up."
A chest infection and an overnight stay at the Royal Berkshire Hospital in Reading soon turned into a 12-day stay at the John Radcliffe Hospital in Oxford, where Ellie had to consume "a cocktail of drugs", according to her mother, as the girl struggled to regain her health.
Less than two weeks after Debbie and husband Simon Beale, both 45, returned home to Goring, Oxfordshire, with their daughter, Ellie fell sick again and spent five weeks in and out of hospital. She then went rapidly downhill and was put into an induced coma before being rushed to London's Great Ormond Street Hospital.
"We were not allowed in the ambulance and just had to hope for the best," says Debbie. "Half an hour after arriving we were taken to a room and told Ellie needed a heart transplant, that she was on the waiting list for a donor and that she had a one-in-three chance of recovery. It took some coming to terms with – we just thought she had a chest infection."
The worries Simon and Debbie had were partly offset by the fact Ellie was in the hands of some of the world's best clinicians. But the obvious stresses remained. "She was kept in a stable condition for four days but her health became so precarious they needed to operate and give her a Berlin heart," says Debbie. It took six hours to fit the modern-day equivalent of the Jarvik-7 and Ellie would be attached to the artificial heart – a driving unit, air hose and pumping chambers named after the German city where it is made – 24 hours a day for the next five months.
"I knew nothing about it," says Debbie. "No other children at the hospital were on a Berlin heart when we arrived. During Ellie's surgery, Simon and I just wandered around Oxford Street getting a few provisions and trying to pass the time. The last few minutes before the surgery was finished felt like hours. Ellie had barely eaten for six weeks and was really weak."
The procedure went well, but then the waiting game began.
"The hardest thing was to keep Ellie entertained in hospital for five months," says Debbie. "She was just a year old, soon to have her second birthday and, like all toddlers, pretty active. She'd pick up an infection every now and again and was susceptible to bruising and blood clots because of the blood-thinning drugs, but Simon and I were always there to keep her company and try to stop her falling over too much.
"You almost become complacent over such a long period of time – not always aware of the real danger Ellie was in."
Ellie battled through a stroke in April last year and six chamber changes to the Berlin heart due to clotting – all the more difficult because of the much smaller size compared with an adult artificial heart – before the phone call everyone longed for finally came on 11 July.
"Simon was on his way to the hospital that morning and told me as we left that we could be in this position for the next six months," says Debbie. "But when he arrived at hospital, Ellie was already 'nil by mouth'. They'd found a donor."
The transplant team had hurried to Continental Europe that morning to inspect the donor's heart and returned via RAF Northolt to begin preparation for the operation. The Berlin heart was unstitched and Ellie, after a worrying moment when the surgeons reopened her chest to get the new heart working better, was through the worst. A few days later she was climbing up and down the stairs at hospital. Two weeks later she returned home for good.
"She's started preschool now," says Debbie, "and had her first ballet lesson yesterday. Without the Berlin heart, Ellie would not be with us today."
Join our new commenting forum
Join thought-provoking conversations, follow other Independent readers and see their replies