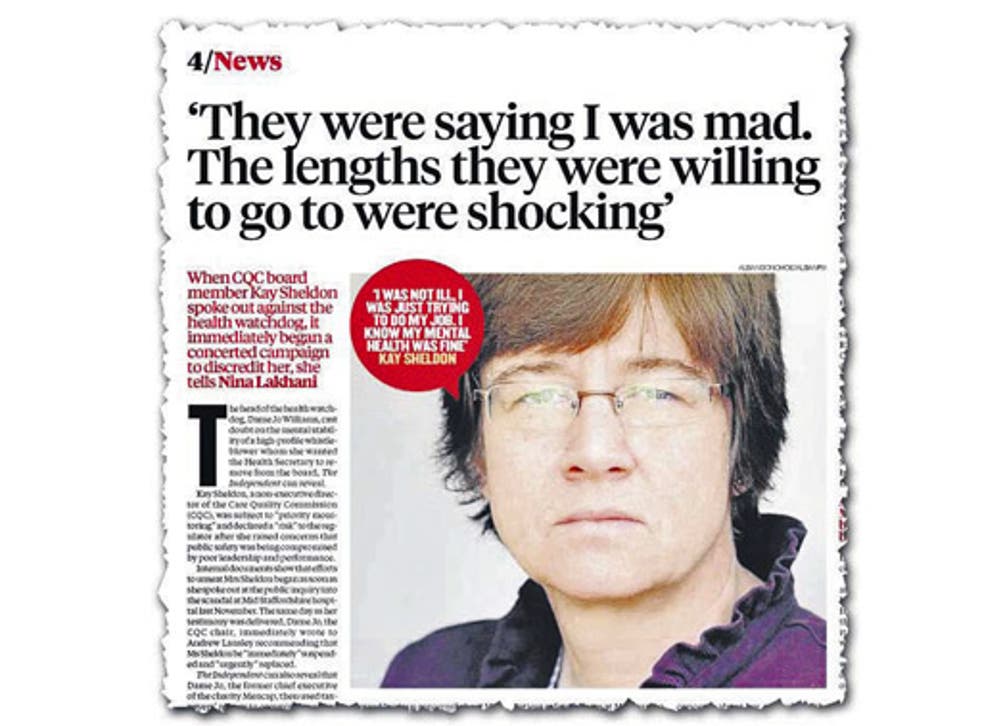 MPs to grill NHS CQC watchdog over whistleblower Kay Sheldon's story
Regulator's future in doubt as claims of secret psychiatric assessment are greeted with outrage
The head of the health regulator, Dame Jo Williams, will be forced to explain to MPs damning allegations that she tried to discredit a board member who blew the whistle by casting doubts about her mental health.
Her position hangs in the balance after members of the influential Health Select Committee (HSC) expressed "outrage" about reports in The Independent that Dame Williams commissioned an occupational health doctor to psychiatrically assess Kay Sheldon without her knowledge.
The report, which Dame Williams appears to have shared with the rest of the Care Quality Commission Board and Health Secretary, concluded that she was suffering from a paranoid illness, most probably schizophrenia. The doctor, who is not a psychiatrist, never met Mrs Sheldon and spoke with her only briefly over the telephone.
Dr Sarah Woolastan, Tory MP for Totnes and member of the HSC, revealed her own experience of suffering depression during a Parliamentary debate earlier this year. She said: "These are very serious allegations, and if they are true, then it is of grave concern that this could happen within a government organisation just as we in Parliament are trying to encourage people to have the confidence to tell their employers about their mental health problems."
Rosie Cooper, Labour MP for west Lancashire, said Mrs Sheldon's treatment was "outrageous". "Dame Jo's action are ill advised and do not display the right values in this kind of confidential, responsible role."
Dame Williams wrote to Andrew Lansley on the same day that Mrs Sheldon's gave evidence under oath last November to the Mid Staffs public inquiry asking for her to be removed immediately.
Mrs Sheldon told the inquiry, which is specifically investigating regulatory failures around Mid Staffs, about serious shortcomings in the CQC's leadership, board, inspection regime and accountability.
Her concerns, which she had repeatedly raised within the organisation beforehand, were later endorsed by the Public Accounts Committee and the department of health's own review published in February. Several patient safety scandals have been exposed at hospitals and care by patients and clinicians after the CQC declared them safe.
It was only last month, after she started legal proceedings that Mr Lansley decided that Mrs Sheldon should remain on the board.
Andrew George, Lib Deb MP for St Ives, said Dame Williams would be in front of the Committee as soon as possible after the summer recess. "Genuine whistleblowers are crucial to the CQC so that it can direct its investigations and limited resources using the best intelligence available. In this case, if Dame Williams wanted to seek some sort of retribution against the whistleblower, it would be really very worrying from the regulator."
The charity Mind has long campaigned to highlight the way peoples' mental health problems are unfairly used to discredit them in courts.
Mind's Director of External Relations Sophie Corlett said: "Living with a mental health problem does not make your opinion less valid or relevant when whistleblowing. Nor should people with mental health problems face discrimination when they are lifting the lid in the public interest."

Stephen Dorrell, former Tory health secretary and chairman of the HSC, last night said: "This is clearly an issue that needs to be further examined and it will be by the Committee in September."
Join our new commenting forum
Join thought-provoking conversations, follow other Independent readers and see their replies