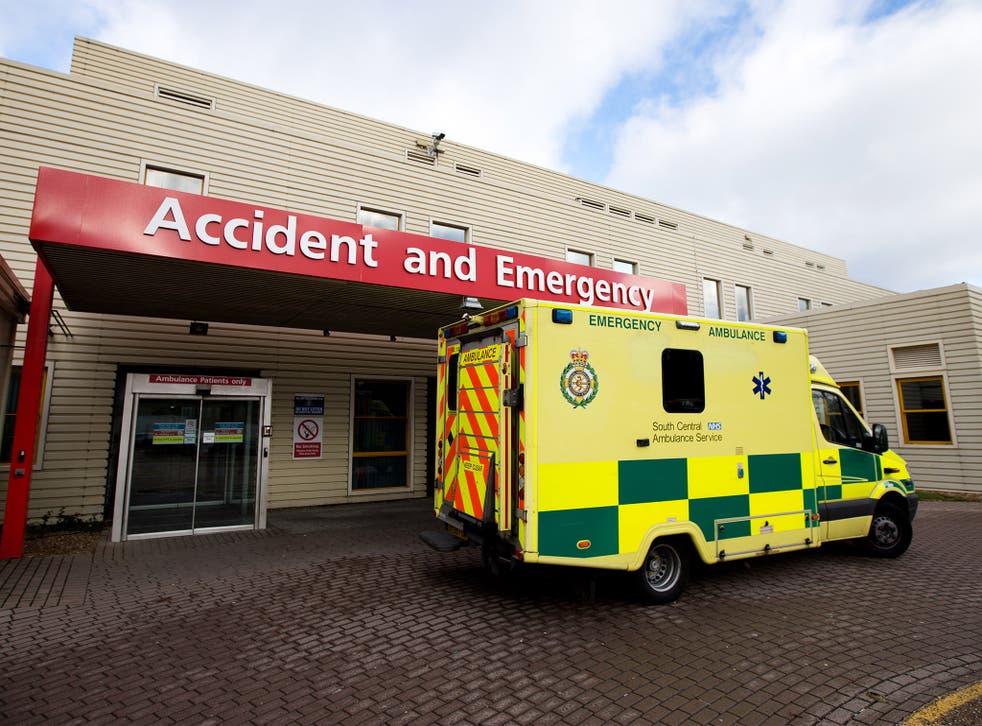 NHS crisis: Mutating flu virus means more cases will join queues' at already 'stretched A&Es
This year's vaccine less effective, medics say, as hospitals struggle to cope
Flu rates are at a three-year high and mutated strains of the virus have emerged against which the national influenza vaccine may offer reduced protection, health authorities have said.
Public Health England (PHE) said hospitals and GP surgeries were reporting more cases than at the peaks of the three previous winters. The spike in winter illness is likely to be a factor in the extreme pressures experienced by hospitals in recent days.
Health officials also confirmed that 20 per cent of H3 type flu samples tested by PHE have shown "drift" from the strain used in the national vaccine. This means they have mutated in a way that makes the vaccine less effective.
Strains of flu virus naturally mutate, and changes had already been observed this year in viruses circulating in the US and Australia.
The new data comes as hospitals continue to struggle with extremely high patient demand, with one forced to call in extra support from the Red Cross, as NHS capacity is stretched to the limit.
David Cameron said yesterday that the growing number of elderly people using A&E was a major factor contributing to pressures. Speaking in Manchester, the Prime Minister said it was "particularly striking" that more than a million more over-65s were going to A&E compared with four years ago, adding that a lack of "clarity" about GP access was a likely cause.
"I think the ease of going to hospital compared with not always having such clarity about what exists in the primary care sector – I think all of these are factors," he said.
The increasing strain on NHS resources

Show all 4
His comments came as the latest GP Patient Survey for England showed that nearly 15 per cent of patients failed to get an appointment the last time they tried, although 78 per cent of respondents said they would still recommend their GP surgery.
High risk groups, including the elderly, are eligible for free flu jabs and 70 per cent of over-65s in England have been vaccinated.
However, one hospital said it had seen a high proportion of patients suffering from an H3 flu strain which was "evading the immune response generated in recipients by the current seasonal flu vaccine".
Dr Ben Marshall, a specialist in respiratory medicine at Southampton General Hospital, said the number of patients being admitted with respiratory illnesses had doubled.
Respiratory conditions such as asthma and COPD can be exacerbated by flu, and in some cases can lead to serious complications that require a hospital stay.
In another sign of the continuing pressures on the NHS, the British Red Cross was called in to help a hospital in Sheffield transport patients. Dr David Throssell, the medical director of Sheffield Teaching Hospitals NHS Foundation Trust, said the Red Cross was not helping treat emergency patients, but had provided "ad hoc support for a very small number of patients" requiring transport after leaving hospital.
Mr Cameron has been criticised this week for not calling the current pressures on the NHS "a crisis".
In a letter, widely circulated on social media, Dr Robert Galloway, an A&E consultant from Brighton, challenged the Prime Minister and the Health Secretary, Jeremy Hunt, writing: "Is it not a crisis that up and down the country thousands and thousands of patients are being looked after in corridors because there are no free cubicles for them to be seen in?
"…Is it not a crisis when everyday A&E staff up and down the country thinks it is a good shift, if we get a cup of tea, no member of staff is in tears and no one dies in the corridor on our watch?"
Join our new commenting forum
Join thought-provoking conversations, follow other Independent readers and see their replies