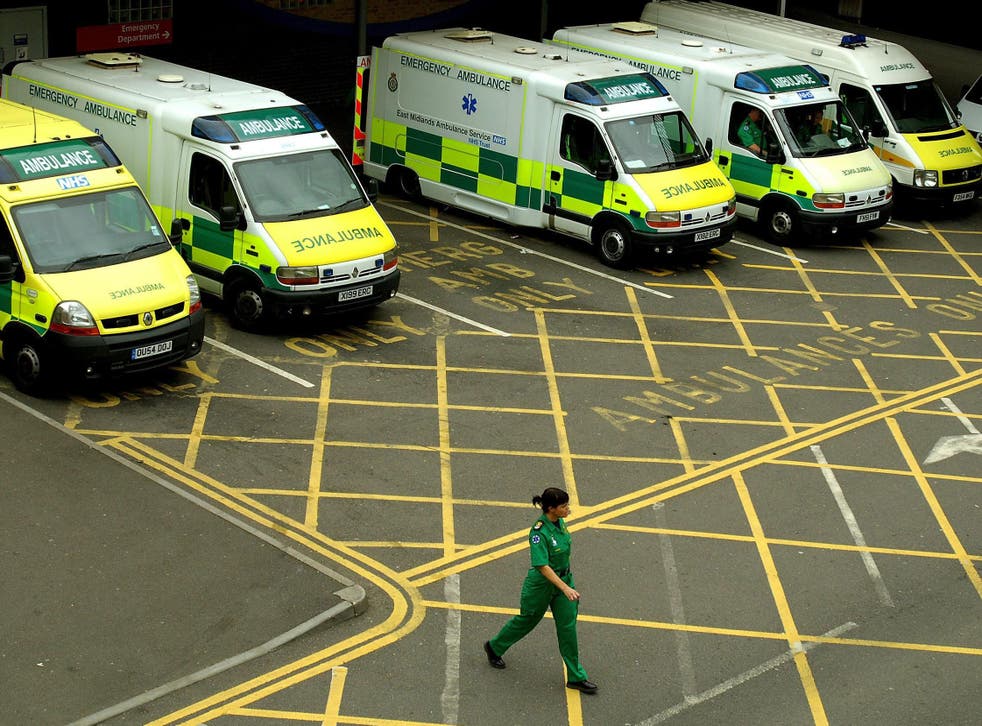 NHS crisis 'putting lives at risk', warns Royal College of Physicians
Top doctors say health service needs investment now as NHS services 'struggling or failing to cope'
Theresa May must invest in the NHS immediately to stem a health service crisis that is putting lives at risk, Britain's leading doctors have said.
Vital NHS services are "struggling or failing to cope", said senior medics at the Royal College of Physicians (RCP), which represents more than 30,000 doctors across 30 specialties.
RCP Registrar Andrew Goddard told The Independent the organisation's members had expressed fears "that the whole system was collapsing, that there is a crisis".
"Our hospitals are over-full, with too few qualified staff," wrote RCP President Professor Jane Dacre in a letter to the Prime Minister signed by the prestigious body's nearly 50 council members.
"We are treating more patients than ever before. This increase in patient need – as our fellow citizens live longer, with more complex conditions – is outpacing the resources we have to care for them safely."
The RCP joins a growing multitude of voices warning of intense pressures facing the health service after the British Red Cross called the situation in NHS hospitals a "humanitarian crisis".
Ms May and Jeremy Hunt have rejected the Red Cross's claims, with the Health Secretary accusing patients attending A&E with non-emergency conditions of placing an additional burden on the overstretched service during the busy winter period.
Jeremy Hunt dodges questions from Sky News reporter as she chases him
Mr Hunt suggested the Government's target to treat all A&E patients within four hours should only be for "those who actually need it", despite having taken his own children to A&E in 2014 because he did not want to wait to see a GP.
Dr Goddard said he had worked over the weekend and "not one patient we admitted didn't need to be in hospital".
"The reason they have gone to A&E is because there is nowhere else for them to go," he said. "It's a sign that primary care and health services in the community are under pressure."
"It's easy to say 'let's just do a little more work', but the understaffing issue is throughout the health system."
More than two million people waited over four hours to be seen at A&E departments last year, according to the latest data from NHS digital.
And waits of more than 12 hours in A&E among elderly people have more than doubled in two years.
Screaming blue murder: We join a London Ambulance crew for the busiest nightshift of the year

Show all 4
In the letter, The RCP council members said they felt "compelled to speak up" as they work on the front line in the NHS and see patients "waiting longer on lists, on trolleys, in emergency departments and in their homes for the care they need".
Money must be put into the NHS and social care to relieve the pressures and stop lives being put at risk, they argued, saying the money allocated by the Government was not enough.
"It is essential that we match the demand on health services with the resources to meet it," they said.
"We understand that the current financial pressures mean difficult choices. We welcome the decision to increase the number of medical students, and the commitment to extra resources for the health service.
"But, frontline staff and managers across health and social care are clear: investment levels are not sufficient to meet current or future patient needs."
"Promises of future investment will not address the very real challenges we face going into 2017: the time to invest is now," they said.
Dr Goddard said the letter aimed to highlight the problems in social care and the NHS, which he noted were absent from the Government's Autumn Statement.
"People can always do better, that's what we're always being told. It's difficult to pinpoint anything or any particular policy that Mr Hunt has had that has caused any particular problems," he said.
"We all accept there isn't a large amount of money available, and we will continue to work with what little resource we have," said Dr Goddard, adding he hoped the letter would show people the current NHS "is not affordable in the long term".
The British Red Cross, which stepped in to help at hospitals in the East Midlands, said the government should take immediate action to "stabilise" the health service after it emerged two patients died on trolleys in the A&E department of Worcestershire Royal hospital last week.
At a conference today, Mr Hunt said some A&Es had "very, very serious problems over Christmas and no one would want to minimise what happened".
He said while he did not accept the Red Cross's description of a "humanitarian crisis" in NHS hospitals, the Government needed to take action to prevent that happening again.
"Does that mean that we say that we're not going to do anything about some of the problems that we've had over the last couple of weeks? Absolutely not.
"I think those problems are unacceptable. I think some of them... extremely distressing and worrying.
"And, of course, we need to take action to try and prevent that happening again."
Shadow Health Minister Jon Ashworth called the RCP's letter a "stark warning"of the strain the NHS is under.
"The NHS is underfunded and over stretched," he said. "Patients deserve better and Theresa May must now come forward with a plan to properly fund our NHS and social care system"
A Department of Health spokesperson said: "We know the NHS is facing increasing demand from an ageing population but this makes building a safer healthcare system more urgent, not less.
"Since just last year, we have 3,100 more nurses and 1,600 more doctors. We're also joining up health and social care for the first time and investing £10bn to fund the NHS's own plan to transform services and relieve pressure on hospitals."
Join our new commenting forum
Join thought-provoking conversations, follow other Independent readers and see their replies