NHS criticised for 'production line' approach to childbirth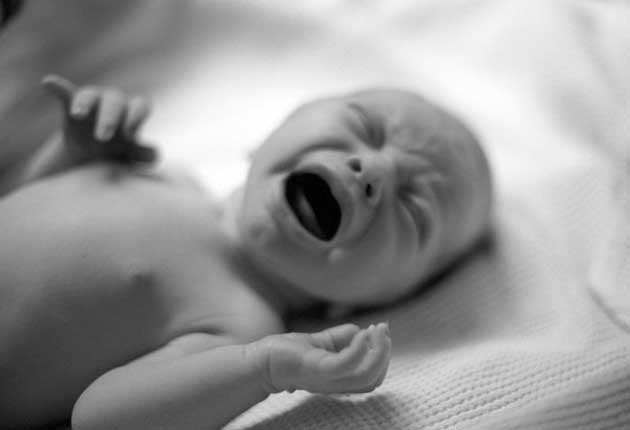 One in six mothers is giving birth in a position that is "physiologically inappropriate", according to Britian's most senior obstetrician.
Tony Falconer, president of the Royal College of Obstetricians and Gynaecologists, was responding to a survey showing that 16 per cent of women having natural deliveries do so with their feet hoisted above their hips in stirrups.
The survey by the Care Quality Commission, the health regulator, found the use of stirrups in childbirth had increased from 14 per cent of women in 2007. The figures excluded women who had "assisted" deliveries, involving the use of forceps or vacuum suction, where the use of stirrups may be appropriate.
Mr Falconer, a consultant obstetrician at Plymouth Hospitals NHS trust, said: "I am perplexed by this figure. In the under-resourced world, that is the normal way but not in the UK. I don't approve of it at all."
"The only instance in which a woman might be put in stirrups is if it is thought her baby is very big. But even then it is not the thing to do. You should hyperextend the hips – pull them back to extend the pelvis."
"I would be very suprised to find this going on – it certainly does not in the maternity units I know. I didn't know that in many maternity units that would be the normal position."
The CQC survey covered all women who gave birth in England in February 2010 of whom more than 25,000 – over half – responded. More than nine out of 10 rated their care as good, but more than one in five complained they were left alone and worried at some point during labour. More than half (55 per cent) gave birth lying down, including those for whom stirrups were used, though this contradicts guidance issued by the National Institute for Clinical Excellence (Nice), which says that sitting, standing, squatting or kneeling is preferable.
Belinda Phipps, chief executive of the National Childbirth Trust, said: "It is shocking – it seems we have gone back in time to the 'production line' approach where women are all treated the same and active birth is not promoted despite the known benefits."
Mervi Jokinen, practice and standards adviser at the Royal College of Midwives, said the apparent high use of stirrups may have arisen from a misunderstanding by the women responding to the survey. "I am very sceptical how women perceived this. When you are suturing a woman she will have her legs in stirrups and she may see this as part of the birth," although she admitted that the proportion of women giving birth on their backs was "definitely higher than expected". "We know that women have shorter labours, cope better with the pain and push better when they are in an upright position or squatting. Lying flat on your back makes it harder work because you have to push uphill. We encourage women to be upright," she said.
Ms Jokinen said cuts to antenatal classes meant women were arriving in labour without knowing which positions were the best.
The survey covered the 144 NHS trusts in England providing maternity services and is the biggest of its kind.
Join our commenting forum
Join thought-provoking conversations, follow other Independent readers and see their replies