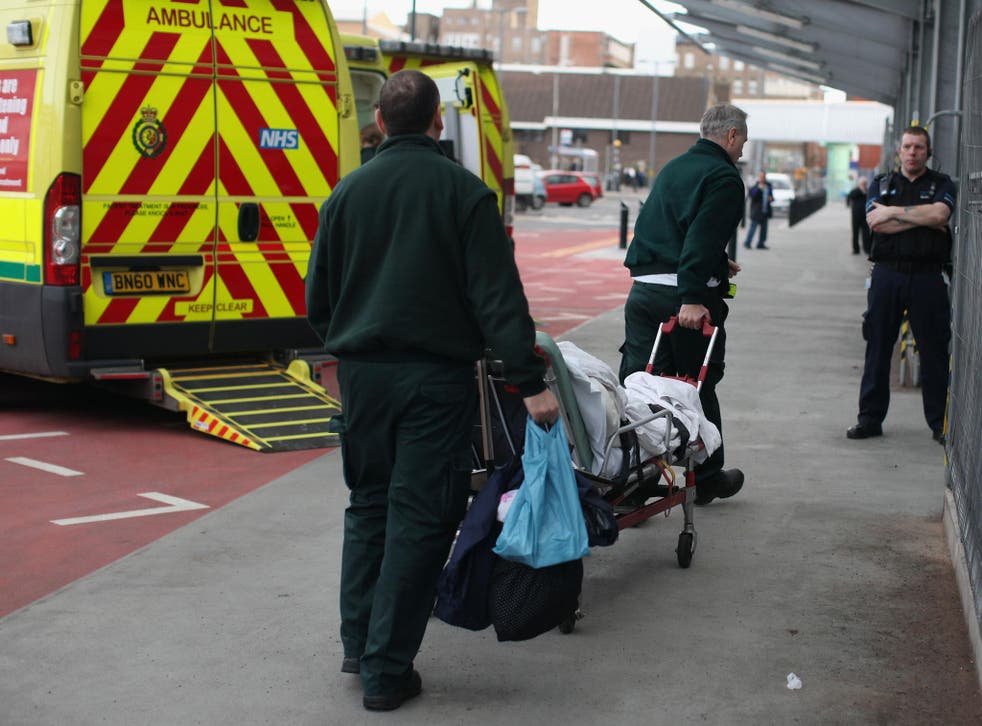 NHS sees worst month ever as A&E waiting times hit new record in January
85.1 per cent of patients wait four hours or less in January, below Government target of 95 per cent
January was the worst month on record for hospital A&E departments, with more patients than ever waiting over four hours to be seen, official figures have revealed.
NHS England statistics showed 85.1 per cent of patients were seen within four hours – down from 86.2 per cent in December and below the Government's target of 95 per cent.
Doctors have warned of worsening conditions in overstretched hospitals, said to be at breaking point due to overwhelming demand and bed shortages.
Nearly 80,000 seriously ill patients spent more than four hours waiting on trolleys to be treated after being admitted to A&E, with an unprecedented 988 patients waiting on trolleys for longer than 12 hours.
The number of 12-hour trolley waits has risen from 550 in December and is up six times since January last year, when 158 people waited more than 12 hours for treatment.
In January 2015, 650 patients waited more than 12 hours to be treated. Some hospitals have said they are now using "corridor nurses" to cope with a severe lack of available beds.
John Appleby, director of research at health charity the Nuffield Trust, said corridors "have become the new emergency wards".
"These figures make dismal reading for the NHS and patients. The numbers of patients stuck on a trolley waiting for a hospital bed have gone through the roof," he said.
"These are vulnerable people with acute medical needs."
Health Secretary Jeremy Hunt said the Government was committed to lowering A&E waiting times in NHS hospitals.
Philip Hammond claims the Tories are 'the party of the NHS' during Budget 2017
He said he expected the NHS would "make very tangible progress" in the next year to meet the target of 95 per cent of patients waiting four hours or less.
Speaking at a conference held by think tank Reform, Mr Hunt said extra funding for the social care system would help ease pressures faced by hospitals by freeing up beds.
The last time the four-hour wait target was met was in July 2015.
Philip Hammond said "we are the party of the NHS" as he announced an extra £2bn for social care in this year's Budget, promising the funding boost would help ease pressures faced by the health service.
Sidestepping calls from doctors, health bodies and Labour for an urgent cash injection directly into the NHS, the Chancellor said £325m of funding would be given to controversial sustainability and transformation plans (STPs).
STPs have been drawn up in 44 areas of England as a way of reforming services while saving money, but have proved unpopular in some regions because they will lead to the closure of some hospitals, A&E departments and other services.
Everyone the Government blames for the NHS crisis – except themselves

Show all 6
Mr Hammond also said £100m would be given for triage in A&E departments to combat overcrowding, which the Government has claimed is due to patients attending hospital when they could be seen by a GP.​
However campaigners have criticised the spending plans as "nowhere near enough" and accused the government of enabling further NHS privatisation by not giving the money directly to the health service.
Mark Porter, council chair of the British Medical Association, said the Budget "does nothing to address the gaping hole in NHS finances".
"There is a £30bn gap to fill and we should be increasing the UK's health spending by at least £10.3bn to match that of other leading European economies," he said.
There were 1.2 million visits to A&E in January.
Join our new commenting forum
Join thought-provoking conversations, follow other Independent readers and see their replies