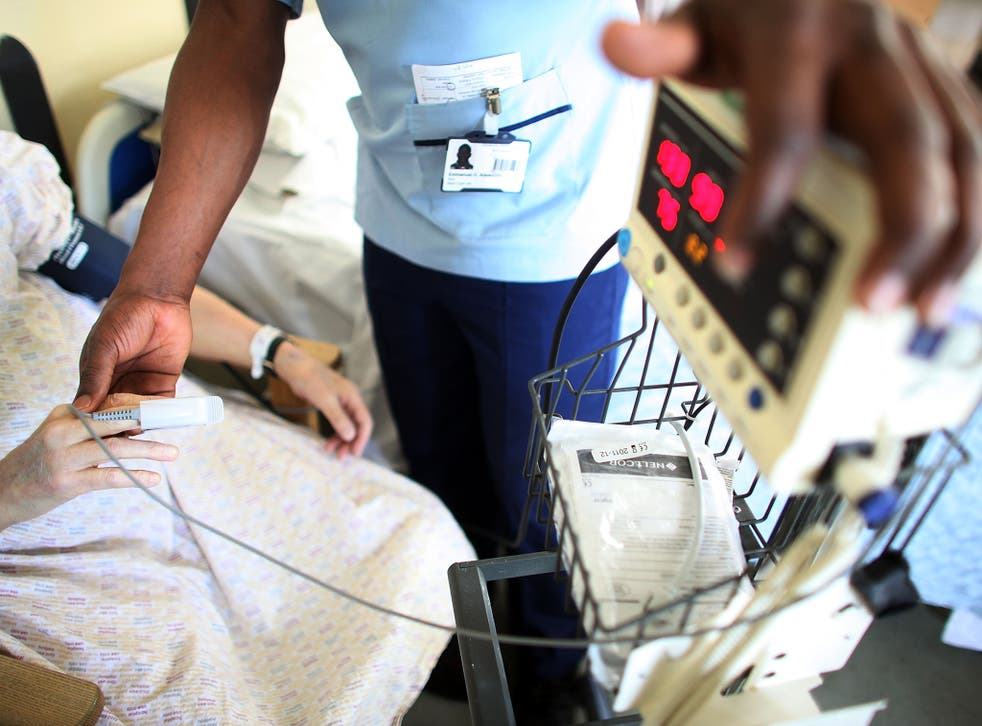 NHS spends £2.5bn on agency staff to meet rising demand
NHS hospitals spent £2.5bn on part-time agency staff last year – far more than planned – in a bid to improve patient safety amid sharply rising demand, new figures show.
One hundred hospitals and other NHS employers within the Foundation Trust sector spent £1.3bn on agency and contract staff in 2013-14, two-and-a-half times more than the £523m planned spend, according to figures obtained by the senior Labour MP Frank Field.
Foundation Trusts have more financial freedom than standard NHS trusts – but spending on part-time staff in the standard NHS trust sector was also high, at £1.2bn.
The vast overspend has been driven by growing demand on hospitals and a rapid attempt by hospital bosses to take on more nursing staff to improve patient safety in the wake of the Mid Staffordshire care scandal.
Agencies often charge significantly more per shift for their staff than the equivalent cost of a full-time NHS nurse or doctor, and health bosses have been criticised by regulators for failing to plan their workforce needs more efficiently.
In numbers: the NHS crisis

Show all 7
The huge cost has driven many English hospitals' finances into the red. Two in three were in deficit in the first quarter of this financial year.
Mr Field, who has called for a radical overhaul of the way England pays for the NHS, backed up by an increase in National Insurance contributions, said the figures showed budget control in the health service was "collapsing".
"Had they planned properly, managers could have saved hundreds of millions of pounds for the health service, and ensured more monies ended up in workers' pockets rather than in agency fees," he told The Independent.
"Our next step must be to find out exactly how many of these agency workers were paid a living wage, and how much of this £2.5bn was creamed off by the agencies."
The overspend came to light as the latest hospital figures revealed deteriorating performance, both at A&E and in discharging patients who no longer require hospital care – raising fears of a winter hospital crisis.
A record-breaking 91,569 days of hospital care were given in September to patients, often the elderly or infirm, who doctors had assessed as being well enough to leave hospital, official NHS figures show. The leading cause of delay was "awaiting care package in the home".
The Government has made great efforts to avoid a winter crisis at hospitals.
A recruitment drive has made an additional 260 A&E doctors available, 50 of whom have been recruited from overseas.
A Department of Health spokesperson said: "We know our ageing population puts pressure on parts of the NHS but the vast majority of patients are seen and treated quickly, with 2,000 more people seen daily in A&E within the four-hour target last year compared to 2010.
"Patient safety is top of our agenda, and in the wake of Mid Staffs there has been increased spend on agency workers to correct historic understaffing. Staff numbers should meet demand, but we know delivering safe care and balancing the books go hand in hand, so we're reducing reliance on expensive agency workers going forward."
A spokesperson for Monitor, which regulates Foundation Trusts said hospitals should act to reduce their dependency on agency staff "by improving their planning and gaining greater control over their staffing costs."
The NHS Trust Development Authority said providing high quality safe care to patients was the top priority, and that sometimes this made agency staffing necessary. "However NHS Trusts need to make sure that wherever possible they are keeping the use of agency staff to a minimum and are looking to make permanent appointments," a spokesperson said.
Join our new commenting forum
Join thought-provoking conversations, follow other Independent readers and see their replies