NHS trusts face fines for poor hygiene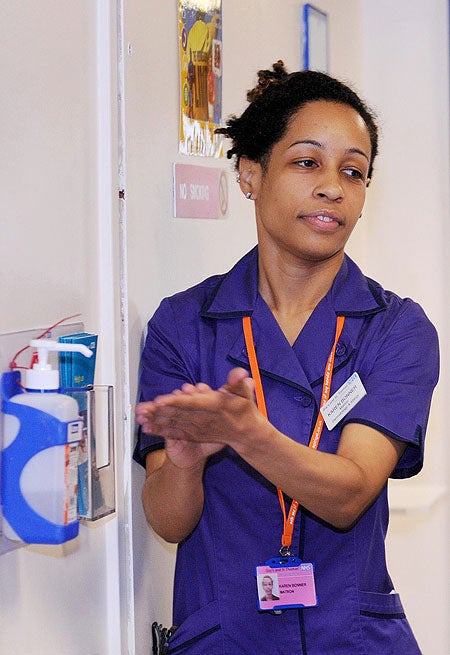 Fines of up to £50,000 will be imposed on NHS trusts which breach hygiene regulations in a crackdown on hospital infections.
Inspectors will have powers to prosecute dirty hospitals and clinics, and impose sanctions ranging from fixed penalty fines to closure of wards, clinics or services.
The fresh measures are part of the Government's drive to protect patients against superbugs, including MRSA and Clostridium difficile.
Public anxiety has been increased by incidents such as the 90 deaths attributed to C. difficile at Maidstone and Tunbridge Wells NHS Trust over two and half years. The deaths of a further 255 patients were judged to have been hastened by the bug.
Hospitals that fail to meet minimum hygiene standards will be issued with fixed penalty notices with fines of up to £4,000. Obstructing an inspector or failing to provide documents or information will attract fixed penalty fines of £1,250.
More serious offences, such as failure to act on an improvement notice following an outbreak of infection could lead to prosecution, carrying a maximum £50,000 fine.
The measures are contained in a document released by the Department of Health yesterday setting out proposed powers for the Care Quality Commission (CQC), the Government inspectorate that will replace the Healthcare Commission next year.
David Nicholson, chief executive of the NHS, says in a foreword to the document: "Patients keep telling us that contracting a healthcare-associated infection is one of their biggest concerns. It is crucial that we focus on bringing infection rates down even further and protecting patients, staff and visitors from the risk of infection."
The CQC will have responsibility for overseeing all hospitals in England, both NHS and private, as well as care homes for the elderly, GP surgeries and private clinics. Under regulations to be introduced in April 2009, hospitals and clinics will have to register for an operating licence with the CQC, which will be conditional on meeting minimum standards on hygiene.
A survey published in June showed that one in four NHS trusts in England failed to meet minimum standards on hygiene for the second year running, potentially putting patients at risk.
The Healthcare Commission, which published the survey, said the findings showed that, despite huge political pressure, a minority of trusts had still failed to put the necessary measures in place. Sanctions were an inevitable next step, it said.
Anna Walker, chief executive of the commission, warned in June that NHS trusts had 10 months to get their act together. "This is a wake up call," she said.
Britain has some of the worst problems with hospital infections in Europe, despite recent falls, and the issue has been at the top of the political agenda for the past three years. Polls show worries about bugs such as MRSA have overtaken concerns about hospital waiting times.
Latest figures show hospital infection rates are down overall with a 30 per cent reduction in MRSA and C. difficile rates in the past year, according to the Health Protection Agency.
The hygiene code covers infection control, decontamination of equipment and the cleanliness of the hospital environment.
A Department of Health spokeswoman said: "This is a toughening up of the regulations around infection control."
Jo Webber, of the NHS Confederation, representing NHS trusts, said: "NHS trusts are absolutely clear that they have a responsibility to maintain high standards of hygiene. Where there are problems they would hope that the CQC would work with them to resolve those difficulties. Fines should be a last resort."
The proposals are out for consultation until October.
Join our commenting forum
Join thought-provoking conversations, follow other Independent readers and see their replies