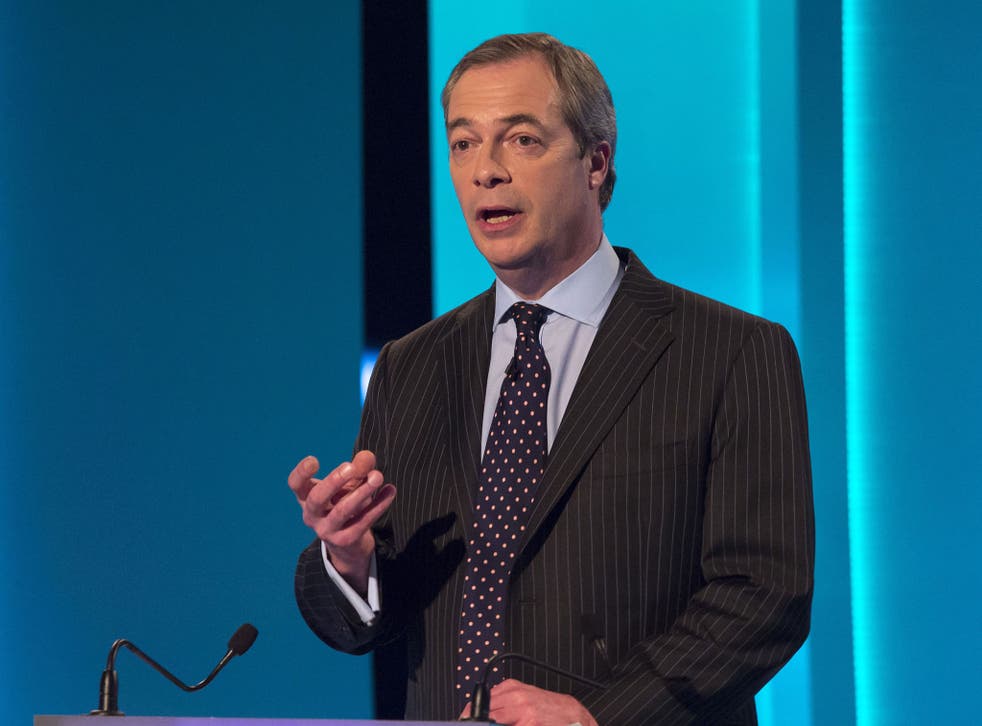 Nigel Farage on the NHS: Half of voters agrees that HIV patients cost UK too much money
Nigel Farage's sparked controversy for his comments on HIV patients during last week's televised leaders' debate
Nigel Farage was last week slammed by a HIV-positive migrant for attacking the number of foreign nationals who receive treatment on the NHS. But a poll has since suggested that half of voters agree with the Ukip leader.
Farage insisted over the weekend that he has received "overwhelming support" from the general public over the controversial comments he made during last week's televised general election leaders' debate.
Now, a YouGov poll of 1,906 adults has shown that 50 per cent of electors answered 'yes' to the question: "Would you support or oppose people coming to live in the UK being banned from receiving treatment on the NHS for a period of five years?"
A further 34 per cent opposed a ban, while 16 per cent said they did not know.
When participants were asked whether Farage's comments best reflected their view, fifty-two per cent answered: "Nigel Farage was right to raise this issue - immigrants with serious conditions like HIV are costing the health service a large amount of money".
Meanwhile, 37 per cent agreed with the statement: "Nigel Farage was just scaremongering - compared to the total cost of the NHS this is a drop in the ocean," and one in ten said they did not know.
Ukip gaffes and controversies

Show all 18
A Ukip spokesman said: "This poll finding shows yet again the disconnect that exists between the Westminster bubble and much of the population.
"Nigel Farage is the one leader who has the political courage to raise difficult issues and clearly millions of voters agree with that stance."
Asked if he made the comments during the debate to spark a reaction, Mr Farage replied yesterday: "I wanted to make people think and understand why their grandmother who is 85 finds it very difficult to get drugs for breast cancer but anybody can get on a plane from anywhere in the world, be HIV tested in London and receive antiretroviral drugs.
"Something, it seems to me, isn't right here."
While the polls following the debate returned conflicting percentages on which candidate had won, a YouGov poll saw Farage come in second behind SNP First Minister Nicola Sturgeon, followed by Prime Minister David Cameron and Labour Leader Ed Miliband.
Liberal Democrat leader Nick Clegg claimed fifth place, which the Green Party's Natalie Bennett and Plaid Cymrus' Leanne Wood came in sixth and seventh, respectively.
Join our new commenting forum
Join thought-provoking conversations, follow other Independent readers and see their replies