Numbers of NHS doctors registering to work overseas could reach unprecedented record
Exclusive: More than 1,600 doctors have requested to work overseas in just three days last week – 20 times more than the old average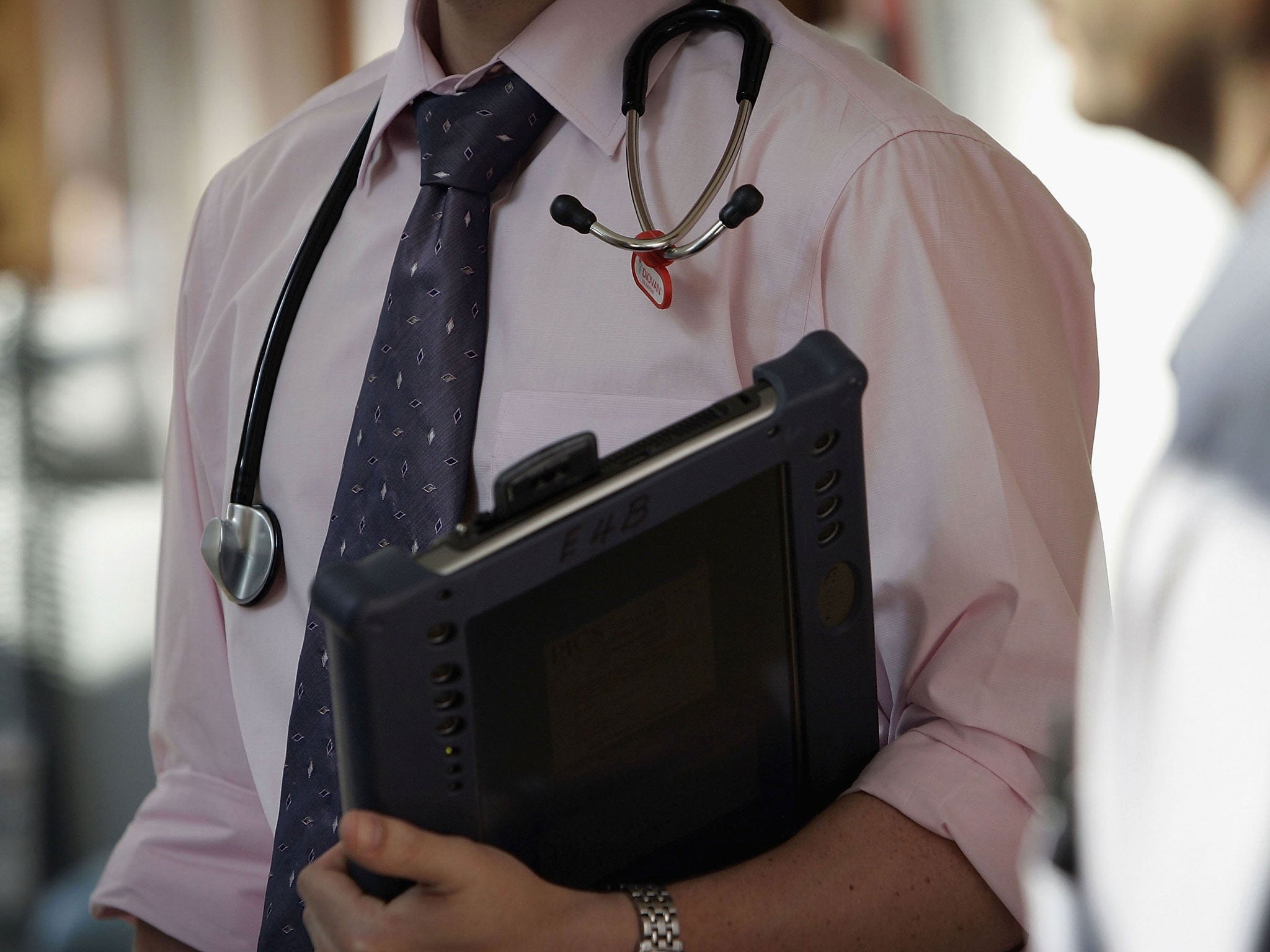 The Government's decision to impose a new contract on junior doctors may risk an exodus of young medics, after figures revealed an unprecedented spike in NHS doctors registering to work overseas.
Doctors seeking to work abroad must apply for Certificates of Current Professional Status (CCPS) from their regulator, the General Medical Council (GMC).
In just three days last week, the GMC received 1,644 requests for CCPS documents. Typically, it receives around 20 to 25 a day.
The extraordinary spike in demand began on 16 September, the day after the Government confirmed it would seek to impose a new contract on junior doctors, after their union, the British Medical Association (BMA), refused to return to negotiations. Proposed reforms under the new contract would see juniors lose out on pay premiums for working weekday evenings and on Saturdays.
The Government and NHS Employers, an arms-length body, say the new contract will reward doctors who take on more responsibility and work the most unsocial hours, but have not ruled out cuts to some doctors' take-home pay.
Thousands of doctors are thought to have left the UK to work overseas in recent years, with Australia, New Zealand and Canada among the most popular destinations. There are no official figures showing how many leave each year and though not all doctors who request a CCPS eventually leave the country, application rates for the certificates are considered the best indicator of interest in working abroad.
Numbers have remained steady since peaking at 5,163 in 2012. Last year, 4,925 applied. Last week's surge in interest has taken this year's figure so far to 4,500 – meaning 2015 will almost certainly break the previous record.
The figures refer to all doctors, not just juniors, and the GMC does not break down the figures by experience level. However, the timing appears to indicate the surge is being driven by junior doctors demoralised by the Government's contract plans.
Last week, the BMA said doctors may take industrial action to resist an imposed contract. A petition supporting strike calls has attracted 52,000 signatures.
While one leading overseas recruitment company suggested some doctors were registering for CCPS documents to put pressure on the Government, there is significant anecdotal evidence that many NHS medics are actively pursuing opportunities overseas.
Dr Kitty Mohan, chair of the BMA's Junior Doctors Committee, said: "These figures should serve as a serious wake-up call to the Government. There has been an outpouring of anger over plans to impose a new contract and there is a real risk that junior doctors will speak with their feet. To lose a large swathe of doctors in the early stages of their careers would be a disaster for the NHS." The committee will meet on Saturday.
Devolved governments in Wales and Scotland have confirmed they will not be adopting the proposed new contract. Scotland's SNP Health Secretary, Shona Robison, said last week that Holyrood was "determined to maintain our longstanding positive relationship with NHS staff".
Pressure has increased on the Government after Professor Jane Dacre, chair of the Royal College of Physicians, wrote to members expressing concern. She is co-ordinating a joint letter to Jeremy Hunt from the heads of the medical royal colleges, which she said would make clear their "significant concerns".
The Royal College of Psychiatrists' Trainees' Committee have said the Government's decision to impose a contract had been "morale-crushing".
Paul Wallace, director of employment and rewards at NHS Employers, said "all aspects" of the new pay system were up for discussion and hoped the BMA would return to the negotiating table.
The Department of Health accused the BMA of "prompting" the increase in applications. A spokesperson said: "These figures are not emigration data and do not reflect the number of doctors planning to leave the UK. We suspect this sudden spike in CCPS applications is prompted by the doctors' trade union which is deliberately misrepresenting our contract proposals. NHS staff are our greatest asset."
Case study: 'We're overworked and overtired'
Timothy Parker, 26, is a junior doctor in New South Wales, Australia. He trained in the UK.
"The truth is that the NHS is broken. Unsafe staffing levels, increasing patient demands and expectations, mixed with a decimation of resources, have created a system in which patients are only protected by brutally overworked and overtired medics.
Contrast this with Australia; well-staffed departments, excellent training, fewer hours for better pay and an environment conducive to delivering gold-standard patient care. Our Antipodean friends value their doctors, while in Britain, we dehumanise them for political expediency."
Join our commenting forum
Join thought-provoking conversations, follow other Independent readers and see their replies