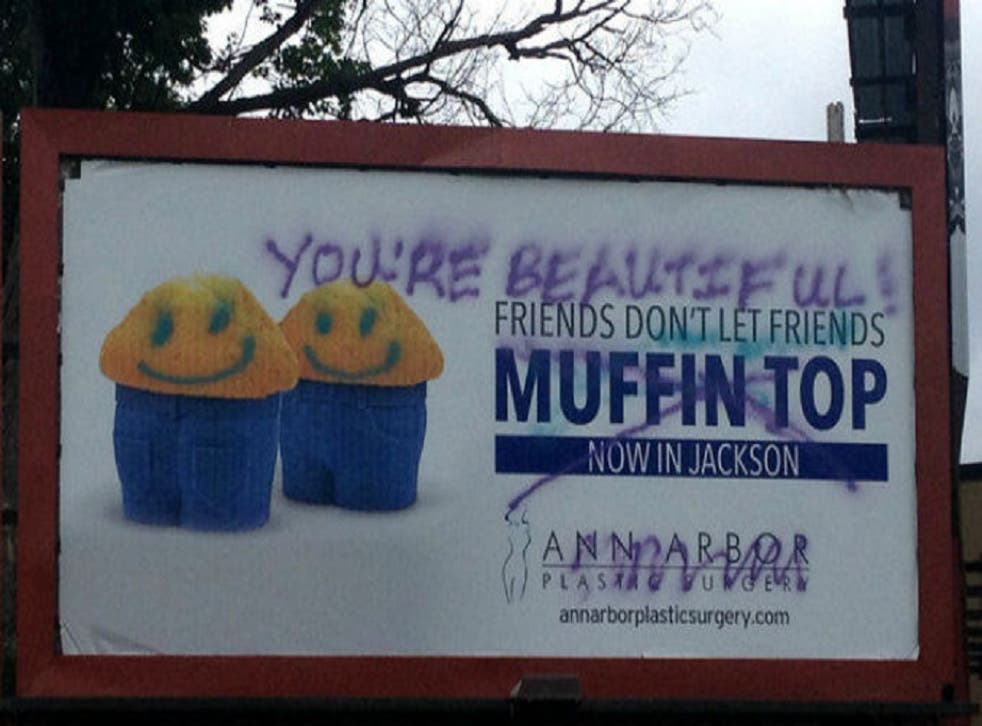 Plastic surgeon's anti-muffin top billboard vandalised to offer more positive message
Surgeon asked people to "see the lighter side"
Michigan residents appear to be tiring of a plastic surgeon's billboard fat jokes, its latest, 'Friends don't let friends muffin top', being spray-painted over to read 'You're beautiful'.
The slogan, a twist on the 'Friends don't let friends drive drunk' line used in bars, was altered over the weekend, with Ann Arbor Plastic Surgery saying it would be "making a police report".
The surgery, which previously made a joke on another billboard about cup size, defended the message on Facebook, asking people to "try to see the lighter side".
"Plastic surgery is not for everyone," the company posted in response to criticism. "This ad is not to offend anyone. It's simply to get people to chuckle. Try to see the lighter side of this ad."
A Facebook user hit back:
"I have a really lovely sense of humor, but your signs just suck, majorly. Please do not think that affirmations from women saying "Hey, I laughed!" should mean you glaze over the other women-and more importantly, young girls- that read your opportunistic, money-hungry corrupt nonsense signs and get sincerely hurt, or get it in their heads that there is something fundamentally wrong with their bodies as is that requires them, by default, changing it."
Ann Arbor plans to replace the billboard with a new one this week.
Join our new commenting forum
Join thought-provoking conversations, follow other Independent readers and see their replies