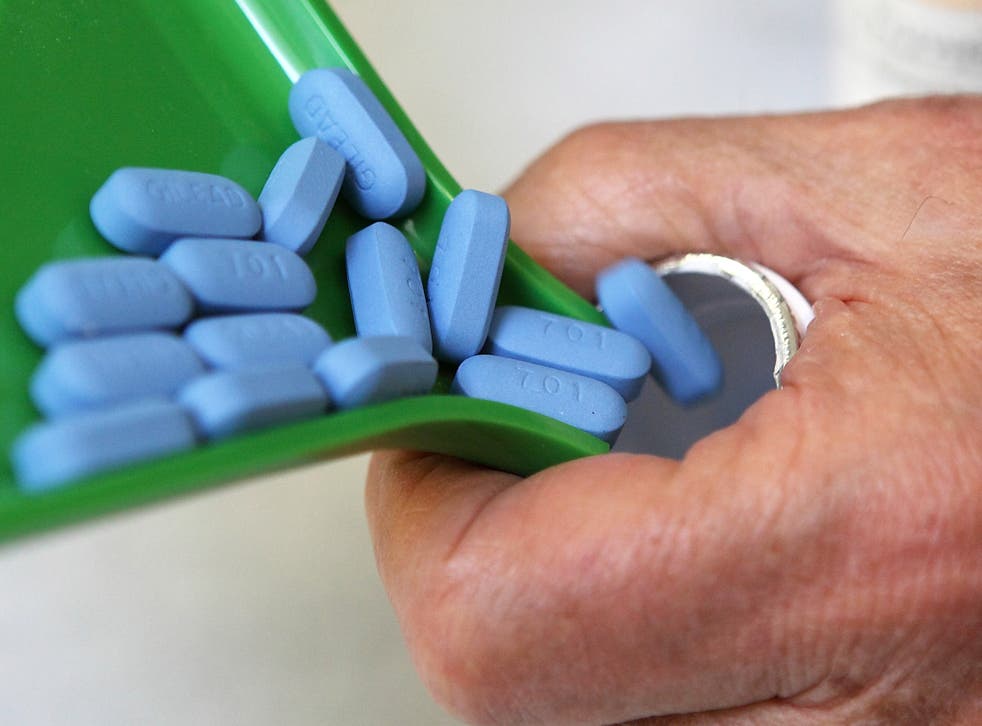 PrEP medicine 'could prevent around 7,400 extra HIV cases by 2020'
Pre-Exposure Prophylaxis is a method for people who do not have HIV to prevent infection by taking a pill every day
Allowing gay men access to new drugs could prevent around 7,400 extra cases of HIV in the UK before the end of the decade, according to newly-published research.
Offering PrEP alongside regular HIV testing and early treatment to just a quarter of men who have sex with men (MSM) at high risk of contracting the virus could prevent almost half the number of new diagnoses in that period, boosting calls for the method to be provided free on the NHS.
If the status quo is maintained almost 17,000 new HIV infections in MSM between 2014 and 2020 will emerge, new modelling research published in The Lancet HIV journal suggests. Researchers estimate that even when targeted only at high-risk men, PrEP was more effective than all other individual measures aimed at the entire UK MSM population, preventing almost 10,000 new infections.
PrEP, which stands for Pre-Exposure Prophylaxis, is a method for people who do not have HIV to prevent infection by taking a pill every day. The pill contains two medicines that are also used to treat HIV.
Lead author Dr Narat Punyacharoensin, from the London School of Hygiene & Tropical Medicine in London, said: "Current prevention efforts in the UK that focus on correct and consistent condom use and regular HIV testing have been falling short. HIV rates among men who have sex with men remain high with around 2,800 becoming infected with HIV in 2014, and the trend shows no sign of abating.
Harry visits HIV hospital
"Our results show that pre-exposure prophylaxis offers a major opportunity to curb new infections and could help reverse the HIV epidemic among MSM in the UK."
Most recent Public Health England figures show an estimated 103,700 people in the UK were living with HIV in 2014, with around 18,100 unaware and at risk of unknowingly passing on the virus to others. Among the MSM group, 6,500 remain unaware of their HIV infection.
In addition, there continues to be high levels of transmission in MSM and 3,360 MSM were newly diagnosed in 2014 - the largest number ever recorded.
Health news in pictures

Show all 40
An NHS England process to evaluate PrEP is underway, but any decision to provide the drug will not be implemented until later this year at the earliest. Campaigners say it is too long to wait. Currently, PrEP can only be purchased from a pharmacy with a private prescription from a registered medical professional.
Last November, France became the first country in Europe to authorise access to PrEP for populations most at risk of HIV infection. The decision was largely based on the results of a study published in the New England Journal of Medicine.
A two-year study sponsored by Public Health England, called PROUD, is looking at a new way to reduce the risk of getting HIV. It will look at the impact of taking PrEP on how often men have sex, how often they use condoms; and whether they get other sexually transmitted infections.
Dr Michael Brady, Medical Director Terrence Higgins Trust, said: "The reality is that the UK is now lagging well behind other countries on its approach to HIV prevention and its investment in successful interventions such as PrEP. It is essential that PrEP is made available on the NHS as soon as possible for those most at risk. Every month we delay there are more people being unnecessarily infected with HIV."
Professor Sheena McCormack, Chief Investigator of the PROUD study, at the Medical Research Council Clinical Trials Unit at UCL, said: "We welcome the publication of this important analysis and are not surprised at the findings given the huge benefit we observed with PrEP in the PROUD study. It is very useful to see the projections to 2020 and the potential that PrEP offers to truly impact the epidemic in this country. Our fingers are crossed for a favourable decision from NHS England in June to make PrEP more widely available".
Join our new commenting forum
Join thought-provoking conversations, follow other Independent readers and see their replies