Private hospital told doctors to delay NHS work to boost profits
Letter reveals shocking order to make patients wait months for operations – even if there was no waiting list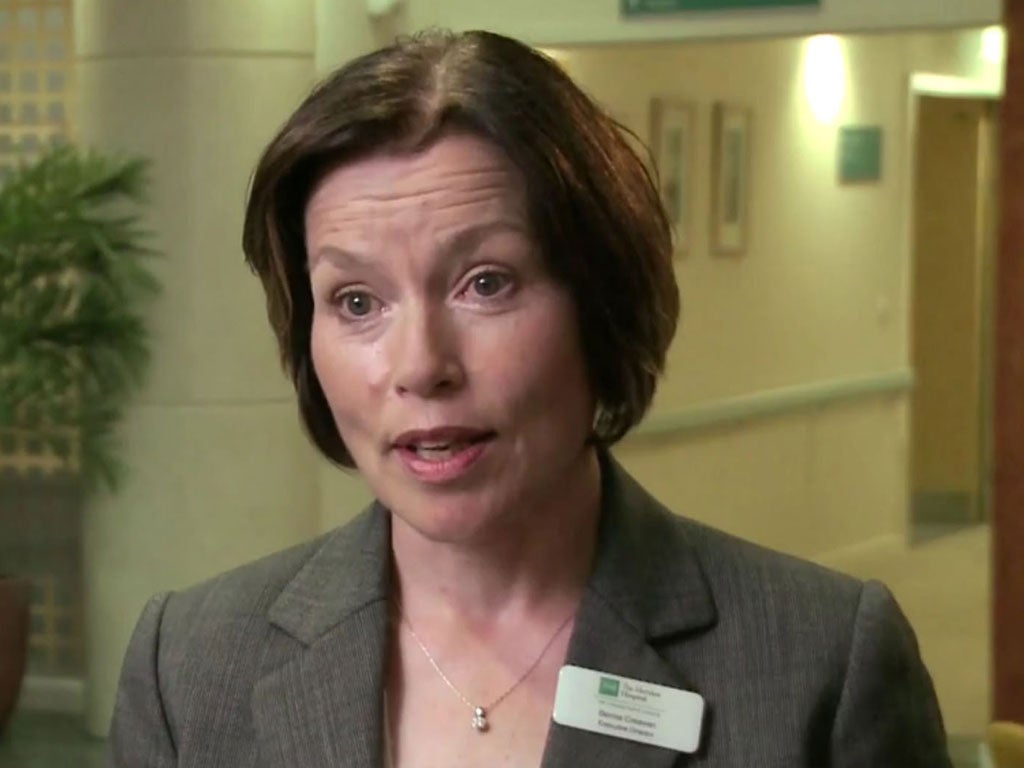 A private hospital which accepts NHS work has instructed its doctors to artificially delay operations on non-paying patients to encourage them to pay fees. The Department of Health last night branded the practice "unacceptable" and pledged to intervene.
Bernie Creaven, executive director of the private BMI Meriden Hospital, Coventry, had ordered an immediate four-week postponement of operations on NHS patients referred to the hospital, which will be extended to a minimum of eight weeks by September.
In a letter to the hospital's consultants dated 13 July, seen by The Independent, Ms Creaven said the imposed delays were to discourage patients thinking of going private from opting for treatment on the NHS.
Private hospitals receive taxpayer money for treating NHS cases, but can make larger fees if the patients go directly to them for treatment.
"I believe time to access the system is the most critical factor for private patients converting to NHS patients," she wrote. She added that "other aspects of differentiation" would be introduced over the next few weeks to make NHS treatment at the hospital relatively less attractive.
The Health Department condemned the move. It said NHS patients should get treatment when they needed it.
An expert on the health market said all private hospitals were under pressure from the recession and low NHS waiting lists, and were seeking ways of making their hospitals more attractive to paying patients.
Philip Blackburn, of private health consultancy Laing and Buisson, said: "They do differentiate between NHS and private patients in some respects, but it probably differs across hospital groups."
BMI is a leader in private healthcare with almost 70 hospitals and clinics nationwide. It was involved in a damaging row with BUPA, the private health insurer, last year after BUPA claimed some BMI hospitals were too expensive.
BMI offers treatment to NHS patients at NHS costs to fill empty beds under contract with local primary care trusts, as do other private hospital chains. But it is bound by the NHS Constitution which says: "All patients should receive high quality care without any unnecessary delay."
NHS hospitals themselves sometimes delay operations on patients in order to prioritise other patients or to balance budgets. But they argue these delays are necessary for the wider benefit of the NHS.
The 52-bed BMI Meriden Hospital in Coventry charges self-pay private patients from £8,500 for a hip replacement. The NHS cost is from £5,485.
In her letter to consultants, Ms Creaven says: "Over the past few months I have had numerous discussions with consultants regarding the lack of differentiation between NHS and private patients and there is significant anecdotal evidence to suggest that the lack of differentiation has had a negative effect on our private patient referrals.
"I now wish to implement with immediate effect a new rule which will mean that operations on NHS Choose and Book patients will not be able to take place until at least four weeks following their outpatient consultation. Also, in each subsequent month, I will extend this by another week until September and the time will be eight weeks from initial consultation. I believe that this time to access the system is probably the most critical factor for some private patients converting to NHS patients."
A spokesperson for BMI Healthcare said: "We treat both NHS and private patients to the same high standards of clinical quality."
A Department of Health spokesperson said: "Minimum waiting times that do not take account of healthcare needs of patients are unacceptable. Decisions on treatments, including suitability for surgery, should be made by clinicians based on what is best for the patient. This applies regardless of whether a hospital is run by the NHS or the independent sector.
"We will therefore be contacting BMI to ensure that NHS patients are not disadvantaged"
Join our commenting forum
Join thought-provoking conversations, follow other Independent readers and see their replies