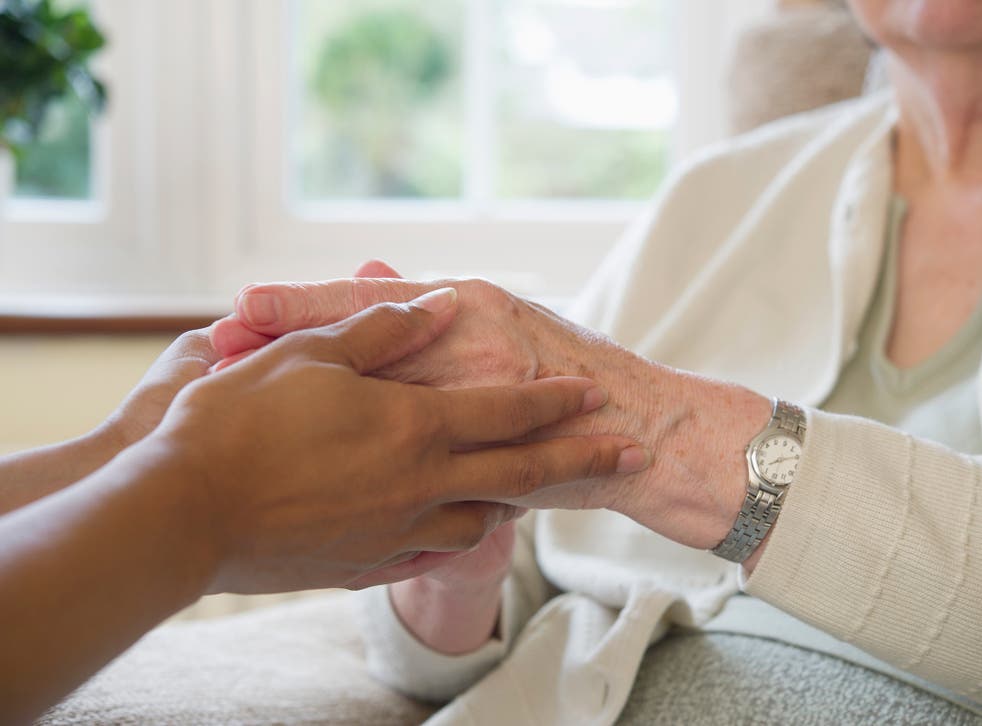 Raise taxes to give free social care to elderly and chronically ill, think-tank says
Influential health think tank calls on politicians to stop ignoring a potential crisis
Social care for the elderly and long-term ill should be provided free at the point of use, leading experts have said, in a landmark blueprint for what would be the most radical shake-up of the health and care system since 1948.
The King's Fund think thank said that the extra billions of pounds required could be raised through higher taxes on the over-40s and high-earners, taking away winter fuel payments, and free TV licences for the over-75s, and increasing the amount of money raised through NHS prescription fees. Providing free social care to people in England with substantial or critical needs would cost the public purse nearly £9bn – about 50 per cent more than current costs.
Both the NHS and social care should be paid for from a single budget and commissioned jointly, ending the "illogical" historical divide between the health and care systems, the report said.
Extra funds could also be raised by removing the national insurance exemption for people working past pension age, and charging people receiving long-term NHS care for their accommodation costs, the Commission on the Future of Health and Social Care in England recommended.
The commission, led by Dame Kate Barker, a former Bank of England economist, sets out in its report a detailed vision for the future of the NHS and social care. It also calls on the Government to plan for health and social care spending to rise significantly, to between 11 and 12 per cent of GDP by 2025. The UK spends just 9.6 per cent of GDP on health – less than many of its European neighbours.
Chris Ham, chief executive of the King's Fund, criticised politicians for what he termed a "conspiracy of silence" on the issue, and challenged them to "grasp this nettle" or risk an escalating crisis in health and social care.
The proposals seek to end inconsistencies under which conditions such as heart disease or cancer are treated free on the NHS, while a growing number of people suffering with dementia or other disabling conditions must pay towards their care – which is provided by a confusing array of local government, and private and third-sector organisations.
England's social care system is in a parlous state after years of austerity cuts. Despite the ageing population, the number of elderly people in care dropped between 2006 and 2013, from 1.2 million to 900,000. But the burden on the care system and on individuals and families is forecast to increase over the next decade.
Dame Kate Barker said the proposed changes would bring "immense benefit to people who fall between the cracks, between means-tested social care and a free NHS". The King's Fund has admitted that proposals for funding the scheme were ambitious and unlikely to be popular. But she insisted: "When people say you can't afford this, it's a bit hopeless. We have to afford it. We can't let people with dementia just wander the streets."
Julian Le Grand, professor of social policy at the London School of Economics, who sat on the commission, said: "If someone had cancer or heart disease they received the full panoply of treatments available on the NHS, free at the point of use, but if they had Alzheimer's or motor neurone disease or Parkinson's disease, they had to pay for large parts of their care... Nobody chooses to get these diseases… why should they be held responsible in a way that people who develop cancer or heart disease are not?"
Simon Stevens, chief executive of NHS England, welcomed the report and said the NHS was beginning the process of offering "fully combined health and social care funding" in some local areas.
A Government spokesperson said: "We agree that health and social care services should be more joined up – our £3.8bn Better Care Fund is making this a reality for the first time, bringing NHS and social care teams together to help people live independently for as long as possible. We are also transforming the way people pay for the care they need, capping the amount they have to pay and providing more financial help."
Andy Burnham, Labour's shadow Health Secretary, said: "We welcome this bold and timely report which endorses Labour's call for a new settlement for the NHS and the full integration of health and social care. The stark truth is: if social care is allowed to continue to collapse, it will drag down the rest of the NHS."
How it would work
As things stand, an elderly person with dementia and a heart condition might receive free NHS check-ups for the heart, pay for care in a residential home, have some support from their local authority, and receive disability benefits from the Department for Work and Pensions.
Under the new proposals, there would be just one health commissioner for the individual and their family to deal with, and people would receive money for their care from a single NHS and social care budget.
There would be nothing to pay once a person's needs become substantial – this is usually the point at which someone cannot independently carry out essential tasks such as cooking and washing.
Register for free to continue reading
Registration is a free and easy way to support our truly independent journalism
By registering, you will also enjoy limited access to Premium articles, exclusive newsletters, commenting, and virtual events with our leading journalists
Already have an account? sign in
Register for free to continue reading
Registration is a free and easy way to support our truly independent journalism
By registering, you will also enjoy limited access to Premium articles, exclusive newsletters, commenting, and virtual events with our leading journalists
Already have an account? sign in
Join our new commenting forum
Join thought-provoking conversations, follow other Independent readers and see their replies