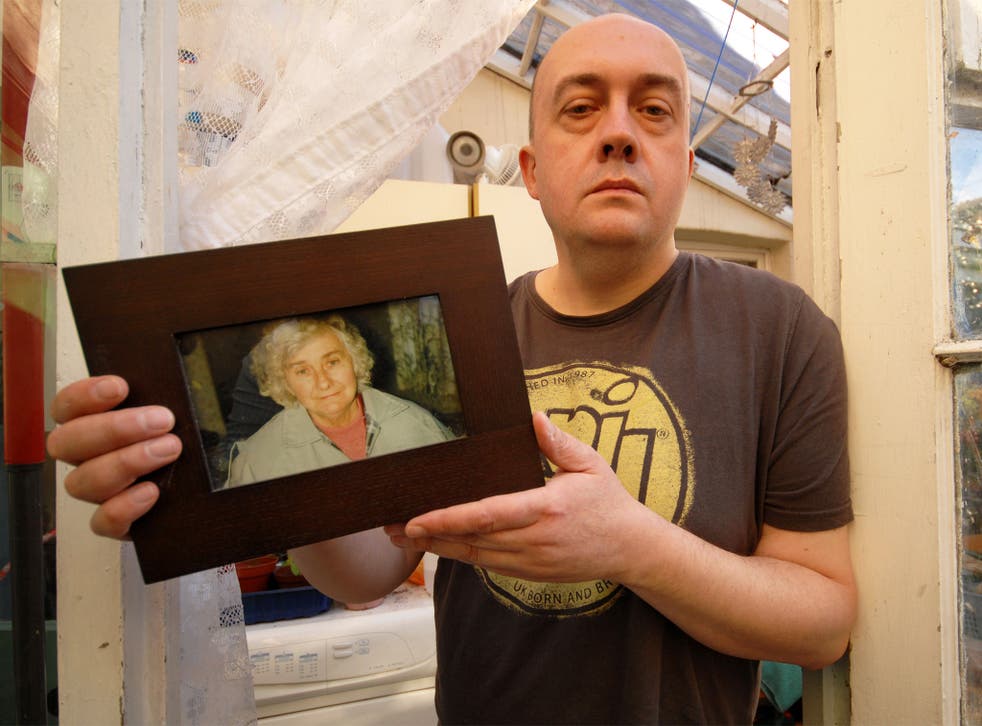 'She was shouting with pain and said she wanted to die': Why the son of a woman who died as a result of care home neglect is still angry
Barbara Cooke entered an Isle of Wight care home as her health deteriorated
One of the most disturbing cases uncovered by the Bureau of Investigative Journalism was the death in April last year of Barbara Cooke, aged 84.
Ms Cooke had never wanted to go into care but as her health deteriorated she agreed to move to Waxham House, a 20-bed care home on the Isle of Wight.
At first she was well looked after but by Christmas the year after she entered the care home her condition had begun to deteriorate.
An inquest heard that her son Simon raised concerns that she was not being bathed often enough. By then Ms Cooke had become incontinent and was suffering from a skin infection.
Her son said he had noticed some other residents were being left for an hour before being taken to the toilet.
On Mother's Day in March 2014, Simon Cooke visited the home and found his mother in a distressed and soiled state, with faeces on her face, asking to be taken to the toilet. At the same time, the inquest heard, he noticed another elderly female resident apparently struggling to breathe.
"It was horrific – the other lady was in severe distress; she was making noises as though she was drowning," he told the Bureau. "She could hardly breathe. Then I approached my mother and was hit by the overwhelming smell.
"She had faeces on her hand which she had rubbed into her face. I went to alert the staff but they were busy doing the teas and handing out medicines, so we had to wait."
Ms Cooke remained sitting in her own waste for a further two and a half hours, according to her son.
On 1 April the care home manager filled out a "body map" of Ms Cooke showing pressure sores on her left buttock. According to the coroner's report Ms Cooke's GP was not told about the sores and neither was her son.
The home said it called the district nurse that day and left a message asking her to visit Ms Cooke. But the district nursing service told the coroner it had no records of any such call.
On 7 April Ms Cooke was admitted to hospital suffering from two "grade 4" pressure sores and sepsis. "She was shouting with pain before she went in," says Mr Cooke. "She told me she wanted to die."
Ms Cooke died a few days later, of septicaemia, infected pressure sores and multiple organ failure. Neither the care home nor the hospital referred the death to the coroner. An inquest was held only because Mr Cooke raised concerns over what had happened while he was trying to register his mother's death.
In a report sent to the Care Quality Commission in September 2014, the coroner said the home was inadequately staffed and that other lives would be at risk unless action was taken. She also highlighted failures by staff to chase up requests for medical attention for Ms Cooke's pressure sores.
But despite this the CQC did not inspect the home until six months later, in March 2015. The coroner's report, which was not published until June 2015, found that some of the care provided at Waxham House was not safe and that parts of the home had not been cleaned properly.
Mr Cooke told the Bureau: "I don't understand why it took so long for the CQC to go in there. And to find that the staff were still not being trained properly – it's unbelievable."
A spokesman for Waxham House said the home had learnt lessons since Ms Cooke's death. "We are working closely with the CQC and the local authority safeguarding team," he added.
Join our new commenting forum
Join thought-provoking conversations, follow other Independent readers and see their replies