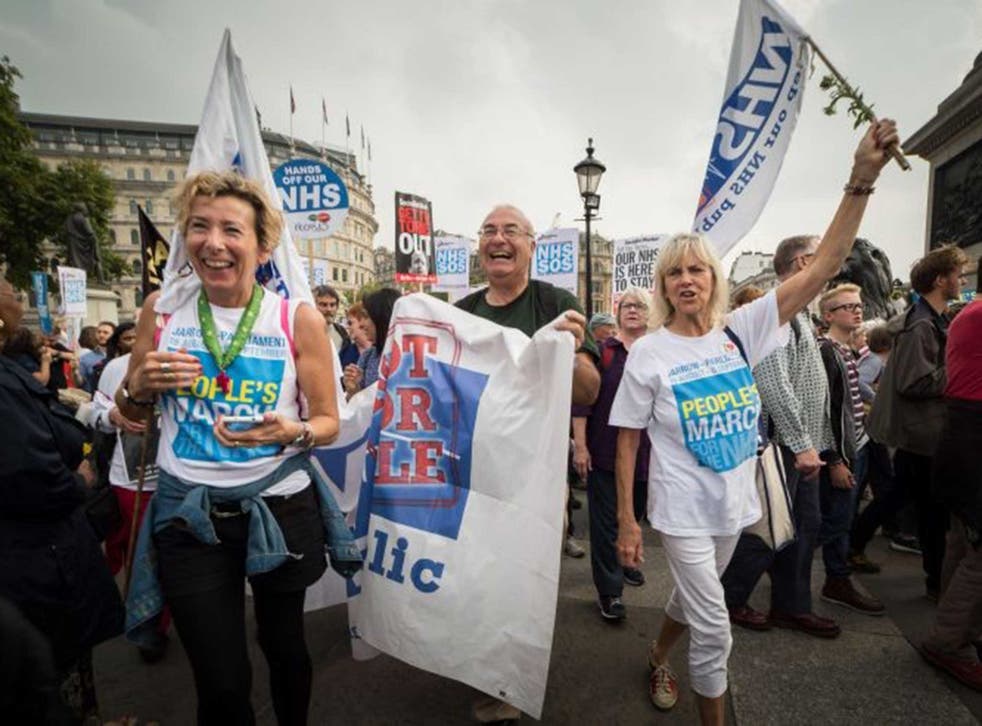 NHS 'People's March' protests: Thousands join London's new 'Jarrow March' in demonstrations against health cuts
Inspired by the 1936 march, demonstrators warn of the dangers of privatising the health service
Margaret Ridley was born in 1948 – the same year as the NHS. At the age of 18, she went to medical school in Leeds, qualified as a doctor in her early twenties and became a consultant psychiatrist in 1985 – a job for life which she kept until she retired six years ago.
Yesterday, Dr Ridley, from Cambridgeshire, was in London – along with thousands of others – to deliver a warning. "We want to tell the people of Britain, this Government is privatising and fragmenting the NHS. If we don't get a new government next May, we will have no NHS left."
In the past three weeks, that same message has been relayed in 23 towns, along a 300-mile route by a new protest group called 999 for the NHS.
Inspired by the Jarrow Marchers – 200 men who stood up to the extreme poverty of Depression-era Britain – the protest has been led by a group of 24 Darlington mothers. Privatisation and cuts, they say, now pose the biggest threat to the NHS in its 66-year history.
Thousands more protesters joined them in Trafalgar Square in London yesterday at the conclusion of the march to hear the shadow Health Secretary Andy Burnham say they were "speaking for millions".
Currently just under 6 per cent of the NHS budget goes to private companies, which are paid with public money to provide care that is free at the point of use. With its overall budget of £113bn this year, met by the taxpayer, the NHS remains overwhelmingly public. However, the amount of money going to private companies has more than doubled since 2007, and current trends indicate it will carry on growing. Only last week, three companies – Spire, Circle and Ramsay Health – announced large year-on-year increases in their NHS income. Spire, which has 35 clinics and hospitals which offer NHS-funded care, took £117m of NHS money in the first half of this year – up 29 per cent.
Circle, the first private company to take over the management of a previously NHS hospital – the Hinchingbrooke in Cambridge, has had the number of NHS patients referred to its private hospital in Reading shoot up by 235 per cent in a year.
Bigger and bigger NHS contracts are being put up for tendering to all bidders. In Staffordshire, two contracts worth a combined £1.2bn, one to provide cancer care and the other end-of-life care, have been attracting interest from Virgin, Care UK and Ramsay Health. If the contracts, controlled by four clinical commissioning groups (CCGs) and affecting the care of nearly 800,000 patients, pass into private hands, it would be the biggest outsourcing in NHS history.
Care would remain free at the point of use, but many believe that private provision itself is the problem.
The film-maker Ken Loach, who joined the marchers in St Albans, said campaigners saw little difference between wholesale privatisation and the current, more incremental process.
"The sub-contracting of operations and treatments to private companies means private companies are making money out of our health budget. To me, that is privatisation," he said.
"Privatisation isn't only paying for the treatment you get when you receive it. It's also our collective wealth going to private companies to provide healthcare, when all the evidence shows that a publicly funded, publicly managed health service is much more efficient."
Independent experts admit there is a growing movement toward the private sector. "The share going to the private sector is rising. It's not privatisation in the sense that British Telecoms or the gas industry was privatised. Nothing's being sold off to private owners. It's more like outsourcing, but admittedly, some of that is going to private sector," said Richard Murray, policy director at the King's Fund and a former economic adviser at the Department of Health (DoH).
"Some of this is being motivated by NHS commissioners, GP-led CCGs, with a genuine desire to provide better quality integrated care. Some of it looks very well meaning and may be what patients need.
"The big question mark as it spreads is: are we confident we're monitoring these companies well enough? But that's true of NHS providers and for private sector providers."
The DoH insists that the restructuring of NHS commissioning into GP-led CCGs has allowed officials to wash their hands of responsibility for the so-called "privatisation agenda".
"Charities, social enterprises and other healthcare providers continue to play an important role for the NHS, as they have done for many years," a DoH spokesperson said. "However, it is now local doctors and nurses who make decisions about who is best placed to provide care for their patients."
The marchers said they are also deeply concerned about the prospect of cuts to NHS services and hospital closures – an area where popular anxiety and expert opinion are beginning to converge.
One in four NHS trusts forecasts a financial deficit this year. The very ability of NHS organisations to afford to pay for the staff, medicines, equipment and real estate is in increasingly in doubt, with an ageing and growing population placing greater demands on the service while government health spending remains flat.
"The signs of pain are spreading across the system," said Mr Murray. "The number of NHS trusts in deficit is going up. There are the beginnings of worries about more widespread quality of care issues. It looks almost inevitable that someone is going to have to put in more money at least in the short term to pay off deficits that are spreading and, in the long term, to keep a publicly funded comprehensive system in place."
None of the major political parties has yet shown its hand. Labour is planning to make the NHS a key pillar of its 2015 election campaign, but has not yet said publicly whether it would increase investment or how it would pay for it. The party has pledged to repeal the 2012 Health and Social Care Act – blamed for creating an environment in the NHS in which private providers have flourished.
Join our new commenting forum
Join thought-provoking conversations, follow other Independent readers and see their replies