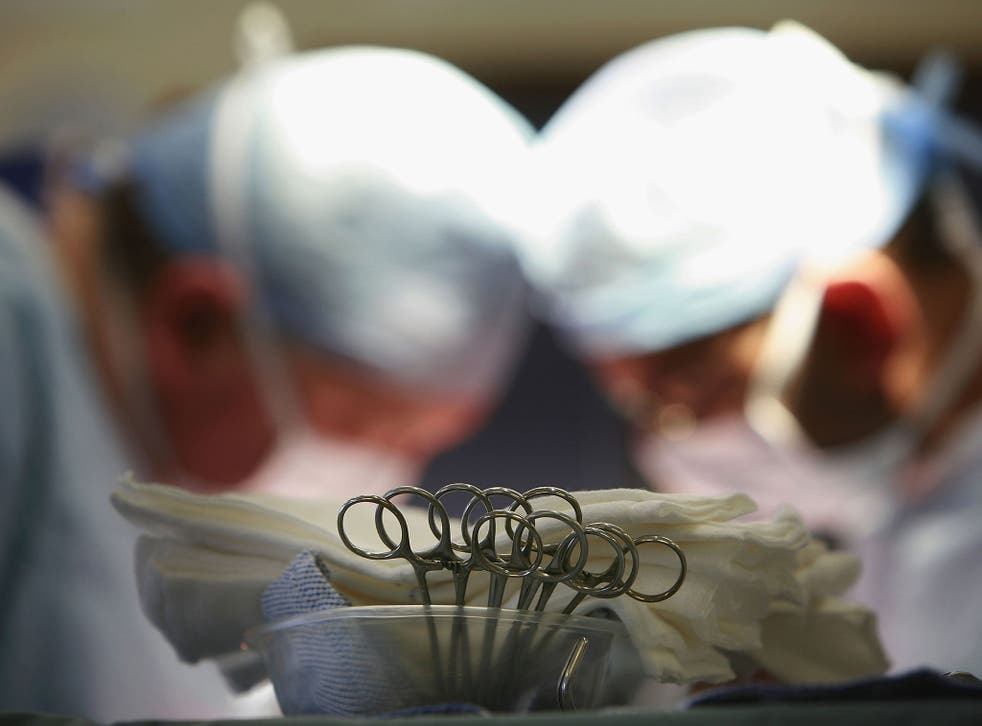 Thousands of patients at risk from NHS outsourcing
Exclusive: Damning report demonstrates ongoing problems with private-sector surgeries
The safety of thousands of NHS patients "outsourced" to the private sector has been called into serious doubt by a confidential report revealing how dozens were left in severe pain by botched eye surgery carried out by private contractors.
It comes as new figures, seen by The Independent, show that one in every 10 NHS cataract operations is now carried out in the private sector.
The Royal National Institute of Blind People (RNIB) said that, with growing numbers of patients referred to non-NHS providers, the need to guarantee patient safety in the private sector had become a "key concern".
New figures obtained from the Health and Social Care Information Centre show that 35,329 cataract operations were carried out by private providers for the NHS in 2012-13 – double the number five years ago.
Private providers also carried out more than one in five NHS knee operations, and one in six hip operations that year.
A damning report has today revealed that two patients suffered burns, six lost pigment in their irises and four were left with microscopic shards of metal in their eyes after being operated on at a private facility contracted by an NHS hospital in Somerset.
In numbers: the NHS crisis

Show all 7
37 out of 62 cataract patients seen by surgeons working for Vanguard Healthcare Solutions required follow-up care, Musgrove Park Hospital's report said - a complication rate tenfold greater than normal.
Several patients suffered "very painful" surgery, possibly because an anaesthetic was not working properly, the report said, and some were "shouted at" for not keeping still during the procedure.
One 85-year-old patient was left blind, according to lawyers. The operations took place from 2nd to 9th May and were stopped after NHS consultants raised concerns about the number patients coming to emergency eye services with post-operative complications.
Taunton and Somerset NHS Foundation Trust, which manages the hospital, had initially turned to the private sector to help cope with a backlog of patients requiring cataract surgery.
Vanguard, which subcontracted another private company, The Practice plc, to provide two surgeons, was contracted in May to carry out 400 cataract operations, at a rate of 20 a day – at least six more than NHS consultants at the Musgrove were routinely performing daily.
Both surgeons were "comfortable" with the caseload at the start of the contract, but the Trust's investigation said that "the pressures of operating on 20 patients each day may have contributed to the possible deterioration of surgical quality and reduction of patient experience".
The report also said that the "particular combination of staff, equipment and facilities had not been brought together before" and that staff had not had enough time for "on-site training" before patients began arriving on the first day.
The Trust had not intended to publish its report into what went wrong, after being warned by its lawyers that it could be defamatory to the companies and individuals concerned. However, it was released to the media after Freedom of Information requests.
Laurence Vick, of Michelmores Solictors, which is representing some of the patients, said that the episode raised "huge concerns" about the vetting and accountability of private providers of NHS care.
"Private providers owe a duty to their shareholders as well as patients and in our experience may seek to hide behind principles of 'commercial confidentiality'," he said. "Leaving aside the political issues, how do we know if outsourcing by the NHS to private providers offers safe treatment for patients?"
Private providers are not subject to Freedom of Information law in the way NHS organisations are.
Mr Vick said there were also concerns that the NHS, and therefore the taxpayer, could end up paying the bill for care of patients harmed in the private sector.
Clara Eaglen, eye health campaigns manager at the RNIB said it was "unacceptable that an operation with such low risk of serious complications" had left patients with "reduced quality of life".
"Following an increase in the number of NHS patients being referred to non-NHS providers, our key concern is that outsourcing does not compromise patient safety and reduce the quality of care received," she said. "We are calling on this hospital and others to ensure that appropriate safeguards are put in place and that all providers are held to account."
The Department of Health said its "tougher independent inspections" applied equally to NHS and private facilities. A Government source said that while there was a "strong argument for increased transparency by all bodies in receipt of public funds" this had be "balanced against the need to minimise regulatory burdens on business".
The Trust declined to comment on the contents of the report, but said in a statement earlier this week that there had been "no clear single cause for the range of problems our patients appear to have experienced following surgery".
Vanguard's CEO Ian Gillespie said: "I'd like to personally convey my sympathy for any patients who have experienced discomfort or distress. No issues have been identified with the Vanguard mobile theatre facility itself; however there are clearly lessons to be learnt by all.
A spokesperson for The Practice plc said its surgeons were "NHS consultant ophthalmologists with nearly 8,000 procedures between them".
Andrew Gwynne MP, Labour's Shadow Health Minister, said: "The Government is handing more and more of the NHS to private companies and it's clear that the safeguards are not always in place. Patients here have paid a very real price for that and Ministers must see how they can stop a repeat of that with any other company".
Join our new commenting forum
Join thought-provoking conversations, follow other Independent readers and see their replies