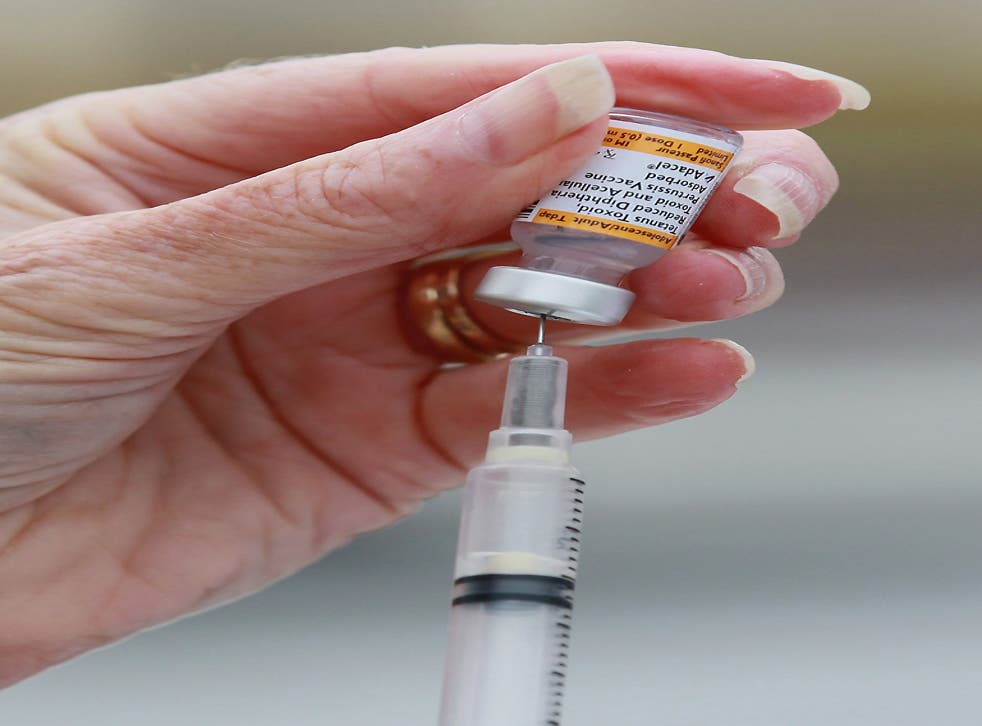 Toll rises to 10 baby deaths this year in biggest whooping cough outbreak for 20 years
The number of babies who have died in the biggest outbreak of whooping cough for 20 years has increased to 10, health officials said.
Ten infants under the age of three months have died in England so far this year as a result of the infectious disease.
There were 1,322 confirmed cases in England and Wales in September alone, 200 more than the total figure for 2011 when there were 1,118 cases, the Health Protection Agency (HPA) said.
There were 6,121 confirmed cases between January and September this year, the HPA said.
In a move to combat the outbreak, health officials recently announced that all pregnant women are to be vaccinated against the infection.
Chief Medical Officer Professor Dame Sally Davies, the Government's principal medical adviser, said that mothers-to-be will be offered the vaccination to protect their newborn babies.
Youngsters cannot receive the jab until they are two months old. Vaccinating their mothers before they are born will boost their immunity until they reach the age they can get the injection themselves, she said.
Women across the UK who are between 28 and 38 weeks pregnant are being offered the vaccination.
Increases in whooping cough are usually seen every three to four years. The last rise in the number of confirmed cases was recorded in 2008.
The largest number of cases have been in those over the age of 15 but there has also been a sharp rise in whooping cough in babies aged under three months.
Between January and September there were 350 cases reported in babies under three months, compared with just 115 cases in the whole of 2011.
So far this year, there have been 72 babies aged three to five months who have been struck down with the disease, compared to 22 in the whole of 2011. Similarly, 26 babies aged six to 11 months have been confirmed as having whooping cough, compared to seven in 2011.
The cases have been spread across England and Wales, with the highest concentration in the South East and South West of England.
Dr Mary Ramsay, head of immunisation at the HPA, said: "We have been very concerned about the continuing increase in whooping cough cases and related deaths and welcome the urgent action recently taken by the Department of Health to introduce a vaccine for pregnant women.
"The introduction of a vaccine for pregnant women will not have an immediate impact on serious infection in infants so vigilance remains important. Working with the Department of Health, we will continue to regularly monitor figures to evaluate the success of the programme.
"All parents should ensure their children are vaccinated against whooping cough on time, even babies of women who have had the vaccine in pregnancy - this is to continue their baby's protection through childhood.
"Parents should also be alert to the signs and symptoms of whooping cough - which include severe coughing fits accompanied by the characteristic 'whoop' sound in young children but as a prolonged cough in older children or adults. It is also advisable to keep babies away from older siblings or adults who have the infection."
While whooping cough can cause nasty symptoms in adults, it does not usually cause any long-lasting complications and can be treated with antibiotics.
In the very young, whooping cough can be a serious illness and can lead to death in some cases.
Babies and children can often make a distressing "whoop" sound while gasping for air after a coughing fit.
Older children and adults tend to suffer a prolonged cough.
PA
Join our new commenting forum
Join thought-provoking conversations, follow other Independent readers and see their replies