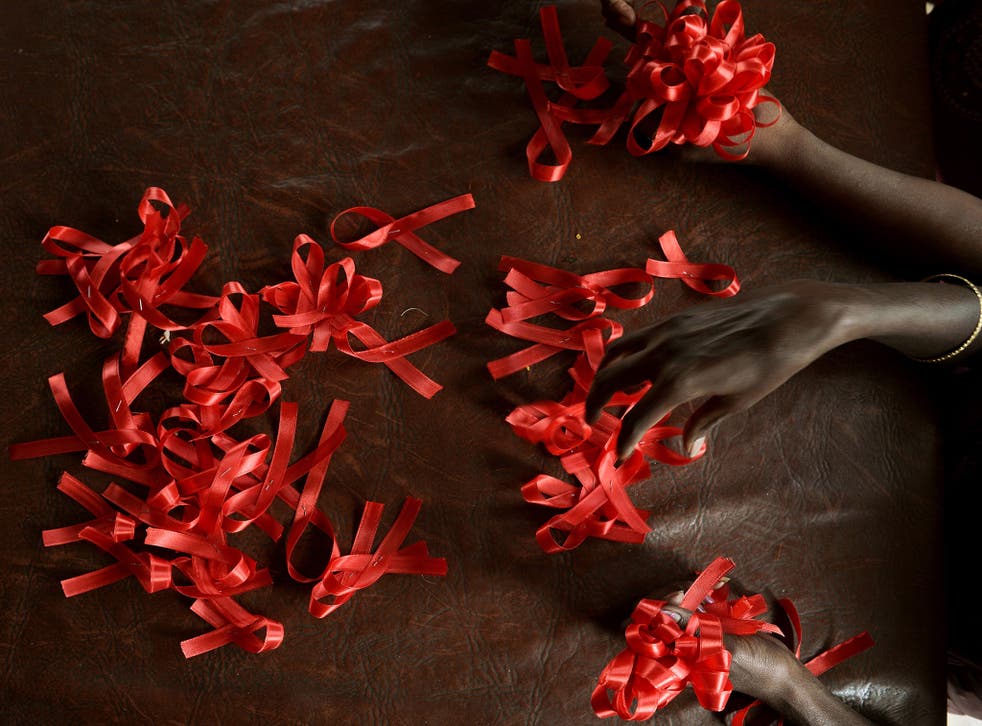 UK pledges £1bn to battle AIDS, TB and Malaria – some of world's most devastating preventable diseases
Only the USA will pay more on global health  - with our contribution aiming to save 'a life every three minutes'
The UK has pledged to save "a life every three minutes" with a major new aid commitment to fight some of the world's most devastating preventable diseases.
More than £1bn will be spent over the next three years on global health initiatives, through the flagship Global Fund to Fight AIDS, TB and Malaria.
The pledge doubles the Government's current commitment to the fund, and makes the UK the second biggest donor after the USA.
Justine Greening, the international development secretary, said that fighting preventable disease was "in all of our interests."
The Global Fund, set up in 2002, is already estimated to have saved 8.7 million lives, with 5.3 million people now receiving antiretroviral therapy to treat HIV; 11 million new TB cases detected and treated and 340 million insecticide treated nets distributed to protect families from malaria.
Over the next three years, the UK will deliver lifesaving antiretroviral treatment to an additional 750,000 living with HIV, 32 million more insecticide-treated mosquito nets to prevent transmission of malaria, and TB treatment for more than a million people.
The Department for International Development estimates that the UK's new funding commitment will save 590,400 lives between 2014 and 2016 – or one every three minutes.
Microsoft founder Bill Gates, whose philanthropic foundation was instrumental in setting up the Fund, said that other donors should "follow the example of the UK".
The Global Fund is the world's biggest financer of programmes to prevent, treat and care for people with HIV/AIDS, TB and malaria. The UK was a founding donor, and committed £1bn from 2008 to 2015, a grant which the new funding commitment renews.
"AIDS, TB and Malaria are among the world's biggest killers despite being entirely preventable and treatable," Ms Greening said at the United Nations General Assembly meeting in New York, where she announced the new spending yesterday [Monday]. "The Global Fund has already helped save millions of lives but we must keep up the momentum if we are to beat these diseases for good."
The fund accounts for accounts for 21 per cent of all international funding for HIV/AIDS, 82 per cent of international TB funding, and 50 per cent of the global malaria spend. It has approved over $23 billion for over 1,000 grants in more than 150 countries.
Projects financed by the Global Fund have contributed to a marked decline in HIV infection rates and AIDS-related deaths in recent years. The World Health Organisation (WHO) estimates that the annual number of people dying from AIDS-related causes worldwide is steadily decreasing from a peak of 2.3 million in 2005 to an estimated 1.7 million [1.5–1.9 million] in 2011.
Significant progress has also been made in the prevention of malaria. The WHO's World Malaria Report for 2012 reported that 50 countries were on track to reduce malaria incidence by 75 per cent between 2000 and 2015.
The spread of TB, the world's second biggest infectious killer after HIV/AIDS, is declining, but only slowly. Global Fund financing has supported detection and treatment of 11 million smear-positive cases of TB, up from 9.7 million at the end of 2012.
As of 1 July, 5.3 million people living with HIV are receiving antiretroviral therapy under programs supported by the Global Fund, up from 4.2 million at the end of 2012.
Meanwhile, 30 million insecticide-treated nets were distributed in the first half of 2013 under programs supported by the Global Fund, taking the total number of nets distributed to 340 million.
Bill Gates, co-Chair of the Bill & Melinda Gates Foundation, said: "The Global Fund has helped the world make incredible progress in the past decade toward ending HIV, TB, and malaria. I am delighted by the news today that the UK will commit a further £1 billion to the Global Fund. I hope that other leading donors will follow the example of the UK by more generously supporting the work of the Fund so that we can accelerate our progress toward stopping three epidemics that significantly impact the lives of millions of the world's poorest people."
Join our new commenting forum
Join thought-provoking conversations, follow other Independent readers and see their replies