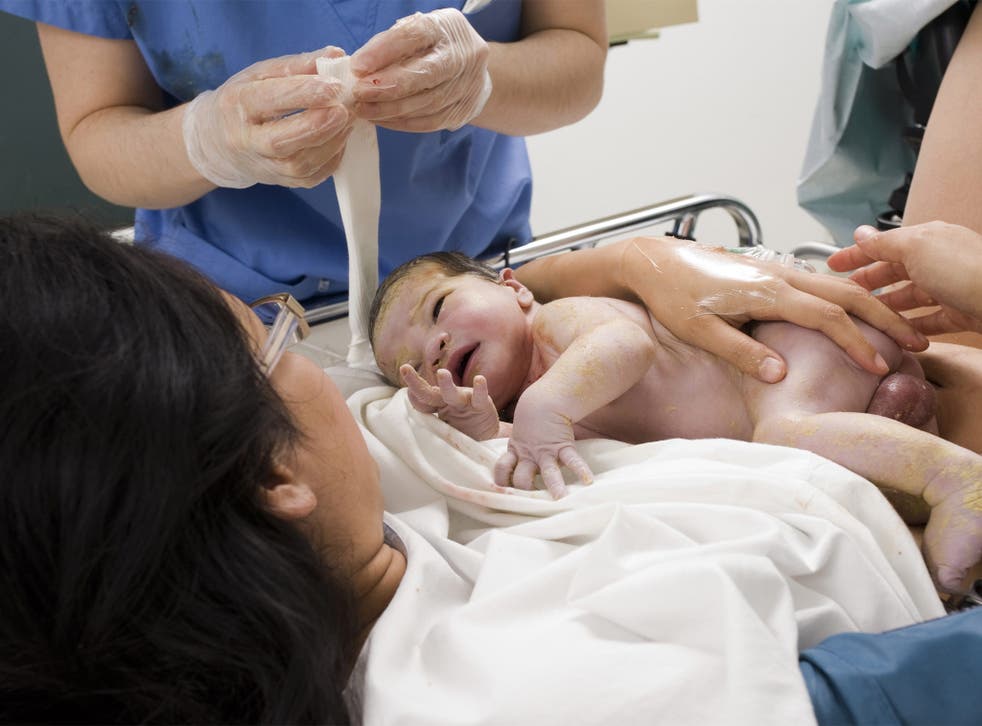 Watchdog to act over firms who bombard new mothers with marketing material on NHS maternity wards
Minister says hospitals must 'get a grip' over invasion of privacy just hours after women give birth
Health watchdogs will be given powers to take action against hospitals that allow private companies to roam NHS maternity wards bombarding mothers with marketing material, The Independent on Sunday can reveal.
The health minister Dan Poulter, who is also a hospital doctor, promised to take action against the tactics of representatives from firms such as Bounty after a campaign by Mumsnet and a petition signed by nearly 25,000 people.
Bounty and other commercial firms pay the NHS to have access to hospitals within hours of mothers giving birth, even if they have been through emergency caesareans or other traumatic procedures.
Dr Poulter told The IoS that hospitals must "get a grip" in keeping reps away from mothers who have just given birth. He said that the Care Quality Commission would be able to take action against maternity wards and birthing units that did not "ensure the protection of women's privacy and dignity", including stopping private firms from approaching new mothers to ask them to sign up for a parenting club, buy professional photographs with their baby or hand over personal data which is then sold on to third-party companies. The CQC could issue warning notices to hospitals, issue fines or, in more severe cases, fail to register the service.
Bounty representatives have told women that signing up to the parenting club is the only way to get child benefit – which is inaccurate. Campaigners are concerned that HMRC pays Bounty under contract to distribute child benefit forms. Although the contract is for a relatively small amount, about £90,000 a year, it is a questionable use of taxpayers' money when the forms are readily available from post offices and can be ordered, free of charge, online. But HMRC admitted yesterday that it was cheaper to pay Bounty to distribute the forms than to send each one out individually to new parents, and declined to say whether it would renew its contract with the firm.
A petition signed by more than 21,000 people on change.org calls on Dr Poulter to ban commercial parenting clubs in NHS wards. More than 66 MPs from all parties have signed a Commons motion about the campaign, and Dr Poulter wrote to all hospitals last month asking them to review their practices.
Dr Poulter said: "Many Bounty representatives engage with women appropriately during pregnancy and before birth. However, I wrote to hospitals about a month ago to highlight the outrageous behaviour of some Bounty reps in showing an unacceptable disregard for the privacy and dignity of women and families at what can be a very vulnerable time. We have recently been strengthening the role and powers of the Care Quality Commission to intervene where there is poor care or where patients' dignity is compromised during their care. So if hospitals do not take action to get a grip on the situation, then the CQC will be able to take action against the birthing unit."
The money that Bounty gives to the NHS – about £60m a year – is used by maternity units for essential equipment. But campaigners said the money could still be donated if there were more restraint shown by representatives. Justine Roberts, Mumsnet's chief executive, said: "You could, for instance, introduce something when you get into the ward, to say whether you are happy for a Bounty person to come and see you, or have a desk in a room with a representative there. But women are having to confront them and tell them to go away."
One mother who was receiving chemotherapy treatment was visited by a Bounty rep when her own father was prevented from seeing her because of the risk of infection.
An HMRC spokesman said: "HMRC wants to ensure new mothers have the information they need to register for child benefit. Bounty has a presence in most maternity wards, so it is convenient for new parents – and cheaper for HMRC – to make child benefit information available through Bounty rather than send out forms directly by post."
Clare Goodrham, General Manager of Bounty said: "We enforce a rigorous Code of Conduct, which respects mums' privacy as well as use of any data collected. Bounty ladies, many of whom are mums themselves, never enter a ward without being cleared to do so by medical staff. We take any violation of the code of conduct seriously and regularly review it as part of our collaboration with the NHS.

"For over 50 years, we have worked in partnership with NHS hospitals and trusts to ensure that mums and hospital staff are happy with the service we provide, as we strive to achieve 100% satisfaction amongst mums. The Department of Health have also confirmed recently that they continue to value their relationship with Bounty.

We are proud to say that Bounty is welcomed by 99% of maternity units, and an independent survey by IPSOS-Mori shows that 93% of all midwives and heads of midwifery approve of the service provided by Bounty staff. We are also proud of the fact that 92% of mums say that they love Bounty packs, as it gives them free products and money off coupons - as well as access to essential health information. This is important to all mums, and particularly to those from lower socio-demographic groups who might not have access to this from other sources.

"Our work to deliver child benefit forms to mums is hugely successful and helps 82% of mums, of all backgrounds, to claim this important financial assistance."
Join our new commenting forum
Join thought-provoking conversations, follow other Independent readers and see their replies