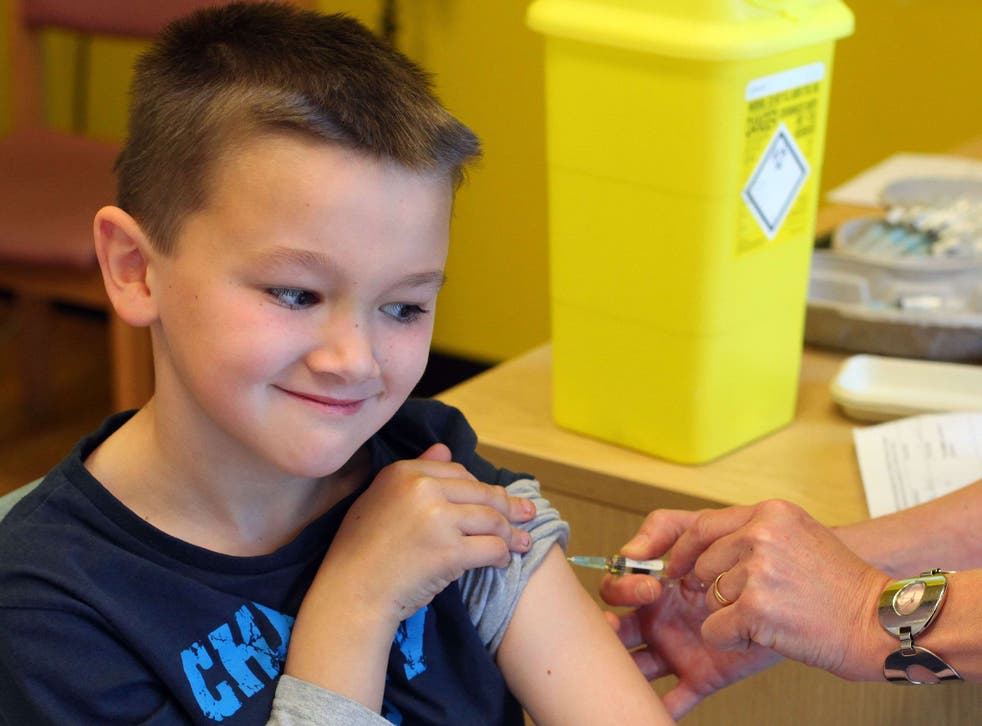 Worldwide, 20 per cent of children go unvaccinated
With the measles outbreak in Swansea now in its second month, Sarah Morrison reports on why the global drive to immunise all babies against preventable diseases has hit a plateau
Within hours of Gareth Williams becoming the first person believed to have died of measles in the UK for five years, special vaccination clinics were opening for the third weekend in a row. And with more than 800 cases now reported in Swansea and other areas, and up to two million children at risk nationwide, officials at Public Health Wales said the 25-year-old, who died last Thursday at his home in Swansea, was unlikely to be the only fatality.
World health officials say the Welsh outbreak is not a one-off but symptomatic of a much wider problem. More than 20 countries have been hit by measles outbreaks in the past two years, as the global push to immunise all babies against vaccine-preventable diseases is stagnating. Millions are being left unprotected against a range of illnesses.
Worldwide, almost one-third (29 per cent) of all deaths in children aged between a month and five years old are caused by an illness – such as measles, pneumococcal diseases, tetanus, or diarrhoea – that could have been prevented by a vaccine, and the numbers left unprotected are increasing. More than 22 million children were left unvaccinated in 2011, up more than a million in 12 months. While global immunisation has been one of the world's greatest public health achievements – full coverage has increased from around 5 per cent in the 1970s to 83 per cent today – experts warn that numbers have been plateauing for almost a decade.
Days ahead of the Global Vaccine Summit, to be held in Abu Dhabi, health experts warn that strategies must be "stepped up". "Around 20 per cent of children are unreached by vaccines; that number is too high," Dr Jean-Marie Okwo-Bele, director of the WHO Department of Immunization, Vaccines and Biologicals, told The Independent on Sunday: "We need universal coverage of nearly 100 per cent."
Around half of the world's unvaccinated children live in three countries: India, Indonesia and Nigeria. Around 70 per cent live in 10 countries. The main reason babies are not vaccinated is no longer down to cost, experts said – it costs less than 70p to vaccinate a child against measles for life – but rather down to conflict, disparities between countries and a lack of political will. There are also vaccination myths to dispel.
In Britain, teenagers aged between 13 and 15 are more likely to be susceptible to measles because of the controversy over the (since discredited) research in the late 1990s about MMR jabs being linked to autism. Measles deaths dropped more than 70 per cent between 2000 and 2011 worldwide, thanks to vaccination efforts. But the UK's national immunisation rate is still 5 per cent lower than WHO guidelines. Dr Steve Hambleton, president of the Australian Medical Association, has suggested unvaccinated Australian children should be banned from school. He said those spreading the "anti-vaccination message" are "hurting our children."
Measles deaths in Britain and other developed countries are still rare. During conflicts the likelihood of outbreaks is higher; Jordan, which is host to hundreds of thousands of Syrian refugees, has just announced 14 cases of measles, the first since 1994. More than 95 per cent of fatalities occur in low-income countries with weak infrastructures. "Something extra needs to be done," said Jos Vandelaer, chief of immunisation at Unicef, the largest buyer of vaccines in the world. "We are reaching four out of five children, but the fifth child usually belongs to underserved populations and disadvantaged groups. We have to look at where these unimmunised children are geographically, understand why they're not reached, and then tailor solutions accordingly. This programme is not finished."
Orin Levine, director of vaccine delivery at the Bill & Melinda Gates Foundation, agreed. "The stakes are very high," he said. "A child born in a low-income country is 18 times more likely to die before reaching age five than a child in a high-income country." He added that if global ambitions were met by 2020, 20 million lives could be saved.
The emphasis this week will be on polio. Cases have decreased by more than 99 per cent since 1988; there are now only three countries in the world (Nigeria, Pakistan and Afghanistan) where the disease remains endemic. Justine Greening, the Secretary of State for International Development, told The Independent on Sunday: "Without global eradication the risk of disease always remains. It will take a concerted global effort with real investment from donors, development banks and foundations."
As Professor Kate O'Brien, acting director of the International Vaccine Access Center at the Johns Hopkins Bloomberg School of Public Health, said: "we have a long way to go." "If we don't carry over the momentum behind polio eradication to all vaccine-preventable childhood disease-control efforts... we cannot break the cycle of poverty, ill health and insecurity that continues to risk the lives of millions of children every year."
Join our new commenting forum
Join thought-provoking conversations, follow other Independent readers and see their replies