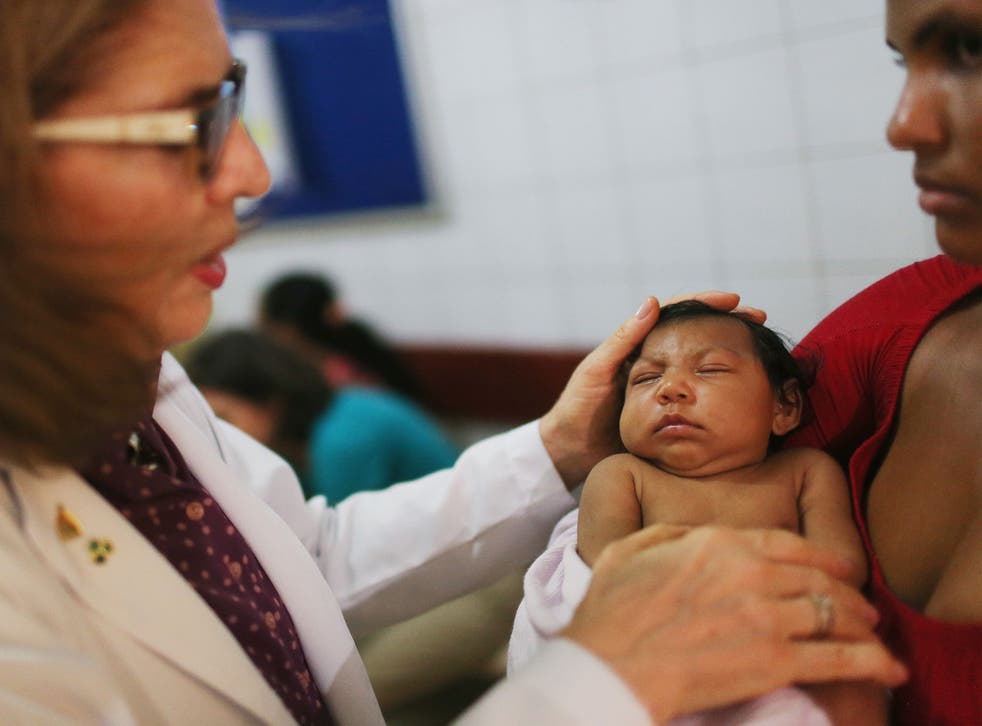 Zika: Outbreak worse than predicted because virus has no symptoms, warns Brazilian health minister
There is currently no cure or vaccine for Zika 
The Zika outbreak in Brazil is worse than previously feared because the virus shows no symptoms, a health official has said.
The warning from Brazil's health minister came after the World Health Organisation declared on Monday that Zika is a global emergency. The body previously said that the mosquito-borne virus will likely spread "explosively" in the region, and could infect four million people in the Americas.
A relatively harmless fever when it manifests itself in the body, Zika is most feared for its links to microcephaly: a condition where babies develop brain damage and their heads can appear shrunken.
However, the majority of people infected show no symptoms, meaning pregnant women can be unaware they are infected and that their babies are potentially vulnerable to microcephaly.
Pregnant women, who have been urged to protect themselves from mosquito bites, must instead wait until they undergo an ultrasound to discover whether their baby has been affected by the condition.
Marcelo Castro, the health minister of the country understood to be the worst affected by Zika, told Reuters: "Eighty per cent of the people infected by Zika do not develop significant symptoms.
"A large number of people have the virus with no symptoms, so the situation is more serious that we can imagine."
An estimated 1.5million Brazilians have caught Zika since 2014, but suspected and confirmed cases of microcephaly have shot up since October 2015 to 3,700.
"The microcephaly cases are increasing by the week and we do not have an estimate of how many there will be. The situation is serious and worrying," Castro said.
Asked if Brazil – the world's largest Roman Catholic notation - would relax its strict abortion laws to allow women with Zika to use the procedure, he said it would be up to Congress to decide.
"Our big hope is finding a vaccine," he said, as Brazilian and US researchers attempt to find a vaccine by adding a gene to an existing one for dengue.
However, the Brazilian president's chief of staff Jacques Wagner has said that it will take researchers between three to five years to develop a vaccine.
The Zika virus - in pictures

Show all 5
In the meantime, Brazil is attempting to destroy the insects and target their breeding grounds.
By mid-February, most states in Brazil will have labs to test for Zika in the first five days of infection, meaning that mandatory reporting of cases by local governments can be enforced, said Mr Castro.
Attempting to allay public concern, he said that improved testing should enable Brazil to get a better grip on the outbreak.
He also stressed that Zika is only mosquito-borne, and cannot be spread through salvia, semen or urine, following reports of two cases where it was believed to have been spread during sex.
The Zika virus is spreading as Brazil's already unpopular government prepares for the Olympic Games in Rio de Janeiro in August.
The government believes that a visitor to the 2014 World Cup from Africa or Oceania may have brought the virus to Brazil.
Zika, which was first reported in South East Asia in the 1960s, was believed to have spread from Brazil to Columbia on 21 October 2015. Transmissions were then reported in Suriname, El Salvador, and Guatemala by the end of November, before it hit Mexico for the first time Paraguay, Venezuela and Panama in December.
Cases were reported in Honduras, Puerto Rico, French Guyana and Martinique in the Caribbean in January.
Guyana, Barbados, Ecuador, Bolivia, Haiti and the Dominican Republic have since also been affected, with isolated cases reported in the US, UK, Denmark and Germany.
Join our new commenting forum
Join thought-provoking conversations, follow other Independent readers and see their replies