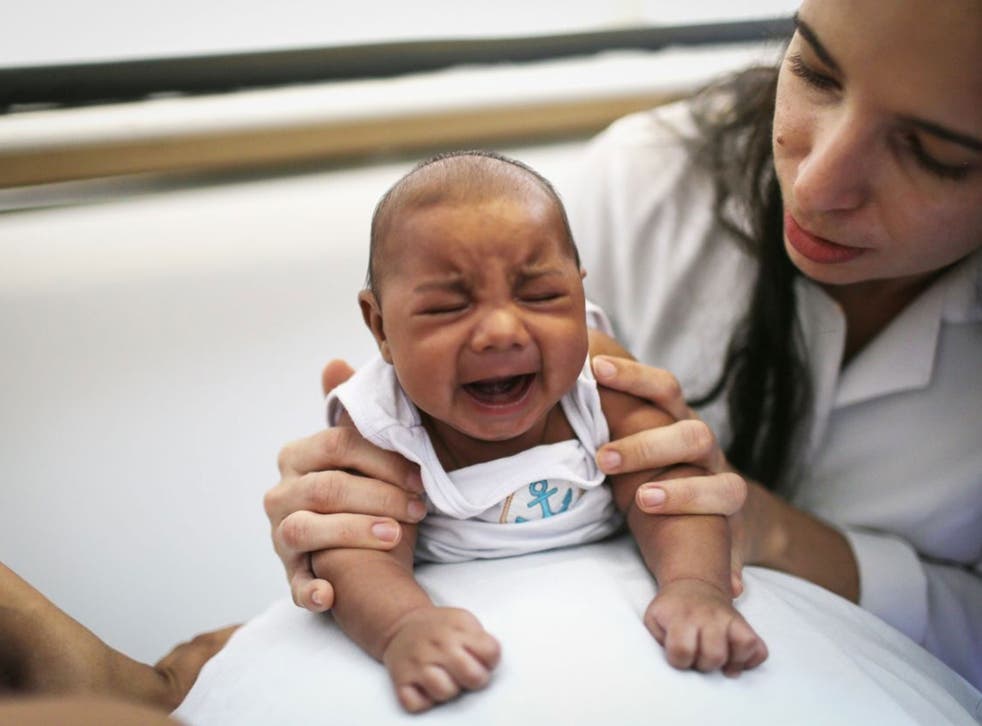 Zika: At-sea abortion charity to deliver drugs to pregnant women infected by virus linked to brain damage in babies
The virus has been linked to microcephaly - a form of brain damage in babies 
A charity which delivers abortion medication by sea is taking its services to South America, where the Zika virus has rekindled the debate on stricy family planning laws in South American nations due to its link to brain damage in newborn babies.
Thousands of women have caught the mosquito-borne virus across South America since late 2015, with the latest figures showing that 2,116 expectant mothers have been infected in Columbia alone.
Meanwhile in the worst affected nation of Brazil, 3,700 cases of microcephaly – where babies develop brain damage which can cause their heads to appear shrunken - are believed to have been caused by Zika.
The World Health Organisation has warned that Zika may spread "explosively" in the region and that as many as 4million people in the Americas may be infected by the virus. A poorly understood condition, there is currently no cure or vaccine for Zika.
Women have been urged to protect themselves from mosquito bites, and health officials in nations including El Salvador, Colombia and Ecuador have responded to the epidemic by advising against becoming pregnant in order to avoid the disease causing birth defects.
However, many poorer women in the region cannot afford insect repellent to protect themselves and have highly limited access to family planning methods to prevent pregnancy.
And the strict family planning and abortion laws in the predominantly Catholic region have raised questions about how women can realistically avoid pregnancy.
The fear surrounding the virus is exacerbated by the fact that Zika manifests itself as a relatively harmless fever in some people, and causes no symptoms at all in four-fifths of cases – meaning pregnant women can be unaware they are infected.
Women must instead wait until they undergo an ultrasound to discover whether their baby has been affected by microcephaly.
On top of this, Zika test kits wich cost around £150 - more than the monlthy minimum wage in Brazil - are unable to detect the virus past the first week of infection.
Experts now fear that women may be forced to visit dangerous illegal abortionists to bypass their country's laws. Abortion is illegal in all circumstances in El Salvador, and is is only permitted in specific cases or in the early weeks of pregnancy in most other South American nations.
Women on Waves has announced that it will provide free medical abortions to pregnant women with Zika.
The charity has invited women who are less than 9 weeks pregnant to fill out online consulation to require the drugs.
The service was founded in 1999. The team travels by boat to deliver contraceptives, information, training workshops and safe abortion services outside territorial waters in countries where abortion is illegal, accord to its website.
Women on Waves is urging women in Colombia, Bolivia, Chile, Guadeloupe, Paraguay, Venezuela, Argentina, Surinam, Guatemala, Honduras, El Salvador, Panama, Haiti, Dominican Republic to apply as soon as possible as shipment of the medical abortion can take up to 1-5 weeks.
The Zika virus - in pictures

Show all 5
The latest figures from 2008 show that around 4.4 million pregnancies were aborted in Latin America – but that around 95 per cent were done in so-called back-street clinics, according to the Guttmacher Institute, a US-based non-profit organisation that promotes reproductive health rights.
In light of the epidemic, women's rights organisations are urging abortion laws to be relaxed to allow women with Zika to undergo the procedure. The calls have so far only been met by the Colombian government.
An appeal to the Supreme Court to liberalise abortion laws in Brazil by researchers, activists and lawyers who previously won a ruling to allow the procedure in cases of the anencephaly birth defect comes as politicians attempt to push through a bill banning abortion even in cases of rape.
Debora Diniz, a law professor leading the campaign told Reuters: "We will soon have a generation of poor women whose destiny will be to look after extremely dependent children full-time."
Rosa Hernandez, the El Salvador director of Catholics for Choice, told Broadly that the situation is "absurd".
"How are we going to prevent pregnancies of these girls... [if] there are no emergency contraceptive pills available at health units after someone is raped?
"Abortion would be the solution but [it] is fully penalised... Asking only women not to become pregnant is irresponsible when all these factors exist."
"What happens in a country where abortion is completely illegal?" Angelica Rivas of Acdatee, a Salvadoran nonprofit that advocates for decriminalisation of the procedure, asked AP. "What can be expected is an increase in the rates of illegal abortions, unsafe abortions and a mental health issue for women."
Dinora Martinez, a 26-year-old Salvadoran woman who is not pregnant but has a 5-year-old son, told AP: "I can't say what I would do. It's illegal to abort — they would throw me in jail."
But she noted that there are clandestine clinics where her countrywomen can terminate a pregnancy: "If I did," she added, "I wouldn't tell anyone."
Additional reporting by AP and Reuters
Join our new commenting forum
Join thought-provoking conversations, follow other Independent readers and see their replies