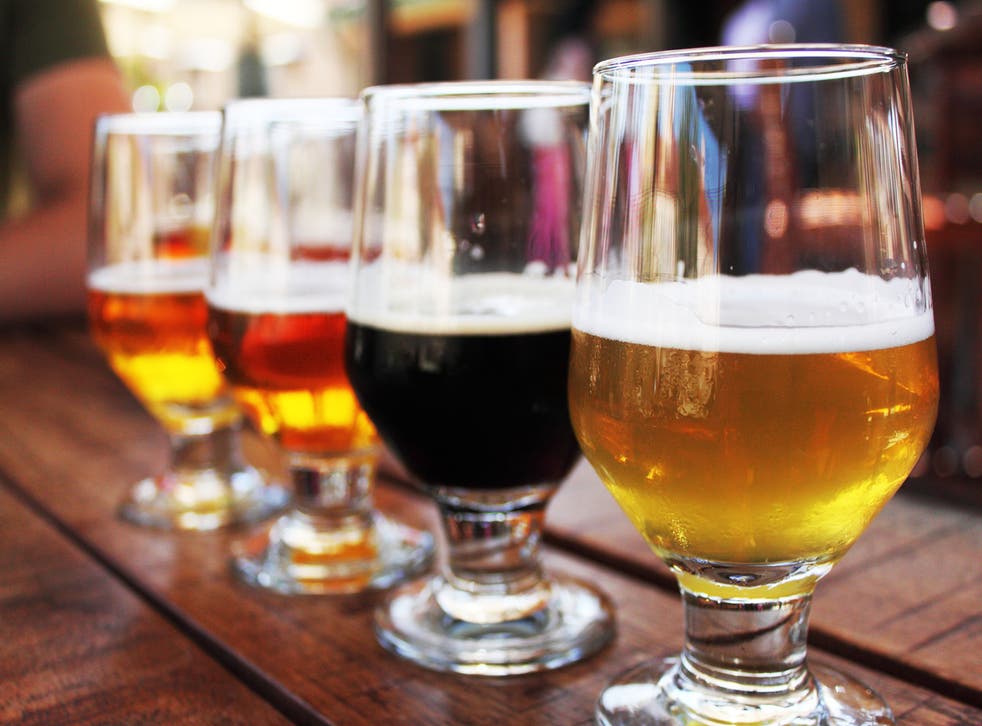 Keeping it session: How to understand alcohol percentages and units
Even the most cautious tippler can struggle to keep track of their intake
With the sun beating down and the English summer in full bloom, for some it is increasingly difficult to resist the lure of the pub.
Stepping out for a nice cold pint or a chilled glass of Pimms helps these balmy months pass, but avoiding the temptation to overdo it can be a struggle.
Even the most cautious can be forgiven for not keeping track of their alcohol intake.
So here's a quick guide to drinking responsibly.
What are the recommended guidelines?
Comedians John Robins and Elis James, known for their popular Radio 5 Live show and podcast, live by the mantra "keep it session", preach moderation in all things.
For the consumption of beers they say no stronger than 4.5 per cent, which is a sound principle but perhaps not scientific enough in the eyes of the medical establishment.
Under current government guidelines, according to Drink Aware, men and women are advised against putting back more than 14 units of alcohol per week on a regular basis and to spread out their intake over several nights, rather than downing them in all in one heavy evening and waking up with pounding temples and a creeping sense of dread the next morning.
Alcoholic drinks: a less calorific alternative

Show all 8
That total equates roughly to six pints of average strength beer (around 4 per cent) or six small 175ml glasses of 13 per cent wine.
In terms of shots, that's 14 25ml measures of 40 per cent spirits like whisky, vodka and gin.
The guidelines are set at such a low level to keep the risk of cancers and other associated illnesses down.
So what is a unit of alcohol?
The idea of measuring alcohol consumption by unit was first introduced in 1987 as a simplified means of assessing a drink's total alcohol content, which can be confusing given the huge variety of glass sizes and spirit strengths available at the bar.
One unit amounts to 10 millilitres (ml) or 8 grams of pure alcohol but the content of a specific drink is usually expressed as a percentage of the whole.
This is known as alcohol by volume (ABV) and is listed on the labels of all cans and bottles.
A wine labelling declaring its contents as 13 per cent ABV means that the bottle is 13 per cent pure alcohol, for instance.
How do I convert ABV into units?
To convert that ABV into units, you need to multiply it by the receptacle's volume in millilitres and then divide that total by 1,000.
As a rule of thumb, a pint is 568ml, a large wine glass holding one third of a bottle is 250ml while a shot is typically served in 25ml measures.
In the case of a 5.2 per cent pint, the calculation would be:
5.2 x 568 (ml) ÷ 1000 = 2.95 units.
Carrying out maths problems, even with the calculator on your smartphone, might be a big ask during an evening on the hooch so Alcohol Change UK provides a handy unit calculator to work it all out for you.
Support free-thinking journalism and attend Independent events
Register for free to continue reading
Registration is a free and easy way to support our truly independent journalism
By registering, you will also enjoy limited access to Premium articles, exclusive newsletters, commenting, and virtual events with our leading journalists
Already have an account? sign in
Register for free to continue reading
Registration is a free and easy way to support our truly independent journalism
By registering, you will also enjoy limited access to Premium articles, exclusive newsletters, commenting, and virtual events with our leading journalists
Already have an account? sign in
Join our new commenting forum
Join thought-provoking conversations, follow other Independent readers and see their replies