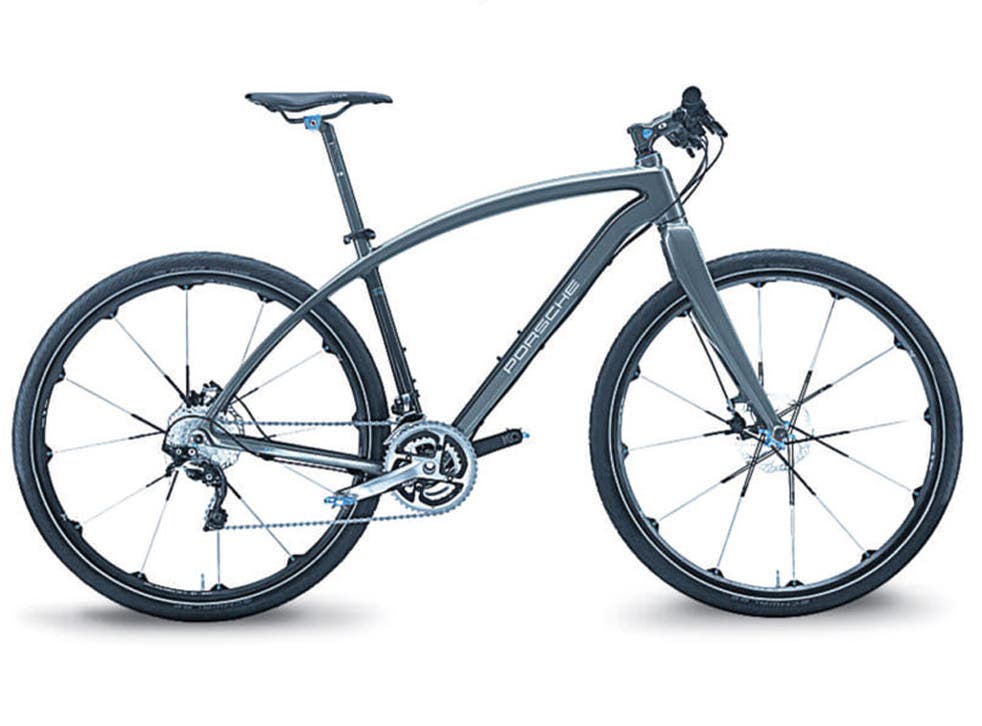 The Porsche bike RS: Its most expensive part? The badge on the front
PORSCHE BIKE RS
Price: £4,999
Weight: 9kg
Frame: Carbon fibre
Groupset: Shimano XTR
Wheels: Crank Brothers 29in
Top speed: Greater than you'd think
The car is dead. Or dying. Or at least declining. We reached "peak car", as transport policy wonks call it, some time in the past decade, when fewer of us started driving shorter distances, less often. Bad news if your business runs on petrol and four wheels, which is perhaps one reason why car manufacturers, spluttering as they are towards a gloomy horizon, are reviving their links with the bicycle. Ding ding!
When cars rolled on to our roads more than 100 years ago, bike shops began stocking them. In some cases bicycle manufacturers such as Armand Peugeot thought there might be something in the combustion engine. By the late 1920s, Peugeot had cast off its bike arm and, while the name appeared on frames until recently, it was a rare reminder of the entwined histories of the bicycle and the car.
Now the bike is in the ascendant and, in a symbolic reversal, cars are being shifted across showrooms to make way. Last month a BMW dealer opened a bike shop inside a London branch. Several manufacturers that have put their names to bikes (even Hummer has dabbled) are now giving them greater prominence. They include Porsche, which this month offers two high-end hybrids. The RS, which I was given to test for a weekend, is striking. Most striking is its price. At £5,000 you might expect an engine and heated seats. It costs more than the sum of its parts, the incongruous Porsche badge up front being its most expensive component.
But the carbon-fibre frame will turn heads. The top tube sweeps in an arc from the headset but its grace is consumed by its girth, reaching tree-like proportions at its upper end. The forks complete the muscular look and offer enough clearance above the fat Schwalbe tyres to stick a fist through. It's beautifully built and finished, but won't please those who seek elegance in bikes.
But it's quick, responsive and unforgiving, and at times feels as if it needs to be reined in like the wild horse of the Porsche logo. But don't expect comfort from the racing saddle or rigid frame as it passes over even tiny bumps. Do expect fun. The RS offers total control and its weight helps it to fly uphill. But, while I enjoyed the spin, I also found it to be deeply flawed. This is a bike with an identity crisis, offering the racing credentials of a road bike (but none of the right bits), the bulk of a mountain bike (but with no suspension) and the semblance of a hybrid (without the comfort or practicality). It is a missed opportunity for Porsche, which might have complimented the RS's cheaper (still £3,000) sister, the S – a sporty hybrid in aluminium – with a pure road bike as pretty and as refined as its sports cars. Instead we have a fudge for rich people who don't know much about bikes. If the car-bike balance is tipping back towards two wheels, I fear the RS will do little to nudge the scales.
Join our new commenting forum
Join thought-provoking conversations, follow other Independent readers and see their replies